If there's one cuisine that the Mile High can't get enough of, it's Mexican (shout out to green chile!). From low-key counter service options to modern spins on classic dishes and everything in between, there's no shortage of places to sate that taco (or torta, or enchilada, or ceviche, or mole) craving. Thankfully, we've made decision time a little easier with our top picks from the bounty of Mexican restaurants around town.
Recommended Video
Thrillist's Best (and the Rest): What's the Perfect Fast Food Meal?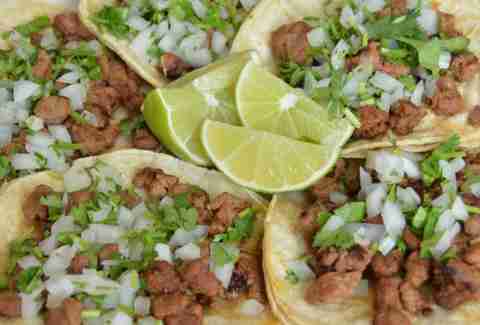 Valverde
Forget your "Taco Tuesday" deals. These simple, flavorful tortilla-wrapped masterpieces are less than $2 a piece anytime. The small, unassuming spot doesn't look like much from the outside, but inside you'll find expertly cooked meats served on corn tortillas and topped with cilantro and diced onion. Start with the cochinita pibil and al pastor before upping the ante with cabeza (pork cheek) and campechano (carnitas mixed with pigskin). And don't skip the fully loaded salsa bar with everything from avocado salsa to pickled onion.
City Park, Governor's Park, and Highland
For a modern spin on tacos that still pay homage to traditional ingredients, this is your destination. The menu is packed with the classics you crave like citrus marinated carne asada and a delicious carnitas option with pickled red onions and avocado cream. But you'll also find elevated touches that push these beyond the typical street taco. Don't skip the shrimp and scallops, braised pork belly, and beer-braised short ribs.
Platt Park
If you aren't familiar with tequila's smoky cousin, now's the time to start sipping. While tequila is made only with blue agave, mezcal can be made with a variety of agaves which are typically slow roasted in pits with hot rocks (producing its signature smokiness). This small enclave is connected to Adelita's but features its own entrance and patio, where you can explore their vast selection of mezcal while being guided by a staff that's well versed in what makes each selection unique. And Mondays mean half-price pours -- plan accordingly.
Best place to grab a margarita with your meal: La Fogata
Goldsmith & Hampden South
This is admittedly a decisive pick. First of all, this marg is pink-hued thanks to the house mix made from a variety of juices (including cranberry). So if you're a purist and are expecting a traditional marg, steer clear. BUT if you're looking for something that's dangerously sippable with tart, refreshing notes and a generous pour of tequila, look no further. And with a happy hour that includes these blush beauties for just $4 along with $4 food options like queso fundido with chorizo, it's easy to understand why this low-key spot that's been around since 1990 is a neighborhood favorite.
Lincoln Park
There's no debating the fact that green chile is beloved in Denver, but there's plenty of debate when it comes to proclaiming who's got the best. That said, it's this small yet mighty counter-service spot that continually rises above the rest. In the kitchen, a team of hard working women spin magic in those giant pots, and the result is a vibrant green concoction that you can enjoy with or without pork, served in a bowl with a side of tortillas, or ladled over burritos or eggs for huevos rancheros. The deep, rich flavor is so flat out addictive you may just find yourself taking the long way to work for an early morning fix, served to-go in a styrofoam cup.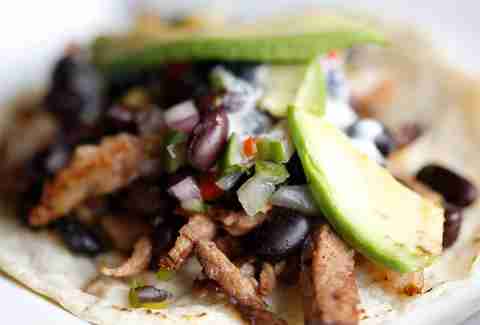 Best Baja-style Mexican: North County
Lowry
The menu here is filled with foods inspired by the coastal area north of San Diego. What does that mean for you? Lemony, garlicky grilled oysters topped with poblano, bacon and cheese, bright ceviche, carne asada fries, and of course, Baja fish tacos. They come beer-battered or charcoal grilled, and are best enjoyed on the patio with a cold house-bottled boozy soda.
Best (only?) Mexican in a gas station/car wash combo: Garibaldi Mexican Bistro
Englewood
So maybe it's the only Mexican eatery in town that's attached to a gas station and car wash, but even if there were dozens, it's likely this under the radar spot would remain the best. It may be a small space, but the menu is packed with options, from street tacos that are best ordered by the platter (cause you're going to want seconds) to specialities like the nopal (cactus) relleno and massive huaraches -- a 14-inch long freshly made corn tortilla topped with beans, sour cream, pico, and your choice of meat. And if you're lucky enough to catch the lamb barbacoa on offer, order as much as possible because it appears without warning and disappears quickly.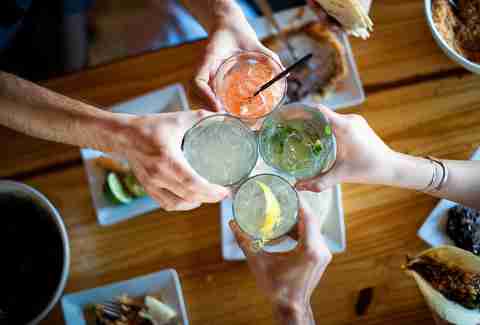 Boulder
Since taking over the kitchen in December 2017, chef Johnny Curiel has given new life to this Boulder favorite. With a deep understanding of regional Mexican cuisines as well as a respect for his customers, the dishes here spotlight tradition with just the right amount of modern touches. Take the lamb barbacoa taquitos with tender meat and flavorful, chile-spiked black bean puree alongside a flourish of ultra trendy fried Brussels sprouts. And those sprouts are not an afterthought, but the ideal compliment adding crunchy texture and nutty notes to the dish. Or the indulgent carne asada, a generous ribeye served with a deep and complex mole, ajillo mushrooms, and jicama that's gotten the kimchi treatment. If you're in the mood to up your game from $2 taco night, head here.
Best Mexico City-style eats: El Chingon
Berkeley
If you can't afford a trip to Mexico City, a meal at chef David Lopez's eatery will transport you for a fraction of the cost of a plane ticket. He and his grandmother, Gloria Nunez (originally from Mexico City) work together to create traditionally prepared food, like Gloria's well-known and well-loved chile rellenos and enchiladas -- a simple food that's packed with comforting flavors. And the welcoming atmosphere makes this spot as great for date nights as it is for mid-week lunches and post-work happy hours.
Best tortas, hands-down: Las Tortas
Washington Virginia Vale & Federal Heights
You can't talk about Mexican food in Denver without addressing tortas. Why? Because we've got a lot of great places to find these sandwiches on round bread stuffed with a plethora of meats, cheese, and other toppings. At Las Tortas, you can build your own creation from a list of options that includes everything from beef barbacoa and carnitas to hot dogs and breaded chicken. Or pick something from their list, like the lambada with spicy chorizo, pork loin, and fried eggs, all topped with mayo, chipotle sauce, avocado, tomato, onion, and jalapeño. But what really sets this spot apart is their tortas ahogada, a popular Jalisco street food version of a torta that comes doused in a seriously spicy chile de arbol sauce (or less spicy tomato version). Pair it with a michelada to cool the heat and enjoy.
Sign up here for our daily Denver email and be the first to get all the food/drink/fun in town.