Where to Find the Best Mexican Food in Denver
It's margarita season.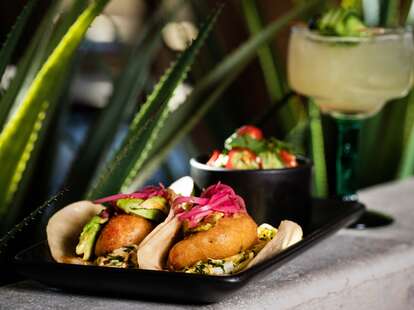 Between Taco Tuesday, the current fervor for birria, and Denver's ongoing passionate love for green chile, regularly scheduled Mexican food fixes are a Mile High City essential. But of course, Mexican food doesn't all fall into one simple category. From the rich culinary traditions of the varied regions of Mexico to Denver's own Colo-Mex cuisine, we're lucky to have access to a plethora of options. Want to load up on street tacos? Prefer burritos smothered in melty cheese and green chile? Craving coastal flavors, or maybe you're hungry for a fully loaded torta. We've got all that and more, and to find the best of the best, all you need to do is eat your way through this list.
The sister restaurant to the Culinary Creative Group's Senor Bear in the Highlands, Mister Oso opened in November 2019 in the space formerly occupied by longtime favorite The Populist—and we all know what happened a few months later. But despite a challenging start, they've made it through on the power of their tacos loaded with smoked meats, fresh ceviches, agua frescas (with optional boozy additions), and playful happy hour bites like the popular gordo crunch.
How to order: Pickup and delivery are available via Tock; delivery is also available via DoorDash
Birria's definitely not new, but it's hard to deny its new popularity. And with rich, flavorful consumé, melty cheese, and tender, slow cooked meat, it's the level of comfort food we all need right now. Birria tacos can be found at several spots in the Mile High, but this food truck that's recently moved to a new home at 3701 W 44th Avenue takes birria to new levels. Birria torta? They've got that. Birria burrito? Yup, that's the move if you're ready to go really, really big. Birria ramen? Oh yeah, they went there too. The truck opens at 11 am every day except Mondays and go 'til they sell out so don't sleep (literally) on these.
How to order: Pre-ordering online for pickup is only available on weekdays
The traditional street taco is a thing of beauty, and this small, unassuming spot are experts in the art of flavorful meats loaded on corn tortillas and topped with cilantro and diced onion. Start with the cochinita pibil and al pastor before upping the ante with cabeza (pork cheek) and campechano (carnitas mixed with pigskin). And when they ask which salsa you want with your taco haul, "one of each" is a totally appropriate answer.
How to order: Order online for pickup or via Grubhub and DoorDash for delivery
For a modern spin on tacos that still pay homage to traditional ingredients, this is your destination. The menu is packed with the classics you crave like citrus marinated carne asada and a delicious carnitas option with pickled red onions and avocado cream. But you'll also find elevated touches that push these beyond the typical street taco. Don't skip the queso la plancha with griddled cotija cheese and the sweet & sour braised pork belly with candied garlic.
How to order: Pickup is available via Toast; visit their website for links to order delivery from each location
This is a Colorado-mex classic, with crispy chile rellenos, and green chile smothered everything on the menu. For a true regional favorite, go for the Mexican hamburger, a chargrilled patty wrapped in a tortilla with refried beans and smothered in their pork-studded green chile. Pair it with one (or three) of their blush-hued house margs and you'll understand why this low-key spot that's been around since 1990 is a neighborhood favorite.
How to order: Order on their website for pickup or get delivery via DoorDash, GrubHub, and UberEats
There's no debating the fact that green chile is beloved in Denver, but there's plenty of debate when it comes to proclaiming who's got the best. That said, it's this small yet mighty counter-service spot that continually rises above the rest. In the kitchen, a team of hard working women spin magic in those giant pots, and the result is a vibrant green concoction that you can enjoy with or without pork, served in a bowl with a side of tortillas, or ladled over burritos or eggs for huevos rancheros. The deep, rich flavor is so flat out addictive you may just find yourself taking the long way to work for an early morning fix, served to-go in a styrofoam cup.
How to order: Visit their website to order for pickup
The menu here is filled with foods inspired by the coastal area north of San Diego. What does that mean for you? Lemony, garlicky grilled oysters topped with poblano, bacon and cheese, bright ceviche, carne asada fries, and of course, Baja fish tacos. They come beer-battered or charcoal grilled, and are best enjoyed on the patio with a cold house-bottled boozy soda.
How to order: Order via Toast for takeout or get delivery from DoorDash
This spot's about as under the radar as you can get thanks to its location attached to a gas station and car wash, but there's no orange cheese on stale chips to be found here. It may be a small space, but the menu is packed with options, from street tacos that are best ordered by the platter (cause you're going to want seconds) to specialities like the nopal (cactus) relleno and massive huaraches—a 14-inch long freshly made corn tortilla topped with beans, sour cream, pico, and your choice of meat. And if you're lucky enough to catch the lamb barbacoa on offer, order as much as possible because it appears without warning and disappears quickly.
How to order: Delivery is available via GrubHub and UberEats; online ordering for pickup is available on their website
If you can't afford a trip to Mexico City, a meal at chef David Lopez's eatery will transport you for a fraction of the cost of a plane ticket. He and his grandmother, Gloria Nunez (originally from Mexico City) work together to create traditionally prepared food, like Gloria's well-known and well-loved chile rellenos and enchiladas—a simple food that's packed with comforting flavors. And the welcoming atmosphere makes this spot as great for date nights as it is for mid-week lunches and post-work happy hours.
How to order: For takeout, call 303-248-3641 or order delivery via Grubhub, Doordash, or Postmates
You can't talk about Mexican food in Denver without addressing tortas. Why? Because we've got a lot of great places to find these sandwiches on round bread stuffed with a plethora of meats, cheese, and other toppings. At Las Tortas, you can build your own creation from a list of options that includes everything from beef barbacoa and carnitas to hot dogs and breaded chicken. Or pick something from their list, like the lambada with spicy chorizo, pork loin, and fried eggs, all topped with mayo, chipotle sauce, avocado, tomato, onion, and jalapeño. But what really sets this spot apart is their tortas ahogada, a popular Jalisco street food version of a torta that comes doused in a seriously spicy chile de arbol sauce (or less spicy tomato version). Pair it with a michelada to cool the heat and enjoy.
How to order: Order via their website for carry out
This new spot from chef/owner Philippe Failyau and the team behind Homegrown Tap & Dough, Park Burger, and Birdcall brings a taste of Baja to Denver. While the requisite tacos and guac are present and accounted for, you're here for coastal flavors cooked over wood fire in the open air kitchen like the zarandeado, a butterflied coastal striped bass served with herbed marinade and guajillo adobo and chayote papaya slaw. Plus, there are nine margarita options on the menu, and you should probably make it a goal to sip your way through all of them while sitting in the refurbished VW van on their patio.
How to order: Order via Toast for pickup
Molly Martin is a Denver-based freelance writer. Follow her @mollydbu on Instagram and Twitter for more updates on food, fun, and life in the Mile High.