A few years ago, this list would have been a lot different (and a lot shorter). Then Denver's dining scene suddenly blew up with what seems like a handful of new restaurants opening weekly, and now it's pretty easy to find a quality meal no matter what part of town you're in. But some 'hoods still reign supreme over others, and you deserve the best (well, most of you…). We're here to guide you to the spots where you'll find options galore for some of the Mile High's best eats.
Recommended Video
The History of Delivery & Takeout
13. Platt Park
Essential restaurants: Sushi Den, Kaos Pizzeria, Adelitas Cocina y Cantina, Uno Mas
The highlight of this neighborhood's dining scene is centered around a stretch of Pearl St where you'll find everything from sushi at Sushi Den to tacos at Uno Mas to pizza at Kaos Pizzeria. That means you can satisfy some of your most common cravings without ever having to leave this mellow 'hood. But while it scores points for diversity, it lacks the sheer number of restaurants of some other areas of town. Still, the quality of food served at the trio of eateries from the Kizaki brothers alone (Sushi Den, Izakaya Den, and OTOTO) is reason enough for Platt Park to earn a spot on this list… and don't forget about Adelitas Cocina y Cantina!
12. City Park
Essential restaurants: To the Wind, The Long I Pie Shop, Denver Biscuit Company, Trattoria Stella
Before this recent Denver dining renaissance, Colfax Ave was definitely not the place you'd head to for fine dining. A night dive-bar hopping? Sure. But a foodie haven it was not. Now, the City Park neighborhood's packed with food from places like To the Wind and Trattoria Stella that will keep you full and happy. And how could we leave out the gigantic biscuit sandwiches from Denver Biscuit Company, or that perfect slice of pie at night (The Long I Pie Shop)? Yeah, it still comes with a side of classic Colfax charm (aka plenty of panhandlers and those ubiquitous dives), but really, we hope that never changes.  
10. Cherry Creek
Essential restaurants: Barolo Grill, Departure, The Cherry Cricket, Matsuhisa
This hood's famous for upscale shopping, but for a long time it wasn't really a dining destination. But in just 2016 alone, Cherry Creek's seen a slew of new openings -- Departure, Matsuhisa -- that make dealing with parking there seem worth the trouble and have earned this neighborhood a renewed energy and a place in the top 10. Oh, and the old-school standbys deliver too. Especially the always-stellar Cherry Cricket and Barolo Grill, one of Denver's best spots for Italian.
9. Speer
Essential restaurants: Leña, Beatrice & Woodsley, Cho77, Table 6
The action here is mainly centered around a few blocks of South Broadway, a street that crosses many hoods and is jam-packed with choices for a meal out -- Leña or Table 6, anyone? This area is home to most of Broadway's best eats, and when you combine the power of Cho77's red chili pork dumpling or Beatrice & Woodsley's unrivaled magical-forest decor with Broadway's vibrant energy, you get the recipe for a stellar dining experience.
8. Capitol Hill
Essential restaurants: Mizuna, Black Eye Coffee, Potager, Sassafras American Eatery
Classic Denver and the future of the Mile High collide in this area, which is one of Denver's oldest. The centerpiece, the gold-topped State Capitol Building, went up in the 1890s, and plenty has been changing around it since. From restaurateur Frank Bonanno's mini-dining empire near Governor's Park, which includes the 15-year-old Mizuna, to Black Eye Coffee's new location where you can score some amazing avocado toast, to places like Potager and Sassafras American Eatery, Cap Hill's really stepped it up.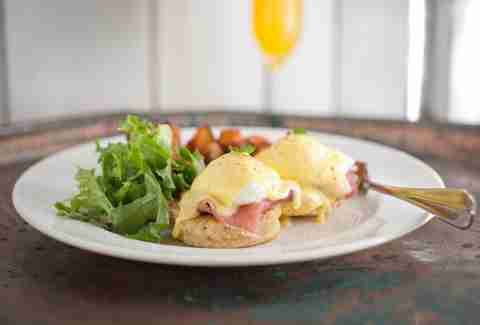 7. Boulder
Essential restaurants: Frasca Food & Wine, Blackbelly Market, River and Woods, The Kitchen
Yes, this is a list of Denver neighborhoods... so why is Boulder on here? Because when it comes to dining, they're basically the best next-door neighbor ever. Plus, it's impossible to talk about Denver's dining scene without the conversation somehow circling back to Boulder -- like when we talk about Frasca Food & Wine and Blackbelly Market, or when the recent buzz was all about River and Woods, a new venture from Daniel Asher who is the former culinary director for Edible Beats (the group behind Denver favorites Ophelia's, Vital Root, Linger, and Root Down). Or how The Kitchen, which started with a single Boulder location, expanded Denver's taste buds when it added locations in the Mile High, including an outpost at DIA.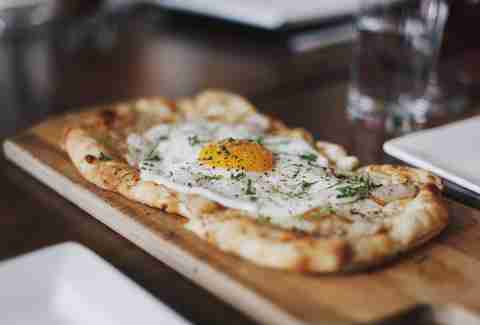 6. North Capitol Hill
Essential restaurants: Beast + Bottle, Steuben's, Olive & Finch, Vine Street Pub
More commonly called Uptown, this neighborhood's home to 17th Ave, aka "restaurant row," a fitting name for a street that's got over a dozen eateries -- like beast + bottle and Steuben's -- in the span of a few blocks. Basically, if you're hungry and don't want to wait, take a quick stroll here and you'll be chowing down in no time. Maybe you'll pick up a sandwich from Olive & Finch for a picnic in nearby City Park, or settle in for a few beers with your burger at Vine Street Pub. You're in for a tasty experience no matter where you end up ordering from.
5. Berkeley
Essential restaurants: Vital Root, Mas Kaos, il porcellino salumi, Billy's Inn
Those that live in this area have known for a while that it's a damn good place to head to for a meal out, especially if you're going to Vital Root or il porcellino salumi. But with an onslaught of new additions here, more people are discovering this area everyday. With old favorites like Billy's Inn where you can grab a burger with peanut butter and bacon (trust us, you want to try this) alongside newly opened eateries like Mas Kaos, which combines the power of tacos and pizza in one craving-busting destination, Berkeley's made a strong stand for a high spot on this list.
4. S Federal Blvd
Essential restaurants: Star Kitchen, New Saigon, Lao Wang Noodle House, Suvipa Thai Food
So S Fed's not technically a neighborhood. In fact, it's home to Denver's own four corners -- an area where the neighborhoods of Westwood, Athmar Park, Mar Lee, and Ruby Hill all meet. But unlike the real four corners, you'll actually find something worth seeing (or rather, tasting) here because it's home to restaurants serving up dishes from around the world. Dim sum brunch at Star Kitchen, soup dumplings at Lao Wang Noodle House, banh mis at New Saigon... this area's all about authentic cuisine with zero concern for what's trendy because when food is this good, who cares about anything else? Especially when you're eating at Suvipa Thai Food.
3. Union Station
Essential restaurants: Mercantile Dining & Provision, The Squeaky Bean, Stoic & Genuine, Rioja
Before its renovation in 2014, Union Station was a long-forgotten former transportation hub and not much more. But then it reopened with a shiny new design and a focus on becoming basically the coolest food court ever. And it's worked. Union Station itself is now packed with dining options including Alex Seidel's Mercantile Dining & Provision which checks every dining trend box (farm-fresh, seasonal, fine dining without the white-tablecloth attitude) as well as places like Stoic & Genuine and Rioja. And the surrounding area's gotten a revived energy too, with restaurants like The Squeaky Bean, which only gets better as more people flock to this Union Station.
2. Highland
Essential restaurants: Bar Dough, Sushi Ronin, Avanti F&B, Old Major
This 'hood would've been a shoo-in for the top spot before a certain other area of town starting adding to its dining arsenal at light speed (I mean, come on. Bar Dough AND Avanti F&B). But really, there are no losers in this competition because Highland is still evolving too. Just this year, Sushi Ronin quietly opened and quickly impressed with elegantly executed eats, and Old Major's been a go-to for meat-centric cravings since early 2013. It continues to churn out exciting additions like the Royal Rooster, a weekday lunch-only pop-up with fried chicken sandwiches that have developed their own cult following.
1. Five Points/RiNo
Essential restaurants: Hop Alley, Acorn, Work & Class, The Denver Central Market
Call this area north of Downtown whatever you want. We don't care, because we're too busy being in awe of the total revitalization of this neighborhood that used to be a place to avoid, not a dining destination. But with the opening of The Source in late 2013, and places like Hop Alley, Acorn, and Work & Class (as well as the nonstop new additions since Five Points has firmly placed itself at the pinnacle of Denver's dining scene), plus the recent opening of The Denver Central Market, a place that's packed with craveable eats like paper cones filled with thinly shaved meat from Culture Meat & Cheese and ice cream from High Point Creamery, it doesn't seem like this hood's dining revitalization is slowing down any time soon.
Sign up here for our daily Denver email and be the first to get all the food/drink/fun in town.