It's completely understandable if you've been too busy incessantly re-watching Broncos highlights the past month or so to find any time to keep up on the newest restaurants. Luckily, if you can avert your eyes from Peyton for just a few seconds, you'll find 360 tequilas, late-night biscuits, and other tasty diversions worthy of your attention.
Recommended Video
Ghost Kitchen: How This NYC Restaurant Is Responding to Coronavirus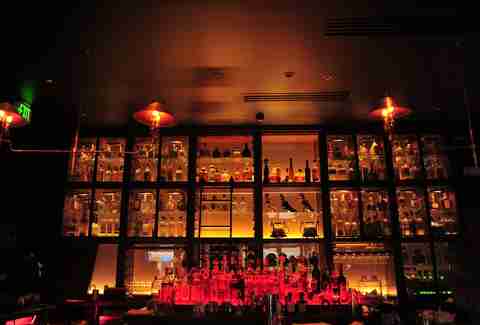 La Biblioteca
LoHi
The newest library in town has wisely realized that people are tired of dusty books and oppressive silence, and has instead stocked its shelves full of every tequila imaginable. The 360 different tequilas and mezcals to choose from leave you with a different option for almost every day of the year. Or if you find one you want to stick with, they have lockers to store your bottle(s) of tequila. The Latin-Asian menu follows in the footsteps of its big brother, Zengo, which means brace yourself for the likes of pork belly steam buns with chipotle hoisin and banh mi dog sliders stuffed with housemade franks, chicken pate, serranos, and pickled daikon.
CapRock Farm Bar
RiNo
Located directly in the middle of The Source (RiNo's new artisan marketplace), CapRock's bar is a sleek, modern showcase for Peak Spirits, a local company based out of Hotchkiss. Grab a locally sourced cocktail made with the likes of vodka, grappa, apple-based gin, and other spirit goodness, then use your altered judgment to purchase way too much stuff at the cheese shop, butcher, and bakery.
Humboldt Farm Fish Wine
Northeast
The name pretty much sums it all up: farm fresh ingredients, an impressive wine (and beer) list, and a menu of land and sea based comestibles like a Friday & Saturday-only lobster risotto or a red-wine demi'd filet mignon leaden with Moody Blue cheese... hmm kinda thought they might go Humboldt Fog, right? Right?! Cheese jokes!
Denver Biscuit Company
Southwest
South Broadway has gained another great late night spot thanks to the second location of the Denver Biscuit Company, meaning that you can now enjoy freshly made biscuits stuffed with fried chicken and honey mustard after a show at the Hi-Dive. Or any other time you're craving a biscuit, which is always.
The Curtis Club
Northwest
The former Curtis Street Tavern got a facelift and is now a hip, rustic haven where you can enjoy goodness like Maine lobster & grits, bison bolognese with house ricotta, and hickory smoked rainbow trout with pickled creminis, all of which pairs great with the all-Colorado draft list, which, given the Buffaloes' season, would not be a great Broncos strategy.