You may feel like your Summer calendar is already getting pretty full of things to do (and drink!), but Denver's also had a bunch of new restaurants open that you need to pencil into that agenda. Clear some room in that calendar (and your pants) and make your way to these nine spots.
Thirsty Lion Gastropub & Grill (address and info)
Downtown
Colorado's first outpost (there are also locations in Oregon and Arizona) of this eclectic, British Isles-leaning eat-and-drinkery has 52 taps backing a menu that ranges from across-the-Atlantic faves (Scotch eggs, beer-braised corned beef & cabbage with white cheddar mash, IPA-battered fish & chips) to other worldly fare like Baja fish tacos, Kung Pao chicken, and hand-tossed brick oven pizzas. Hit happy hour (weekdays 3-6pm) for $4 pints, well drinks, and a boatload of food specials.
Bistro Barbès (address and info)
Park Hill
Park Hill's tiny new restaurant (pronounced BAR-bess) has but 30 seats in its brightly appointed dining room, serving up a dozen items representing French cuisine with a mix of Spanish, African, and Middle Eastern influences from a constantly rotating menu. Bonus: they just launched a bottomless mimosa-backed brunch.
Denver Pearl Brewing Company (address and info)
Platt Park
Part of Denver's status as a beer lover's paradise hinges on the steady stream of new breweries to try. Here's another one! This neighborhood operation has an industrial feel and a cozy little patio for enjoying their brews. With a 10-barrel brewing system and a good variety of different types of beer -- from barrel-aged stouts to a Berliner Weisse -- Denver Pearl's a welcome excuse to drink even more beer.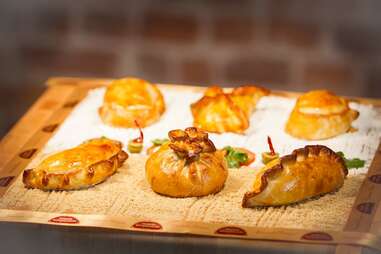 Maria Empanada (address and info)
South Broadway
Formerly located in Lakewood, this little shop has relocated to a bigger space and added more Argentinean treats to the menu. These empanadas are delicious little pockets packed with Buenos Aires flavor. The fillings go both savory (Caprese, ham & cheese) and sweet (dulce de leche, Marsala-poached pear), so explore the whole spectrum and get a bunch. Try them with homemade sauces like chimichurri and sweet chili mayo. Maybe don't use those on the sweet ones.
Jefferson Park Pub (address and info)
Jefferson Park
This small neighborhood bar is a part of the Jefferson Park neighborhood revitalization. There's an also-small food menu sporting bites like Swiss and bacon dip, edamame, and chocolate peanut butter pie -- but if you're looking for a more substantial meal, the new Sexy Pizza across the street will gladly oblige. Wash it down with a gimlet full of house-made basil vodka.
Argyll Whisky Beer Gastropub (address and info)
Uptown
After shutting its doors at the original location, Argyll is back and better than ever at their new spot in Uptown. The food menu, which is traditional British fare, is a mix of old favorites and new dishes. Don't miss the Scotch egg with fennel salad and orange mustard aioli (it's a big year for Scotch eggs!). There's an extensive beer list, as well as more than 200 whiskeys from all over the world.
Glazed and Confuzed (address and info)
Southeast Denver
After success in farmers markets and coffee shops, G&C's first brick-and-mortar shop has finally come to fruition and will be serving up crazy flavors like root beer float, Thai coconut curry, and jalapeño popper. Not only are these donuts inventive and delicious, they're also made with local and organic ingredients so you can feel a little better about your rampant gluttony. Keep an eye out for their frequently mind-blowing specials.
Salt & Grinder (address and info)
Highlands
Frank Bonanno's newest concept, located in the former Venue space in the Highlands, is an Italian deli that focuses on quality sandwiches (meatball subs, classic Reubens, etc.) without too much fuss. Also look for breakfast options like the Italian (fresh mozz, prosciutto, arugula, and fried egg on a Kaiser roll) and plenty of nods to Chef Bonanno's New Jersey roots.
Inga's Alpine Lounge (address and info)
Southeast Denver
This kitschy bar/restaurant, made to feel like a retro mountain town hangout, will make any ski bunny (or wannabe) feel right at home in the '60s. Inga's is serving up comfort foods like pizza, subs, and Jonesy's famous fries with happy hour every single day from 3-7pm. Stop in for some food any day of the week and grab a $2 mystery shot while you're at it.
This list -- and all the rest -- look even sexier in our iPhone app. Get it now!