After a blockbuster-filled spring and summer, autumn on the Denver dining scene has been relatively mellow. That's not a bad thing. On the contrary, the cream of the fall crop is full of surprises that are all the more impressive for being (with a couple of exceptions) so low-key. So if you've already blown through Thrillist's picks for the 11 best new restaurants of 2014, here are 10 more winners to tide you over through the new year.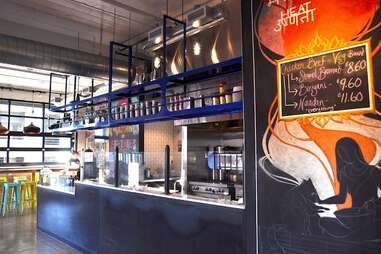 RiNo
To date, Biju Thomas is best known as the author of the Feed Zone cookbooks, aimed at athletes in training. But this funky little dhaba-style joint is a whole other kind of feed zone, geared toward those who'd rather work up a sweat over some spicy Indian eats. Start with a bowl of nutty-sweet biryani covered in curried beef or chicken and lentils. Top it off with the killer chili-and-coconut condiment called samandhi, along with some toasted chickpeas. Wash it all down with an Epic IPA. Repeat. (But, you know, maybe get some actual exercise before that last step.)
Boulder
After his Top Chef victory in 2009, Hosea Rosenberg could have run off to join the celebrity-chef circus. Instead, he generously spread the roots he'd already put down in Boulder by launching Blackbelly Farm, Blackbelly Catering — and now, finally, the intimate, mod-rustic restaurant and butcher shop we've all been waiting for. Charcuterie is kind of Rosenberg's jam, so a sampler's a no-brainer, but don't stop there. Don't stop, in fact, until you've had meat at least three different ways (say, duck rillettes, raw beef, and smoked lamb), along with some delectable apple brioche pudding, you know, for balance.
Berkeley
At just a couple of weeks old, this stylish chophouse for the cool kids is still working out a few kinks. But the Forgy brothers know what's up, and they've got all the fundamentals down cold. Hit-makers range from the pink-tinged, bone-in pork chop to the pressure-fried chicken in spicy honey glaze to an over-the-top, pork rib-enriched burger, punctuated by inventive sides like coffee-salted steak fries or deep-dish pizza panzanella. And as you'd imagine from the owners of Freshcraft, the bar has all its craft-beer and cocktail ducks in a row.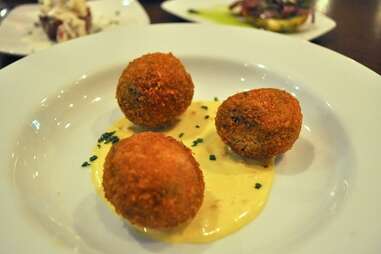 Ballpark
Why settle for two butchery-themed eateries whose names start with "B" when you can have three? This one — in the cozy, twinkling space that formerly held Twelve — gets the meat-party started with smart snacks like beef-heart crostini and short rib-stuffed potato skins, then seals the deal with tricked-out cheesesteaks for lunch, thoughtfully executed dinner entrées, and the option to choose your own cut from the retail case. Vegetarian tidbits like the spinach croquettes are just gravy. But not like, meat gravy.
Congress Park
The tabletop grills may not be in yet, but the verdict is: this Korean barbecue joint already rocks just as hard as its Westminster sibling (harder, in fact, because it's got a full bar). Marinated meat's only half the story anyway — the rest is a sizzling, bubbling, thrilling saga starring textbook zucchini pancakes, bibimbap, sinus-clearing stews, and the best dubu kimchi in town, bar none.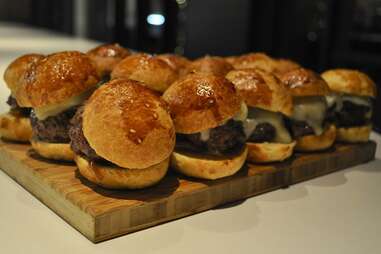 Uptown
It's back — sweet! Also, savory. And boozy. D Bar never was just a pâtisserie, but the shoebox it originally occupied didn't allow for much lingering over full meals. Now, dynamic duo Keegan Gerhard and Lisa Bailey have the big, breezy, beautiful space they need to serve up not only the plated desserts they're famous for, but also an expanded selection of small plates, sandwiches and libations, plus breakfast pastries, brunch, and afternoon tea. It's basically a one-stop shop for all the things you didn't know you needed most in life — like smoked pork wings and pistachio-cherry cream puffs.
Cherry Creek
You could hit this slick new basement-level lair just to fill up on sesame chicken and salmon rolls. But you'd get zero stars for bravery, and you deserve better. Hasu happens to be run by the family behind the former East Asia Garden, home to some of the most dazzling regional Chinese dishes in town —from black eggs and tofu to cross-bridge rice noodles. Here, they've expanded their selection to offer colorful clay pots bobbing with spicy chunks of fish or eggplant and gingko nuts; succulent "mashed garlic white meat" (spoiler alert — it's fatty pork); and still other discoveries like the "chicken braise a mushroom" and the "husband-and-wife lung slice" -- an order of that alone warrants an award for valor, but the food here is a reward in itself.
Golden Triangle
By the same token, don't go to this Italian newcomer asking for Fettuccine Alfredo or spaghetti & meatballs. First of all, the answer's no, and second, even if it were yes, you'd be doing yourself a grave disservice not to sample the Ligurian specialties of owner Alessandro Polo (who hails from Portofino, where his family has been in the restaurant business for generations). We're talking exquisite focaccia al formaggio, luscious trenette al pesto or pansoti in salsa di noci (ravioli in walnut sauce), and all the sparkling seafood you'd expect from a coastal region.
Jefferson Park
Speaking of Italian food, you could be forgiven for suspecting this long-anticipated spot couldn't possibly live up to the hype surrounding it, even with star chef Brian Laird in the kitchen. But you'd be wrong. An instant destination complete with a cicchetti bar and a quick-stop deli, Sarto's emanates both sophistication and soul in spades: think elegant Piedmontese pastas like tajarin and plin on the one hand, robust pollo alla cacciatora or sausage and peppers on the other. The region-spanning, all-Italian wine list rules, too.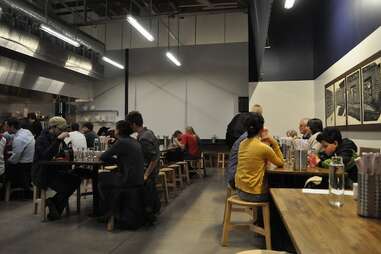 RiNo
Though this industrial-chic, bi-level hideaway in the Industry complex specializes in ramen, the kitchen's at its best in — well, nearly every other department, from the crisp-tender gyoza; to the deeply savory, richly marinated yakitori; to the super-comforting chicken curry. Get some sake and get cozy — if you do this right, you're in for a long night.
Sign up here for our daily Denver email and be the first to get all the food/drink/fun in town.