Lena
Lena
2014 was a big year for new restaurants in Denver, and luckily there's still some time left this year for you to eat at all of these places before your resolutions enter the picture -- which you'll break anyway, so really it doesn't matter. The point is, you should fill your belly at these 11 restaurants, as they are the best that opened in Denver this year.
RiNo
This quaint neighborhood pizza spot is constructed from shipping containers, but don't let the unusual building concept throw you off; the cuisine here is comfortably familiar, as they're serving up wood-fired pizza, oysters, and a few other sides, 'repping simple but delectable old-school Italian flavor. Make your way through a littleneck clam pie with guanciale and roasted garlic, or snack on some tuna mousse spread across focaccia toast. Bonus: if you're there when the late-night menu rolls around, you can get a pilsner and shot of Fernet or Averna for $3.
RiNo
The motto here is, appropriately, "square meal, stiff drink, and fair price". And the space is -- yet again -- made from shipping containers. The menu seamlessly blends Latin and American flavors in dishes like shrimp & grits with roasted Anaheim and poblano peppers, or a robust lineup of meats (cochinita pibil, cornmeal-fried catfish, apple cider duck confit) and augment them with sides (chipotle-tomato mac 'n cheese, fried sweet plantains), and breads (handmade tortillas, jalapeño cornbread). No matter which route you go, you're likely to come away happy... especially if it's happy hour (Tuesday-Sunday, 4-6pm).
Highlands
This brand-new neighborhood eatery is tucked away next to a Comfort Dental, and may take a little effort to find, but it's well worth it. A tiny patio surrounding a fire pit outside of a cozy, intimate interior could not be more welcoming. Brazenly (!) devour Duroc pork meatballs over creamy polenta, spicy deviled eggs with goat cheese & harissa aioli, and creamy ricotta toasts with sweet pea puree and lemon honey. Also, you're having dessert, because dessert is make-your-own s'mores.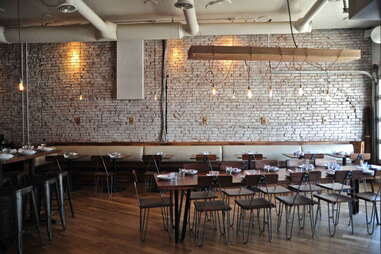 South Broadway
The former Deluxe and Juanita's space has been revamped with a clean and modern look that sets the stage for robust, contemporary Spanish and Italian flavors. There's a solid lineup of shareable tapas-style bites (grilled octopus with salsa verde, burrata with grilled artichokes, roasted cauliflower with brown butter & lentils) -- though, you won't want to miss the wood-fired pizzas (like chorizo with red onion & basil oil), or the pastas (spaghetti with rabbit ragù). Of course, bigger plates mean fragrant, juicy, garlic-and-rosemary-covered porchetta with figs & polenta, so the best move is probably to bring a big crew of hungry people, so you can divide and conquer.
Uptown
A late-night joint with an appetite for nostalgia, the BSide is serving up its deliciousness on TV-dinner trays. Open every day with a late night menu served until 1:15am, the star of the show here is the coconut milk fried chicken (which is even gluten-free, if that was somehow your first thought when reading that) and comes with mashers, white gravy, broccoli, and butterscotch pudding for dessert. It's way better than the frozen dinner you consumed while watching Who's The Boss when your parents got you a babysitter, because the ingredients are top-quality. Oh, also because you're enjoying refreshing craft beers with it.
Downtown
Alex Seidel of Fruition has a shiny new restaurant and market occupying a substantial section of this year's Union Station makeover. The European-inspired menu is deep with house-made charcuterie and other tasty snacks, like warm cheese gougeres filled with gruyere fondue, or bone marrow brûlée with bacon-shallot jam. Entrees are equally enticing (like a crispy chicken roulade Cordon Bleu). If you're working in teams, there are plus-sized (and priced) family dinners, like a 30oz tomahawk pork chop with pistachio vinaigrette. Of course, that's probably not going to be a regular meal for you, so hit the market (open for lunch or dinner) for a more relaxed feel, plus freshly baked pastries and other tasty, rocking ingredients from Seidel's Fruition Farms (which is well-represented throughout the operation).
Park Hill
The menu and space are both rather small, but the flavors coming out of the kitchen are anything but. Chef-owner Jon Robbins has lived all over the world, which lends to a menu deep with international flavors, from beef tartare with shallots, lemon confit & berber aioli, to pan-seared black cod with fennel hummus & chickpea chermoula. While the options change frequently, the deliciousness does not.
DU
A cafe designed to make you feel right at home and keep you fed at all times of the day. Breakfast, lunch, and dinner is served up every day with a strong focus on featuring quality Colorado products. Look for eclectic flavors ranging from ginger-pineapple skirt steak with crispy yucca, to a spicy eggplant hotpot with harissa & a poached egg (they're highly friendly towards veggie/vegan/gluten-free folks). Grab a cup of coffee on-the-go, come in for a intimate date night or group dinner, or make new friends at the community dinner events they occasionally host. Whatever type of dining experience you're in the mood for, you can find it at Atticus.
South Broadway
Lena, which is the Spanish word for "firewood", is an appropriate name for this Latin and South American joint that's cooking up tapas-style plates in a wood-fired oven. They are also turning out house-made tortillas, chorizo, and morcilla (mmm... blood sausage). But don't miss out on the cold offerings like octopus ceviche, or hot plates like duck meatballs and chili-spiced sea bass. You're going to want to explore the cocktail menu, too; try the Chupacabre, a mezcal cocktail made with Chartreuse, cucumber, and cilantro.
Uptown
Denver has been eagerly awaiting the reopening of Argyll since they shut their doors in Cherry Creek back in 2011. It finally arrived this year, as an amazing transformation of the former Las Margaritas building, complete with a sun-filled atrium and patio. The menu is a classed-up interpretation of traditional British pub-fare, like fish & chips with mint mushy peas and malt vinegar gastrique. You absolutely cannot miss the Scotch egg, served with a fennel apple salad and mustard orange aioli. The beer and whiskey selection is beyond impressive in scope, in case you want to enjoy your British meal and wash it down with Japanese whiskey.
Downtown
The former Colorado National Bank Building, which sat empty for the last decade, is now a Renaissance hotel with preserved murals painted by Colorado legend Allen Tupper True. With the revamping of the historic building came the debut of range, an American Western restaurant that celebrates Colorado's history and culture with food and drink. In keeping with the theme, the lamb and pork are locally sourced, and Former Future Brewing company provides their Countinghouse Cream Ale, an exclusive signature beer made for range.
Sign up here for our daily Denver email and be the first to get all the food/drink/fun in town.