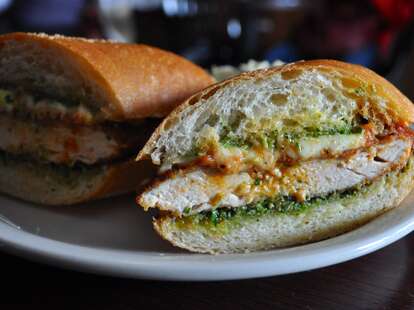 When was the last time you inhaled a truly incredible sandwich? Last week? Yesterday? You just finished one? No matter what, you're past due for another. We set out to find you eight killer new creations — one for every day of the week, at least on the Beatles' calendar (fact: that song was really about sandwiches) — but wound up with nine, or just enough to show we care.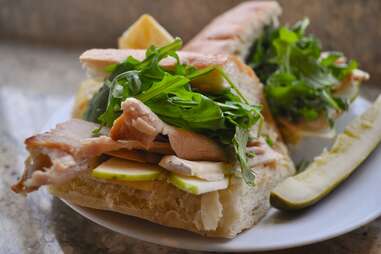 Ankara
Olive & Finch Eatery (address and info)
Uptown
That Mary Nguyen's too talented for her own good. Upon opening her acclaimed bakery-café a little over a year ago, she crammed its menu with so many instant classics there's been virtually no room for improvement. But she recently managed to slip in one more winner. It's basically a nice cheese plate in sandwich form: you've got your Brie, your baguette, and your tart green apple and walnuts (which flavor the mayo). All it needs is a little salt and pepper — which is just what the addition of house-roasted turkey and arugula provides.
Cauliflower Reuben
Stout Street Social (address and info)
Downtown
Okay, maybe "hold the meat" is not a thing you go around saying. And even if you did, you probably wouldn't follow it up with a request for cruciferous vegetables. But give it a try. This high-energy new hangout lays down a standard Reuben beat — Swiss, sauerkraut, and zesty mayonnaise-based dressing (in this case 1000 Island rather than Russian) — then changes the whole tune with thick slices of panko-breaded and fried cauliflower in lieu of the usual corned beef. It's all piled on griddled marble rye to make for a shockingly good twist on the deli classic.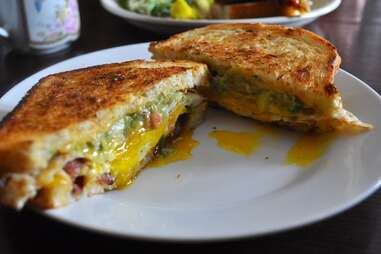 The Firestarter AND the chicken parm
Salt & Grinder (address and info)
West Highland
One is a gloriously gooey morningtime mess of fried eggs, bacon, and guacamole on jalapeño-cheddar toast. The other, a dinner special available at lunch by request, is a jaw-snapping grinder that stars batter-fried chicken breast covered in mozzarella, marinara, and pesto. In short, these two knockouts are apples and oranges, so why waste time weighing their merits? Get both and call it a day, because clearly you aren't getting anything else done.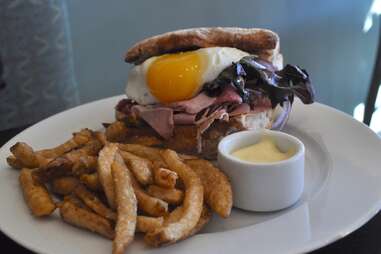 Ham & egg
Butcher's Bistro (address and info)
Ballpark
Most other ham-and-egg sandwiches are but shadows on a cave wall compared to the shining reality that is this heap of rosy-pink, house-smoked ham drenched in the yolk of a sunny-side up egg between hunks of City Bakery ciabatta. Add a layer of chile-Jack cheese and gobs of garlicky aioli, plus red onion and mixed greens for a crisp flourish, and you're damn straight we're bringing Plato into this.
Mortadella Dog
Cart-Driver (address and info)
RiNo
After months of recipe testing with Continental Sausage, Kelly Whitaker has finally, painstakingly crafted a mortadella link he's proud to put his name on. Here's what else he puts on it: pear mostarda and pickled cabbage, which lend a sweet-and-sour punch to the wood-fired, pistachio-studded sausage, as well as lightly bitter and spicy notes. In other words, this dog has got your name written all over it too.
Open-face steak sandwich
Fuel Cafe (address and info)
RiNo
Bob Blair changes his menu about as often you (hopefully?) change socks, which means you'd best not delay if you want your way with this lunch-only stunner. The brandied-mushroom cream sauce is so good you could eat it with a spoon — but it's all the better ladled onto a crusty hunk of Babettes bread beneath perfectly cooked slices of flat iron steak.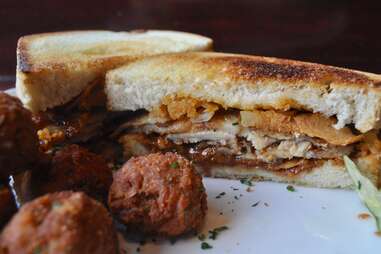 PBPB & Jam
Freshcraft (address and info)
LoDo
Tragically, most cures for the munchies are worse than the disease. Not so at Freshcraft, which sees your junk food and raises it to junk cuisine. Picture, if you will, the average PB&J on white bread. Now double down on that PB to yield slices of roast pork belly as well as peanut butter. Swap the grape jelly for homemade apple jam spiked with Sriracha. Forget the crushed Fritos at the bottom of the bag in favor of fresh-fried tortilla strips for extra crunch. Slap it all between slabs of Texas toast and swear you'll never settle for Scooby Snacks again.
Varzi
Maci Cafe (address and info)
LoHi
The pulse of daily life in Italy is measured in thousands of little storefronts just like Maci, whose owner Massimo Ruffinazzi — a native of Lombardy — keeps it real with a full slate of coffee drinks and sandwiches that are all the more satisfying for being so simple. Take this recently debuted panino caldo combining juicy disks of salame, tangy marinated artichoke hearts, and arugula with smoked mozzarella that melts into the textbook crunchy-chewy roll when pressed. È perfetto alongside a can of Limonata.
Sign up here for our daily Denver email and be the first to get all the food/drink/fun in town.