W
ith some of
the best beers in the world
being brewed in Denver,
our food scene
has had to work overtime to keep up. And sure, you could always grab a
burger
or a burrito slathered in
green chile
, but nothing pairs better with a pint than a pie. The only question that remains, is where do you go for it?
And sure, sometimes you simply need that immediate fix of melted cheese and sauce on top of any crust-like substance available. But just because mediocre pizza is still good doesn't mean you should ever settle. Below we've dutifully listed out all of Mile High's best pie spots... from the places to go for a late-night slice to the best new pizza in Denver.
Recommended Video
This Burger Has a Pizza Bun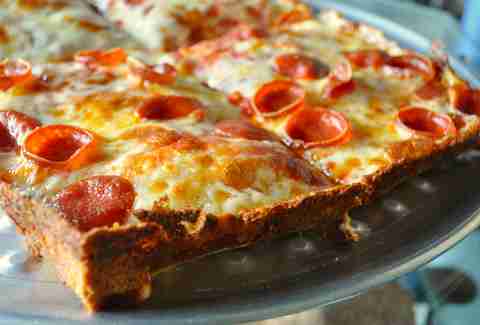 West Highlands & Congress Park
Best for Detroit-style pies
Yes, this place serves other kinds of pizza (you'll find New York, Italian, and Chicago-style pies on the menu), but that's not what you're here for. The specialty from award-winning pizzaiolo Jeff "Smoke" Smokevitch is the addictive Detroit-style pies which transform often-trashed crust into the cheesy, caramelized highlight of your pizza eating experience. Pair it with a Colorado craft beer and give yourself a pat on the back for being so damn smart with your life decisions.
City Park
Best for flaky, crunchy thin crust
Is the world full of sleek, celebrity-owned pizza parlors with money-burning ovens and a runway ready staff? The kind with a Bob's Big Boy statue on the roof, a legendary dive bar that doubles as a spare dining room next door, and the nicest, most on the ball employees ever to give slackers a good name? Not so much. In fact, this is the only one we know of. Pro tip: order your thin, crispy pie at the adjacent PS Lounge, where your first drink always comes with a shot on the house. And ask for the Spinaci with red sauce, which adds light, bright tang to the mix of spinach, Kalamata olives, mozzarella, and Romano.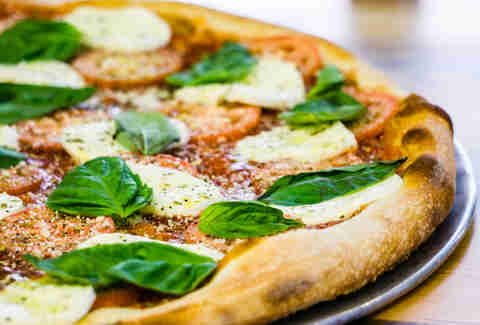 Ballpark
Best for insanely creative toppings
It's across the street from Coors Field and it's open past last call. What more could you ask for from a pizzeria? Glad you asked. You could ask for a thick crusted pie topped with the kitchen sink -- pasta, black beans & rice, specialty combos like fish & chips or brats & kraut, or their famous mac & cheese pie. You name it. You could also ask for housemade dipping sauces like green chile ranch, and side salads with 40 different ingredients. And beer. And chocolate-peanut butter Chex Mix for dessert. Essentially, this Wisconsin-based cult favorite will deliver, no matter what you're looking for.
Baker/Highland
Best for fast-casual pies
Oh, to have been a fly on the wall when the masterminds behind Boulder's Frasca Food & Wine and Chipotle Mexican Grill met to discuss their plot for world domination. But you'll get the gist of it by being a human at the counter of their pizzeria franchise: these guys mean fast-casual gourmet business. Acting as streamlined versions of the full-service Boulder flagship, the Denver outposts of Pizzeria Locale offer the same knockout Neapolitan-style pies -- including the Mais with crème fraîche, ham, and corn -- in a fraction of the time, along with beer or wine on tap, a couple of salads, and the famous butterscotch budino for dessert.
RiNo
Best margherita pizza
Getting squeezed and jostled like cargo in a shipping container -- because you're actually in a shipping container -- is all part of the fun at this ode to the roadside cafes of Italy. The other part of the fun? The airy, bubbly, truly amazing pizza. They offer a lineup of eight pies including a rotating seasonal special but for a truly simple slice of perfection, go for the Daisy, aka their take on the margherita paired with a dozen oysters (Pro-tip: the Daisy's only $5 from 10pm-12am).
Platt Park
Best for garden fresh gourmet pies
No other spot feels as homey as Kaos -- and that's because the building is a 100-year-old brick cottage complete with quaint garden patio where you can order these artisanal pies when the weather warms up. Everything here is done by hand, and ingredients are sourced from local farms and ranches, and even from neighbors who have a bit too much garden bounty on their hands. Go for one of their tried and true favorites like broccoli & tater, but be sure to also check out their ever-changing seasonal specials.
Uptown
Best for New Haven-style pies
You're asking what is "New Haven-style" right now, aren't you? Think thin, slightly charred crust in a rustic, asymmetrical shape. They're incredibly tasty and served in a trendy space that features highlights like a chandelier made from over 1,000 wine bottles. The whole operation was started by the same brothers that brought us Dos Santos; Kris and Jason Wallenta, who were inspired by the "pies" (not pizzas) they ate growing up on the East Coast. Don't miss the Porky Porkorino with red sauce, mozzarella, sopressata, pickled chiles, and hot honey. And if you need a second, go for the eponymous White Pie with crème fraîche, mozzarella, garlic, bacon, crimini mushroom, and an egg on top. The best part? Their pies are only $10 on Mondays.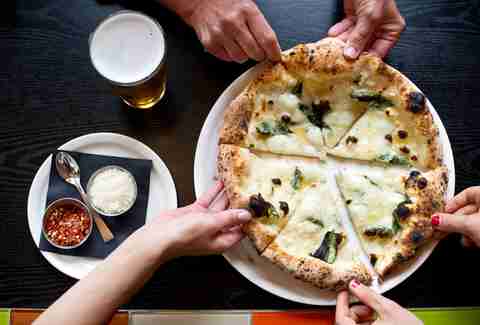 Ballpark/Englewood
Best for Neapolitan pizza
Mark Dym, who owns Marco's (which briefly went through a name change to Racca's) along with his wife Kristy, wanted to make the perfect pizza, so they headed straight to Naples -- pizza's beautiful birthplace. They're now the only Colorado restaurant that's been certified by the Associazione Verace Pizza Napoletana, which is basically the international authority on authentic Neapolitan pies. You'll want to head to Marco's for combos like the Piemont, topped with fresh mozzarella, Pecorino Sardo truffle spread, mushrooms, prosciutto di Parma, and basil.
RiNo
Best Chicago-style around
By Chicago-style, we do not mean deep dish. Restaurateur Jared Leonard brought his Chicago-based hot chicken joint, Budlong, to Denver in 2018 and has since added AJ's BBQ and Norm's Deli to his Mile High repertoire. But now he's made things extra personal with a pizza place in The Source that specializes in a regional specialty he grew up with: cracker-thin-crusted, square-cut Chicago tavern-style pies. Pair them with an Italian beef, loaded with giardiniera, and a few rounds of pinball for an authentic Chi-Town experience right here in Denver.
Five Points
Best NYC-style slice
The man who brought NYC bagels to Denver at Rosenberg's -- and big city deli favorites at Lou's Italian Specialties -- is also serving up legit slices at this window service joint. Josh Pollack's trio of eateries are a haven for East Coast transplants and the pies coming out of Famous J's may be the most addictive of the bunch. You can order full pies, but nothing compares to the experience of walking up to the window and ordering a couple of slices served on paper plates and eating them street side.
Lakewood
Best wood-fired pies
OK, so there are other pizzerias on this list that do a charred crust -- and do it well -- but this spot that's a short drive from downtown has developed a cult following thanks to the pies being made in their wood-fired oven. Cooked at 900 degrees, each 14-inch pizza (they come in only one size) features a just-burnt-enough crust and a lingering smokey flavor. Add toppings like homemade sausage, roasted Colorado onion, Jimmy Nardello peppers, garlic, chile flakes, and basil (aka 'The Italian') and you'll find yourself making excuses to head to Lakewood to try out the whole menu.
LoHi
Best deep dish
Is it authentic enough to please born and bred Chicagoans? It might be. Especially if you're into loads of toppings layered with sauce and cheese. If you're not eating in, your pie will arrive unsliced, because otherwise deep-dish overflow is a real threat. But sliced or unsliced, crust filled to the brim with toppings like locally made Polidori sausage and Tender Belly bacon, Mile High Giardiniera, Italian beef, and much, much more deserves your full attention and empty stomach.
Sign up here for our daily Denver email and be the first to get all the food/drink/fun in town.