It's definitely not difficult to get a slice in this town, especially if you're on Colfax late at night and some dude shanks you. Luckily, it's also not difficult to find quality pizza, especially now that we're supplying you with eight suggestions on where to find the finest pies in Mile High.
8. Wyman's No. 5
Southeast
What you're getting: The Big Pizzle
This Chicago bar is the perfect place to stuff your face with pizza, and wash it down with a cold beer while watching the Cubs inevitably lose again. The obvious choice here is the Chicago-style deep dish, but it's a winner as a thin-crust pie too. Despite the ridiculous name, The Big Pizzle is packed with can't-miss ingredients like pepperoni, sausage, meatball, onion, green pepper, and mushrooms.
7. Edgewater Inn
Edgewater
What you're getting: The Great White
Edgewater Inn's been the heart of the 'hood since 1953, churning out serious comfort food in a refined space. This is old school Denver pizza, and the homey feel of the tavern makes you feel like you've stepped back in time. Great Scott! Their Great White pizza is unconventional (white sauce, grilled pine nuts, and artichoke hearts), but surprisingly addictive.
6. Basic Kneads
What you're getting: The Sweet Thai Chicken Chili
How can pizza from a food truck possibly be good? Well, thanks to Basic Kneads mobile wood-fire oven and ingredients like organic, CO-milled flour and hand-crushed tomatoes, their pizza is better than good. And if you've ever wondered what an Italian pizzaiolo would make for dinner after going shopping in a Bangkok market, it's the Thai pie with chicken, cilantro, Thai chili sauce, cheese, and green onions.
5. Hops & Pie
Northwest
What you're getting: Any pizza of the month
This Tennyson St Denver-style pizza joint has always had a great selection of craft brews to pair with their 'za, as well as a handful of unique toppings to spice up said pies, like dollops of mashed potatoes. But they don't offer signature pies, instead encouraging you to make your own. The exception is the monthly special, which recently was topped with flank/ bacon, sweet onion puree, queso, scorched corn, pepitas, and pickled sweet peppers. Wow.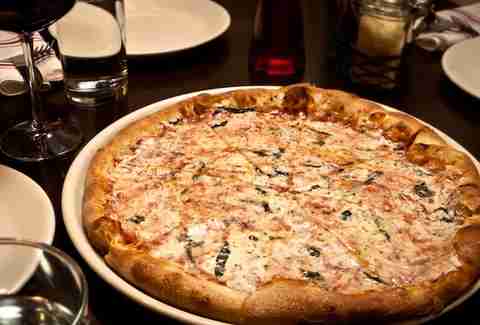 4. Osteria Marco
LoDo
What you're getting: The Margherita
In a basement hideaway in Larimer Square -- that also happens to have killer street-side tables -- any sane person could happily eat Osteria's house-made cheeses and cured meats for infinity years. But their Margherita, while it lacks a ton of ingredients, is pure pizza heaven: San Marzano tomatoes, fresh tomato, and basil. Done and done.
3. Denver Pizza Company
Golden Triangle
What you're getting: The Magnificent 7
This CO-born company is quite proud to be from around here -- but not in that annoying "native" bumper sticker way -- by complementing their stellar pies with local Glacier ice cream, homemade wings, and pasta. It's take-out only, so bring home a Magnificent 'za with salami, pepperoni, sausage, mushrooms, basil, bacon, and sun-dried tomatoes.
2. Patxi's Pizza
Englewood & Cherry Creek
What you're getting: The Salsiccia
Known more for their stuffed Chicago pies which are covered with an extra layer of dough, sauce, and cheese after the pizza's been dressed, their menu's so stacked, you should instead snag a Salsiccia thin-crust pie piled high with garlic-fennel sausage, fresh ricotta, basil, and mozz. Don't forget to put honey on the crust to make the meal truly gluttonous. Hey, that rhymed!
1. Marco's Coal Fired Pizzeria
Five Points
What you're getting: The Del Re
Seeing as they're the only pizza place in Colorado certified by a pizza association that judges which shops makes their pies the traditional Naples way, Marco's is the real deal. And speaking of things that are the truth, you'll wanna scoop up their fresh mozzarella, Pecorino sardo-/truffle-spread, mushroom, prosciutto di Parma pie called The Del Re.