The 7 best sandwich shops in Denver
A truly great sandwich doesn't just happen by accident. Everything needs to be in the right balance -- the bread, the fillings, the condiments -- with the end result being a work of art... a work of art that you will sloppily devour within minutes like it's your last meal on earth. Here are seven Denver shops that excel at the art of sandwich-making like nobody else:
Uptown
Chef-owner Mary Nguyen of P17 performs some serious sandwich wizardry at this corner cafe and bakery. Expect to run into unique creations like the Greggers, which contains beef tongue that has been braised for six hours before being paired with garlic puree, tarragon aioli, caramelized onions, and roasted peppers on a hot baguette. Or go for seafood and nab the Jamal, a blackened fish number with citrus tartar sauce, capers, Swiss cheese, coleslaw, avocado, and roasted tomato served hot on ciabatta. Really go with anything. You're in good sandwich making hands here.
Rebecca Feder
Wheatridge
This family-owned Italian bakery can be found in a tiny strip mall that shares space with a casket store. Don't let the location weird you out, because you would be missing out on freshly baked bread and Italian pastries that are unlike anything else you'll find in Denver. Fresh cream puffs, lasagna, and espresso drinks are just a few delicious things on the menu, but the sausage sandwich is a must-try. The store's newest addition is a miniature fine wine/liquor store you can check out while your waiting for your sandwich.
Thrillist
Sunnyside
One of Denver's only Cuban-style sandwich shops, BCC does not disappoint with its hot pressed sandwiches and authentic Cuban coffee. Get the Aye Conyo, which is a traditional Cubano with pepperoni, turkey, peppers, and key lime mayo added on. Or, if you're still in breakfast mode, get the bacon, egg & cheese sandwich that comes pressed on Cuban bread. The majority of the menu is (rightly) sandwich-focused, but there a few small sides, like empanadas and plantains that are worth bringing into the mix. Also worth your time -- an extra side of their chimichurri, on literally anything.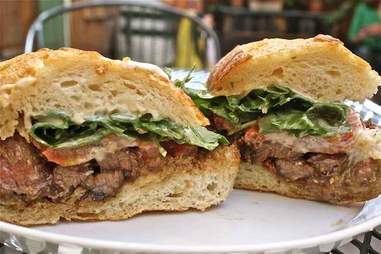 Thrillist
Wash Park
Vert keep things quite simple and quite French. The menu consists of eight sandwiches, each one composed of just a few all-organic ingredients. Simplicity is key here, because every sandwich is put together for mind-blowing flavor without a mess of condiments. The L'Entrecôte may be hard to pronounce, but don't miss this skirt steak sandwich topped with arugula and walnut mustard.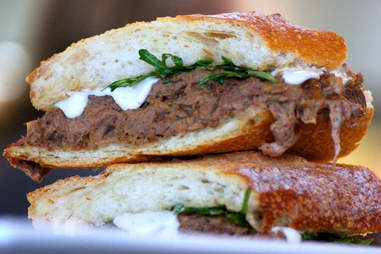 Thrillist
LoHi & Uptown
If you're going to make the first name in your restaurant "Masterpiece", you had better back it up. Luckily, they do. There's a great variety of creative sandwiches to choose from, like the 12-hour-braised beef brisket with Taleggio fondue & red wine gastrique, the white truffle egg salad, or the seared ahi tuna with wasabi aioli on a toasted English muffin -- everything is a legit symphony of deliciousness. You can also can create your own masterpiece, with ingredients like bacon from the Denver Bacon Co., truffle oil, and imported cheeses. But then again, they know what they're doing.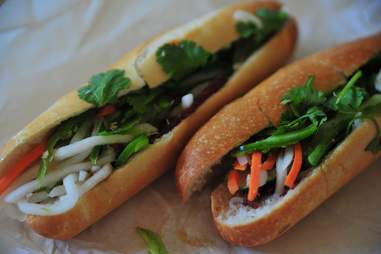 Rebecca Feder
Southwest
A jaunt down South Federal can result in some great people-watching and some really flavorful, authentic Vietnamese food. Banh mi sandwiches are the perfect culmination of French and Vietnamese cuisine, and Ba Le serves up a damn fine one for an even better price. The combo of sweet BBQ pork covered in pickled veggies, cilantro, and spicy jalapeños has a satisfying crunch inside a miniature french loaf. All the sandwiches on the menu range from $3-$3.75, so you can feel good about it when you devour a couple of them.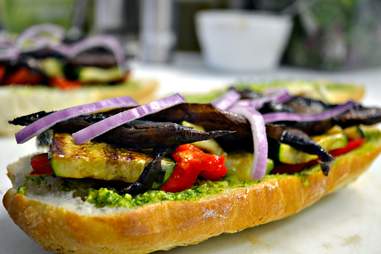 Curtis Park Deli
Curtis Park
This beloved neighborhood spot is all about fresh, fresh, fresh. The menu consists of the usual suspects, like a Reuben, an Italian, and a turkey sandwich, but what makes this place special is the personal touches, like house-made condiments and local produce. They even make their own BUTTER, which they use on the egg & prosciutto sandwich. Now that's dedication. Delicious dedication.
Sign up here for our daily Denver email and be the first to get all the food/drink/fun in town.