The Best Steakhouses in Denver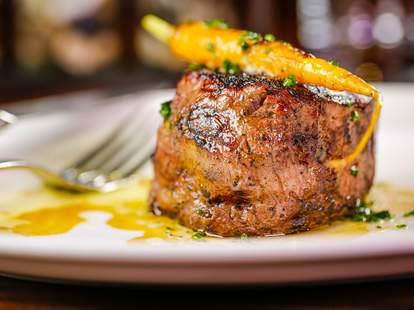 Can you believe some people still call Denver a cowtown? Well, that's one designation we simply won't stand for any longer. We're a cow metropolis, damn it! And these phenomenal steakhouses show how very far we've come without losing our roots on the ranch (or our home on the range).
Downtown
This is one of Denver's best restaurants, period, so it's obviously the grand slam of steakhouses. Blind dates on first base, anniversary celebrants on second base, dealmakers on third: they all score big here, as Troy Guard and his team hit homer after homer. It's not only about the myriad chops on offer (including a filet mignon flight); the kitchen conceives everything on the seasonal menu with care and flair, then executes it just as beautifully -- breads, salumi, starters, seafood, sides, exquisite desserts, and all. The same goes for the bar crew and the wine director, whose list spills with treasures, not just trophies. And the service hits the sweet spot: deft, but not deferential. Damn, we just talked ourselves into going back right now.
Ballpark
We almost never get steak here, because we're too busy stuffing our faces with burgers, sandwiches, cassoulet, sausages galore, pork rillettes, spinach croquettes, shrimp toasts, bison testicles, beef hearts on toast, and whatever else we've never tried before. There's always something new, and too tempting to pass up. Embarrassing confession: then we buy a couple of rib eyes or porterhouses from the meat counter up front so we can have our steak and eat it too, at home and in private. It's no confession to say these guys can cook them better than we do, though -- that's just a mathematical certainty.
Courtesy of Del Frisco's Restaurant Group
DTC
With so many homegrown beef barns to belly up to, why include even one link in a national chain? It's not because the steaks are spot-on (though they are), or that the wine cellar is enormous (though it is). It's because there's a cigar lounge where you can make like a regular captain of industry, knocking back cognac to the tunes of a live pianist while blowing smoke rings in the air like you just don't care. (The Cherry Creek branch of Del Frisco's Grille comes close... but no cigars.)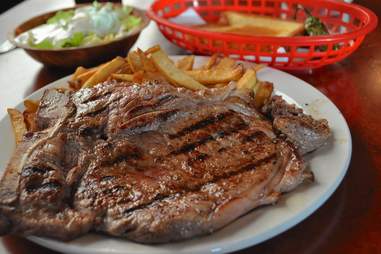 Ruth Tobias/Thrillist
Valverde
Like Bastien's, Columbine has been around for decades, and has triumphed in our old-school steakhouse ranking. Unlike Bastien's (or any other place on this list), it's a total chuckwagon. The "dining room" has all the ambiance of a concession stand; the adjacent "lounge" is a dive. The staff are super-cool if you are -- but just know they won't take any crap, nor will they take plastic. And the chops? The chops are balls-out, plate-sized, grill-marked proof that America's still all that and a side of Texas toast (plus basic salad and choice of potato). The day this place closes, the Mile High City sinks an inch.
Adam Larkey Photography
Downtown
EDGE is just as swanky as you'd expect from The Four Seasons, but it's a lot sexier, and the seasonal menu lives up to the name, too. Take the beef-fat candle that comes with the bread basket; the gorgeous elk, lamb, and buffalo chops, or the wagyu tomahawk chop that, at $120 for 30oz, is actually a steal; or the sublime deconstructed orangesicle with olive oil cake. And then take another beef-fat candle, because it's a freaking beef-fat candle.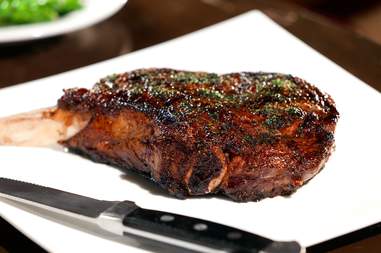 The Ritz-Carlton, Denver
Downtown
Is it really that surprising that The King of Colorado's domination translated to domination on the grill? The Cherry Creek flagship's no slouch (and the DIA outpost is as good a reason to miss a flight as any), but the collaboration with The Ritz Downtown has a bit more glitz. Their bone-in filet is the choicest plate, even if the meat isn't actually choice, because clearly Mr. Elway wouldn't accept anything less than all USDA Prime hand-cut steak. If you're worried that won't be enough protein, lamb chops dipped in green chili cheese fondue make for a fine start.
City Park
They should spell it "Bastion's," because this place is one of the last remaining strongholds of the Rat Pack era on Colfax. With its Googie architecture and supper-clubby vibe, it's the kind of place where a Rusty Nail or Crown Royal on the rocks just makes sense... where your chop comes sugar-crusted, or chicken-fried, or smothered in onions & cheese, and your sides are included in the price, like God intended... where the cream pie stands sky-high... and where you'll look only half as goofy in that Goorin Bros. fedora as you usually do.
DTC
Fortunately faring better than the former Broncos coach who gave it a name (those Redskins, oof), Shanahan's fireplace-warmed interior and nearly 6,000-bottle wine cellar still sets the mood for mass meat consumption, like a 22oz bone-in "Cowboy" rib eye, available with a wide array of upgrades, from blue-cheese crust to lobster tail. Do yourself a favor and get the foie gras butter.
Englewood
Here are words that don't usually apply to steakhouses: "snug," "quirky," "adorable." But they all work for this charmer, which spans two floors with so little wiggle room you feel like you're sitting in a life-sized dollhouse -- a really, really cool dollhouse, though; the kind with a full bar, fireplaces, and framed stills from Scarface on the walls. The menu, too, is small, but a few Greek and Mexican specialties supplement the usual surf & turf, and if you order a salad, they may inexplicably yet cheerfully bring you a basket of matzoh. For dessert, there's xango, or cheesecake wrapped in fried, sugar-coated tortillas, because really, why the hell not?
Sign up here for our daily Denver email and be the first to get all the food/drink/fun in town.
Ruth Tobias will probably come back as a cow in her next life -- hey, she already has the ruminant stomach. Find out how she fills it @Denveater.