Denver used to be a place some would refer to as a "cow town." Now, the food scene has moved way beyond steakhouses, and the city's restaurant revolution has brought with it plenty of options for those who forgo meat altogether. These spots prove that meatless in no way means flavorless, and the best of the best have food so delicious that even the most skeptical carnivores will leave entirely satisfied.
Recommended Video
This Restaurant Offers 50+ Garlic-Infused Dishes
Berkeley
Justin Cucci has brought Denver a trio of hits with Root Down, Linger, and Ophelia's Electric Soapbox. His newest addition, this fast-casual vegetarian eatery, is impressing palettes with playful flavors (try the charcoal coconut dosa), imaginative dishes (Devils on Unicorns, anyone?), and an inviting space that includes two patios and an herb garden made from colorful, upcycled cafeteria trays.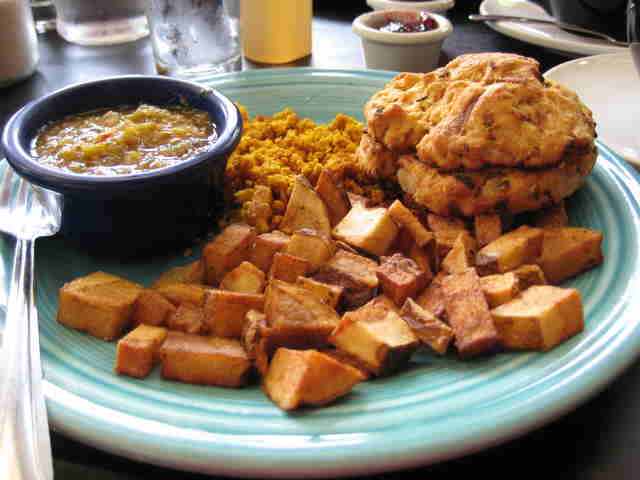 North Capitol Hill
A classic for a reason, WaterCourse has been serving up all-vegan fare since 1998. Open all day, it serves a variety of options, including hearty breakfasts like biscuits & gravy, and burritos with a vegan version of Denver's ubiquitous green chile (of course). If you head in later, you'll find more reimagined comfort foods like Tofish'n'Chips and Beet Wellington, which let you satisfy your cravings guilt- and meat-free.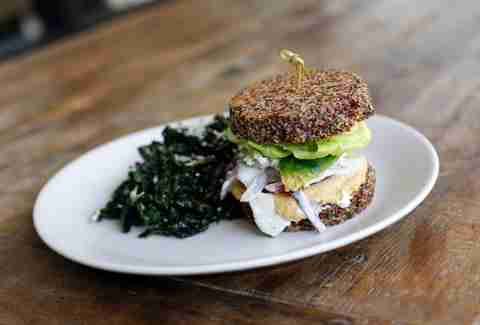 Cherry Creek
Yes, this place is a chain with multiple locations around the country. No, it's not strictly vegetarian. But the power of its filling, flavorful Inside Out Quinoa Burger alone is enough to land it on this list. If that's not enough, you'll also find rotating seasonal salads filled with unexpected and addictive combinations along with pizzas and much more. But if you're a first-timer, get that quinoa burger and take it from there.
Whittier
This Whittier spot was a new addition to Denver in January 2016, and it's already proven itself to be a favorite for homestyle vegan eats. The menu offers a handful of options done right, including chickpea fried steak, shepherd's pie, creative carrot "bacon," and baked goods. The venue may be tough to spot if you're not looking for it, but this low-key eatery is more than worth seeking out (hint: the building that it's housed in is brightly painted in a few different colors).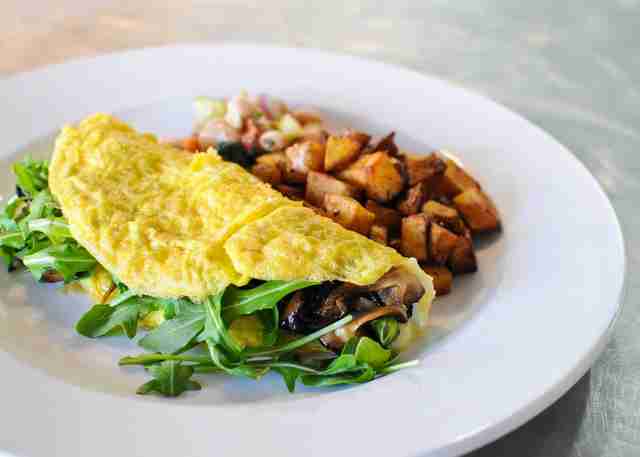 Capitol Hill
Another longtime favorite, City, O' City serves food all day, so it's ideal for anything from early-morning coffee and breakfast to late-night whiskey and snacks. Its expansive menu offers tons of stalwarts, but one sure bet is the savory waffle of the week. It's consistently changing specials are never boring, with combos like the recently available Thai peanut version with spicy peanut sauce, lime ginger slaw, BBQ tofu, green onion, pear, and sesame seeds. Or go for the addictive seitan wings. Or maybe the "chicken" & waffles (the chicken is actually chicken-fried cauliflower). Or just bring your friends and order it all; it's incredibly tough to go wrong.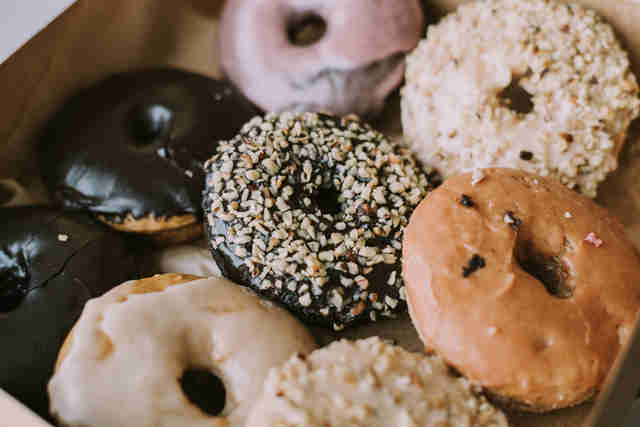 Five Points
A small sandwich menu and selection of baked goods might not seem like much, but this under-the-radar vegan bakery proves that simple is often best. Sate your appetite with a cremini panini or score a savory croissant in varieties like curry cauliflower and black bean poblano, but be sure to save room for dessert. From muffins and donuts to delicious cakes, it offers a veggie-centric meal AND can satisfy your sweet tooth.
Hale
Touted as Denver's oldest vegetarian buffet (it's been dishing out the goods since 1989), Govinda's is a community staple. Buffets usually mean heaping amounts of calorie-packed, mass-produced options, but here you get fresh, inventive food with a focus on healthful and taste. The offerings change often and are heavily influenced by Indian flavor, but you'll find a variety of global cuisines on any given day, whether it be eggplant Parmesan, enchiladas, or even BBQ.
Food truck
You've got to track down Lisa Wong and her mobile vegetarian kitchen to enjoy this food, but if you don't, you'll be missing out on some seriously tasty meals. The menu changes depending on where and when you catch her, but you'll always find the freshest in-season produce. Try some favorites like the jackfruit quesadilla, Boulder Philly (it comes complete with all the melty, cheesy gooeyness you crave), or seasonal grilled cheese and you'll soon you'll be stalking WongWayVeg around town.
Sign up here for our daily Denver email and be the first to get all the food/drink/fun in town.