Plant-based eating has fully made its way into Denver (much to the surprise of… no one). While Denver was once called a "cowtown," our neighbor to the north, Boulder, has always carried the reputation of being the home to quality vegetarian cuisine. But now it's our time to shine (brightly, like the summer tomatoes Radha Govinda's Buffet grows in their garden). 
Everything is going plant-based in the right direction, from Caribbean fare to baked goods (and even bar snacks). Never again will vegetarians, vegans, or anyone looking for a meatless meal have to settle for the bland. Some of these spots are fully plant-based while others offer both vegetarian and carnivorous cuisines. But either way, their eats are sure to impress and sate your ravenous appetite. 
Overland
With its baby blue and pastel pink color scheme, this literal bright spot anchored to an apartment complex looks, at first glance, like it belongs in South Florida. But beyond the decor is a place dedicated to a different kind of plant-based dining with a focus on seasonal cuisine and fresh flavors. You won't find any mass-produced, plant-based burgers here. Instead, the menu features vegetable-forward dishes (including handmade pastas) from a zero waste kitchen -- all good buzz words. But the best part? The food is simply delicious. For a good introduction (and for one of the cheapest tasting menus in town), check out their $25 Sunday night dinner where you'll be served multiple courses featuring the chef's choice of dishes. 
Baker
Vegan bar food? Let's go. This South Broadway bar and restaurant has gained a loyal following for it's vegan-friendly menu of snacks that will satisfy as you sip on local beers (or PBRs) and cocktails. Corn dogs, pickle chips, and even slow roasted jackfruit in a cubano style sandwich all get the vegan-friendly treatment. Side note: they do have several non-vegan options for your meat-eating friends, making this a great spot for a group night out.
Hale
Buffets are known as palaces of unwavering gluttony. But here, you can get that all-you-can-eat satisfaction without the "why did I eat all that?" regret. The fully plant-based spread includes an array of salads featuring veggies (from their own garden when available), vegan sourdough bread and butter, desserts (don't miss the cinnamon rolls), and a rotating menu of special hot entrees like lasagna, Kentucky fried tofu, and green chile enchiladas on Mexican night. They're only open Wednesday-Saturday, so check the website for the current week's specials and plan your next guilt-free buffet accordingly. It's also only $14.95 for dinner.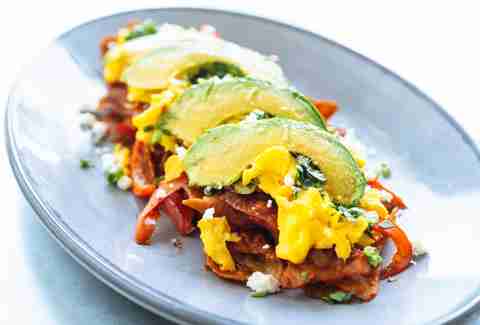 Capitol Hill
Filled with plants and a bright tropical vibe that's an ode to the Caribbean, this restaurant kind of looks like the set of Legends of the Hidden Temple (that's a compliment). Just short of an actual ocean, the people behind this spot have brought island vibes and flavors to the Mile High, along with a menu that's got vegetarian and vegan options for nearly every dish. Spice comes in a lot of forms here, from the deeply-flavored Mack the Knife curry with your choice of tofu, seitan, or jackfruit, to seitan wings with fiery scotch bonnet/mango sauce, and mapo tofu with tongue-numbing szechuan peppercorns. They've also got a lineup of creative, tropical beverages including the Nose Ender which is served in an actual coconut as well as a selection of booze-free island fizzes.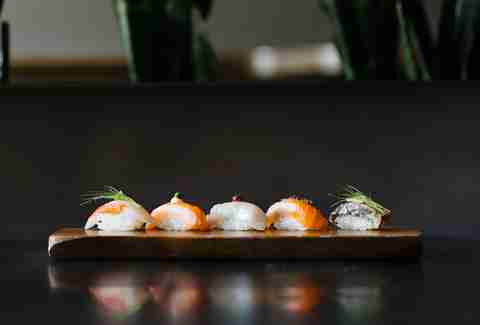 RiNo
When Uchi came to town and opened its second location (the first is in Austin), the focus was all on the fish. And they definitely do sushi (very) well. But this restaurant does a lot well, including providing some of the most creative vegetarian fare in town. In fact, they have an entire vegetarian menu that you can sample from. There are some go-to dishes (edamame and an avocado roll are present and accounted for), but really, it's best to order the unfamiliar and let the kitchen's creations surprise you (whether you're eating from the vegetarian menu or not).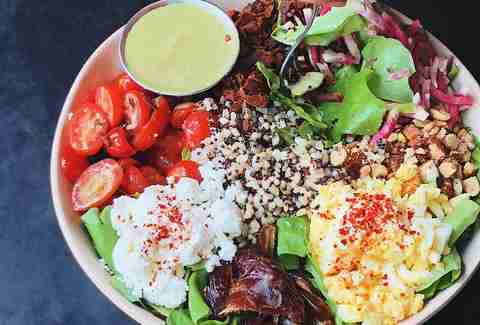 Berkeley
Justin Cucci has a lot of hits in Denver (ahem, Root Down, Linger, Ophelia's Electric Soapbox, and El Five) -- all of which have some great vegetarian selections on their menus. This fast casual spot, however, is 100% vegetarian friendly. It serves up playful flavors (try the bahn mi tacos) and imaginative dishes (Korean BBQ veggie "wings" anyone?) for lunch, dinner, and weekend brunch in an inviting space that includes two patios and an herb garden made from colorful, upcycled cafeteria trays.
Food truck
You've got to track down Lisa Wong and her mobile vegetarian kitchen to enjoy this food, as we highly suggest you do. The menu changes depending on where and when you catch her, but you'll always find the freshest in-season produce. Try some favorites like the Boulder Philly (it comes complete with all the melty, cheesy gooeyness you crave), or the sweet potato and black bean pupusas and you'll soon you'll be stalking WongWayVeg around town.
North Capitol Hill
A classic for a reason, WaterCourse has been serving up all-vegan fare since 1998. Open all day, it serves a variety of options, including hearty breakfasts like biscuits & gravy, and burritos with a vegan version of Denver's ubiquitous green chile (of course). If you head in later, you'll find more reimagined comfort foods like Tofish'n'Chips and Beet Wellington, which let you satisfy your cravings guilt- and meat-free.
Capitol Hill
Another longtime favorite, City, O' City serves food all day, so it's ideal for anything from early-morning coffee and breakfast to late-night whiskey and snacks. Its expansive menu offers tons of stalwarts, but one sure bet is the savory waffle of the week. Its consistently-changing specials are never boring, with combos like the recently available Thai peanut version with spicy peanut sauce, lime ginger slaw, BBQ tofu, green onion, pear, and sesame seeds. Or go for the addictive seitan wings. Or maybe the "chicken" & waffles (the chicken is actually chicken-fried cauliflower). Or just bring your friends and order it all; it's incredibly tough to go wrong.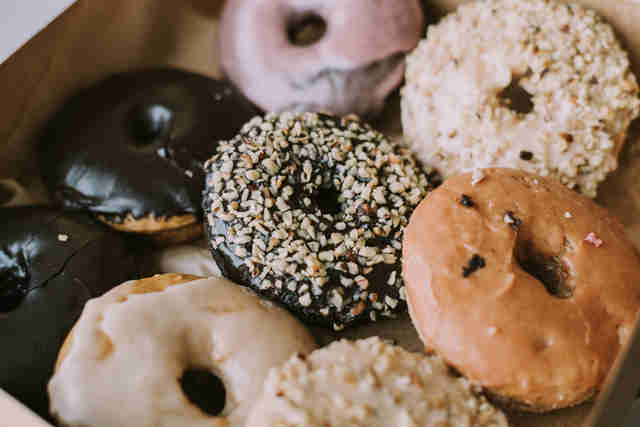 Five Points
A small sandwich menu and selection of baked goods might not seem like much, but this under-the-radar vegan bakery proves that simple is often best. Sate your appetite with a cremini panini or score a savory croissant in varieties like curry cauliflower and black bean poblano, but be sure to save room for dessert. From muffins and donuts to delicious cakes, it offers a veggie-centric meal AND can satisfy your sweet tooth.
Sign up here for our daily Denver email and be the first to get all the food/drink/fun in town.