There are plenty of reasons to go to Boulder -- being admitted to UC, having a hippie aunt who really misses you -- but another damn good reason is simply the fact that you're hungry. And thirsty. Here are 13 of the best ways to eat and drink your way around town, from bustling beer gardens to nationally acclaimed sandwich shops to seriously sustainable bistros.
Frasca Food & Wine (info and address)
Paying homage to the cuisine and wine of Northeast Italy, Frasca Food & Wine is the kind of place you go to get an amazing Italian meal AND an education. Chances are great that your server is indeed smarter than you are, so sit back, stop trying to impress your date (they can tell), and enjoy all the things on the menu that you can't pronounce.
Black Cat (info and address)
Usually, when you hear the terms "farm to table", "organic", and "Boulder" being thrown around, you want to run the other way, or grab some bongos and join the smoke circle. However, Chef Eric Skokan has revolutionized the meaning over the years by growing his own produce and raising his own livestock on his very own farm, merely miles away. Which also means that if you took the scenic route today, those farm animals you saw are now gracing your dinner plate.
OAK at Fourteenth (info and address)
What happens when GQ's "most inspired bartender" and Food & Wine's "Best New Chef Southwest" decide to open a restaurant? They make old-school classics like fried pickles, and then blow your mind with a 30oz porterhouse. Don't skip out on the libations, which include their house-made and bottled sodas.
The Mediterranean Restaurant (info and address)
Probably the most impossible happy hour to beat in Boulder (or the world?), with discounts on... basically everything, The Med specializes in making you stuff yourself beyond what you thought was possible. It's hard to skip out on bacon-wrapped dates (as is often the case with bacon-wrapped things), but save room so you can inhale all the other bites of deliciousness from all over the Mediterranean.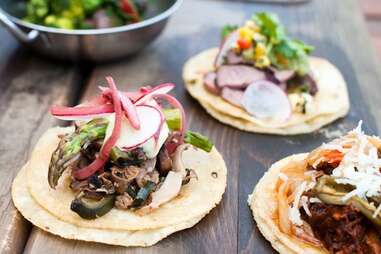 Centro Latin Kitchen (info and address)
It doesn't get any better than sipping on a grilled pineapple-infused tequila margarita on a patio that looks at the flatirons -- unless you throw in some goat cheese fondue, short rib empanadas, and lobster quesadillas.
The Buff Restaurant (info and address)
The Buff is Boulder's legendary go-to spot for brunch (so legendary that it had to relocate across the street to bigger digs). Enter to find hoards of college kids and natives alike chowin' down on fresh skillets and omelets. Aside from the food, they have their very own dollar menu, which includes (very importantly) Bloody Marys and mimosas. It's also the only place you can say "saddlebags" to the server without expecting five fingers to the face shortly after -- because they're actually gloriously stuffed pancakes.
West End Tavern (info and address)
25 years of standout food, serious craft beer, and one of the largest bourbon selections in the state make the West End Tavern a Boulder staple. Get down with their meat-heavy menu (smoked Duroc spare ribs, fried chicken & biscuits with pimento cheese gravy) that preaches the mantra "if we aren't supposed to eat animals, how come they're made out of meat?".
Pearl St. Pub and Cellar (info and address)
No matter how old you are, playing games like darts and pool will never get old. The benefit of growing up? You get to drink beer and play them in places like this. Entertaining old timers, college kids, and surrounding industry types, "The Pub" is the quintessential place to get away, crush some burgers and fries, and play a round of pool with strangers.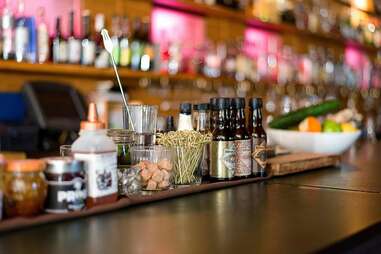 Bitter Bar (info and address)
The top spot in Boulder to grab a decent cocktail, and by "decent cocktail" we mean totally insane creations that include the boozy rye whiskey and cayenne maple "Cowboy". Programming note: it's temporarily closed for some sprucing up after one of the original partners purchased it outright, but it's expected to be back in the cocktail game in no time.
World Famous Dark Horse (info and address)
Since 1975, the Dark Horse has been saving students' bank accounts with weekly specials that include $2 drafts and a 25oz pour of your favorite micro draft for the price of an Abraham Lincoln. It's also one of the only places where you could ever order rocky mountain oysters and a burger with peanut butter and bacon and not feel bad about yourself.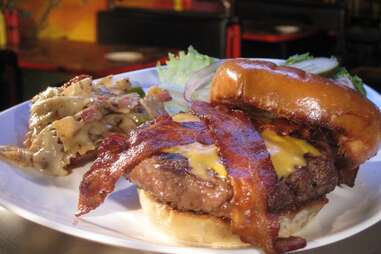 The Sink (info and address)
For more than 90 years, The Sink has been bringing the people of Boulder a great atmosphere, tasty beer, and the SinkBurger. Even better, they open extra early on commencement day to send off the seniors with fond memories, and an inevitable headache. Fun facts: Obama loves the place, and Robert Redford was a janitor here in 1955.
Half Fast Subs (info and address)
Recently voted one of the top sandwich shops in a college town (by a leading authority), Half Fast is known for having one of the most insanely delicious and diverse sammie menus in the nation (try the Buff Chicken), and to go along with it, they offer personal pitchers of their Strong Island Iced Tea.
Bohemian Biergarten (info and address)
A newcomer to the dining scene in Boulder, BB is your go-to for the glorious combination of beer and pretzels, and the equally glorious combination of pretzels dipped in cheese. Naturally they also have bier brats, tasty sauerkraut, and polka bands. So if you feel like celebrating Oktoberfest during the other 11 months of the year, you know the place.