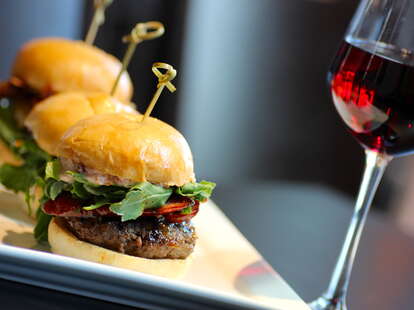 Red liquid often pours out of a hamburger after you bite into it, but one classed-up fast-casual eatery in Boulder, Drakes Haus, is adding their own red liquid (Merlot!) to burgers before grilling them, resulting in ultra-juicy meat topped with inventive international fixins.
Merlot gets in this tasty-looking burger by mixing it in with Angus beef (along with secret ingredients), and then letting it marinate before grilling. Each burger is bigger than a slider, but not as big as a full burger, and is named after regions of the world where Merlot grapes are grown, like this Italian with mozz, roasted red pepper, and basil pesto.
DH takes orders at the counter, and then the wait staff serves the burgers on fine China, dishware that likely wouldn't sound as high-class if it were called "mad fly China".
Don't expect an "overpowering wine sensation" flavor-wise, just a delectable burger like the South American, piled high with a grilled, spicy chorizo, cherry-fennel goat cheese, and arugula. Fiesta Fries topped with chili powder and cumin make for a choice pairing.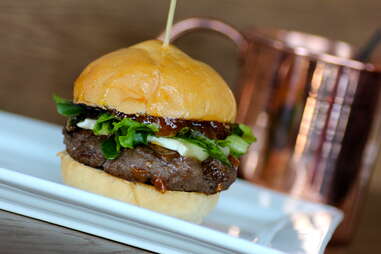 The French features a cave-aged Brie cheese, rosemary apricot jam, and field greens in a lemon-herb dressing. Unlike the language you were forced to learn in high school, you'll never forget this.
The Oregon is a straight-up classic American burger: lettuce, caramelized onions, Wisconsin sharp cheddar, and applewood-smoked bacon.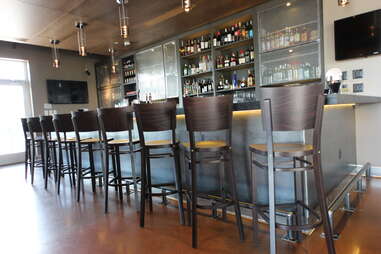 The upstairs bar in the mod space features a drink list with local drafts (Steamworks, Avery), craft cocktails, and a handful of CA/ Italian/ New Zealand wines. No wines are from Colorado -- fitting, as once you get a burger and a drink, there'll be none from you either.