All Photos: Connor Green
All Photos: Connor Green
Being in Denver, it's likely that you know your way around tortilla-based eats, but man cannot live on breakfast burritos alone. Enter the taco -- compact, cheap, portable, and always there when you need one. Denver has many fine examples, but which of them rise above the rest? Find the answer, seven times over, below:
The Spot: Los Carboncitos, Highland
The Taco: Spicy chorizo or al pastor
The Reason: Los Carboncitos translates (very roughly) to "b*tchin' tacos", and their spicy chorizo and sweet-yet-piquant al pastor are the crowd faves. In this case, the wisdom of the herd is on point. Do yourself a favor and go for a porcine double play.
The Spot: El Taco de Mexico, Lincoln Park
The Taco: Beef taco
The Reason: Ask, "What's good?" and without hesitation, the lovely señoritas at Taco de Mexico will chime back with "beef tacos". Topped with green onions, cilantro, and a just-spicy-enough salsa, these little amigos will make you glad you didn't question their taco authority.
The Spot: Tacos Rapidos, South Platte
The Taco: Carne asada
The Reason: Your late-late-night alternative to the Taco Bell drive-thru, Rapidos dishes out legit tacos (with 100% beef!). The carne asada is the move here, wrapped in canary yellow paper that is eerily Taco Bell-esque -- but the meaty hunks of steak are anything but.
The Spot: La Mexicana Taqueria, Highland
The Taco: Barbacoa
The Reason: Beef steamed until mind-blowingly tender and tossed onto a fresh tortilla with cilantro and onion is where it's at, and where it's at is at La Mexicana Taqueria.
The Spot: La Loma, Jefferson Park
The Taco: Tacos al carbon
The Reason: Your grandmother's house was converted into a taco joint, and now dishes out seriously good Mexican eats like the tacos al carbon; sirloin strips sautéed with jalapeños and tomato salsa, then wrapped in a flour tortilla.
The Spot: Pinche Tacos, City Park
The Taco: Lengua
The Reason: For the Spanish-challenged, lengua means tongue. More specifically (and fortunately), cow tongue. Cooked close enough for you to to hear the sizzle, the lengua tacos are topped with avo, onion, cilantro, salsa, and a guajillo honey salsa (you might as well ask for extra right off the bat). You might think you don't like tongue. They'll prove you wrong.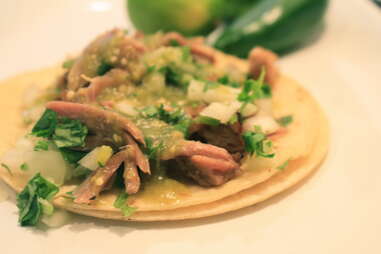 The Spot: La Abeja, Capitol Hill
The Taco: Carnitas
The Reason: Spring cleaning has surely yielded some spare coin, and La Abeja is the perfect spot to spend your newfound couch money. No other taco here will satisfy like their onion-, cilantro-, and salsa verde-topped, slow-cooked carnitas.