Where to do late-night in Denver
Sometimes you have to embrace the fact that every awesome night out has to come to an end eventually. Or does it? When you're desperately in need of late-night sustenance, these late-night joints are here for you.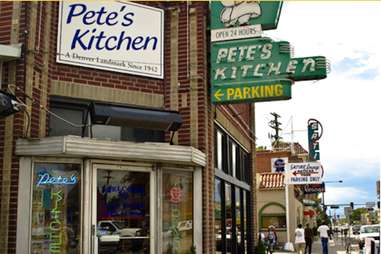 Pete's Kitchen
Pete's Kitchen
Northeast
Open 24/7, this greasy spoon is a Denver staple that has been serving all kinds of delicious Greek-style diner food to the people of Colfax for more than 70 years. The Breakfast Burrito Supreme lives up to its superlative billing far better than anything Taco Bell has ever done.
Two-Fisted Mario's Pizza
LoDo
Open until 3a on the weekends (or until the crowd starts to thin out) this legendary LoDo pizza dive is known for having loud music, cold beer, and mustache-rocking pizza tossers. Build your own from a topping list that includes Transylvanian garlic, meatballs, and ricotta cheese, or just order the Shroom N' Spinnn and place your trust in the masters.
The Breakfast King
Southwest
Another diner that hasn't changed in years because it doesn't need to, Breakfast King is known for attentive service, cheap prices, and food that lives up to the place's royal name. Order the french fries smothered in green chile and cheese or a big pile of flapjacks if you're feeling more breakfast-y. Actually, it's 3am, so get both.
Denver Diner
CBD
Another 24hr joint (a city can never have too many), DD offers some high quality late-night people watching after the bars have closed down. But because you can't (or at least shouldn't) eat people, the food is also not to be missed. Get a Mountain Man omelet, so named because it's size and meaty, cheesy fillings are FIT for a Mountain Man, not made from one.
Barricuda's
Capitol Hill
Open until 4a on Friday/Saturday, Barricuda's excellent juke box sets the soundtrack for a menu that covers most continents (sorry Antarctica), with friendly service and a dive bar vibe... what else could you need?
Jerusalem Restaurant
Southeast
Open until 4a (upped to 5a on the weekends), Jerusalem Restaurant has been turning out top Middle Eastern cuisine since 1978. The heaping plates of classic falafel, shawarma, and gyros will simultaneously settle and expand that beer belly.