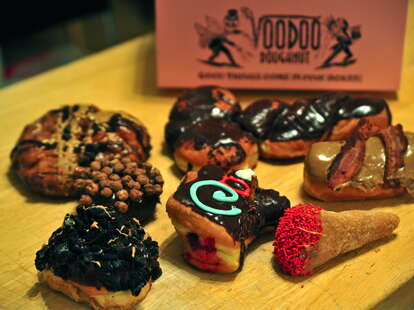 All Photos: Rebecca Feder
All Photos: Rebecca Feder
Voodoo Doughnuts, the Portland 'nuttery with a penchant for... interesting names and oddball ingredients, just hit East Colfax with its official grand opening and its full arsenal of pants-stretching treats awaiting your consumption. But lines can be long and pants can only stretch so much, so here are the eight selections you shouldn't miss if you want to maximize your Voodoo experience.
Old Dirty Bastard
The ODB is seriously sweet, even by doughnut standards, packing chocolate frosting and peanut butter holding together a mountain of crushed Oreos, which have been that way ever since the Wu Tang great passed away. (Kidding. These Oreos are not from 2004).

The Loop
Have you ever been mowing through a bowl of Froot Loops and said to yourself "this simply isn't enough sugar"? Well maybe you should try them plastered to the top of a doughnut with a bunch of vanilla frosting.
Triple Chocolate Penetration
Maybe you're more of a chocolate cereal person? Try cocoa puffs stuck to a chocolate donut with chocolate frosting, hence the name that might have some other meaning, but we can't really think of anything.
Bacon Maple Bar
You know you've been having a good time when a couple of bacon strips are some of the more nutritional things you've encountered so far.
Voodoo Doll
Voodoo's signature doughnut, this masterpiece is filled with raspberry jelly, covered with chocolate frosting, and stabbed through the "heart" with a pretzel stake, a possible harbinger of heart-related issues yet to come.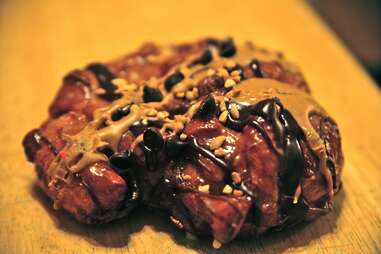 Memphis Mafia
This deep-fried beast is topped with banana chunks, cinnamon sugar, chocolate frosting, peanut butter, peanuts, and chocolate chips. The Memphis Mafia does not get involved in a lot of foot chases.
Maple Blazer Blunt
Notable for its shape and sprinkle-aided special effects, and for the fact that Colorado's enlightened state laws now allow you to enjoy one after burning down the real thing.

Cock-N-Balls
It's filled with Bavarian cream, because... actually, no, it's probably best we stop there.