Planting its cheesy roots firmly in the CBD after pleasing the Tech Center crowds (likely because they have many great apps... as well as entrees), Pizza Republica offers upscale, wood-fired Neapolitan 'za and 100+ bottles of vino just steps from the Big Blue Bear.
The elegantly modern dining area is fairly spread out, providing plenty of leg-room/bulging stomach-room at any of the 160 seats.
The wine list is 99% Italian and predominantly stocked with reds from regions like Piedmonte, Abruzzo, Toscana, and Veneto (aka the names of Snooki's next four children).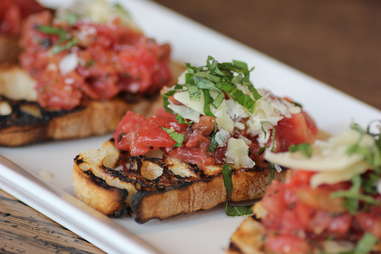 On the appetizer side of things, there's delectable bruschetta topped by shaved parmesan.
A half-calzone, half-pizza hybrid, this looks like something from The Island of Doctor Moreau's kitchen. The stuffed side bursts with spinach & artichoke calzone, while the remaining half is comprised of meat-tastic pepperoni/hot capicola slices.
Looking to try something new, but non-hybrid? It's hard to go wrong with this sauceless crisp pancetta pie topped with caramelized pearl onions.
For a fan of the classics, nothing beats Jane Eyre a Pizza Margherita.
There's plenty more than pizza on the menu, including entrees with striped bass, salmon, or tilapia, and a number of pastas, like this Rigatoni Bolognese. Like many of the apps that were a hit with the Tech Center crowd, this dish is sure to get your 5-star rating.