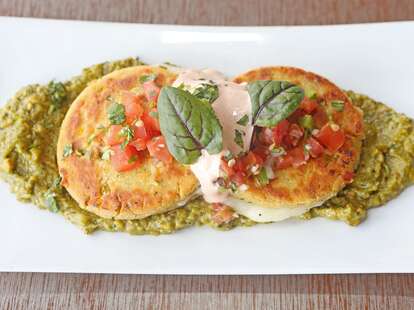 Adam Larkey Photography
Adam Larkey Photography
Is there any better way to spend your weekend than eating some of Denver's Best Brunch according to your friends at Thrillist? Of course not, but there's an equally excellent way: eating the Mile High's best brunch according to 12 of Denver's sweetest chefs instead...
Her pick: Brazen (address and info)
Berkeley
How good would a pile of cochinita pibil with griddled, goat cheese masa cakes, and a barrel-aged margarita, taste the morning after a major bender? Yeah -- too bad Work & Class only serves dinner. But for chef-partner Rodriguez, there's another winner on our list of 2014's best new restaurants that deserves your hair-of-the-dog dollars. Brazen, she says, rocks it all from chilaquiles to cinnamon-brioche French toast to pork-belly ramen: "What I love the most is that they make their own noodles. And they have such a nice patio, too."
His pick: Old Major (address and info)
LoHi
Speaking of pork-belly ramen, you'd think Lee would get more than enough swine at his own noodle bar. But apparently not, because his brunch time go-to is Justin Brunson's hog heaven. "No matter what's on the ever-changing menu," he says, "I always order the charcuterie plate to get my AM pork fix." And really, that's just for starters -- it's not a meal until you've also demolished a pork breakfast burger with bacon and pork-fat fries, and washed it down with a ham-garnished Bloody Mary. Pretty sure the USDA dietary guidelines say so.
His pick: Super Star Asian Cuisine (address and info)
Southwest Denver
There's a third thing as certain as death and taxes, and that's how much chefs dig dim sum. Being no exception, Beckner's got some words of encouragement for anyone who continues to avoid Super Star for fear the huge crowds (and maybe the sight of them sucking on chicken feet en masse) will only aggravate their morning-after migraine. "Even if you walk in with eight people, you're usually seated within 30 minutes," he swears. And between the sheer variety of dishes and the fact that "the bill is never high, it's a great place to try new things." Yes, like feet.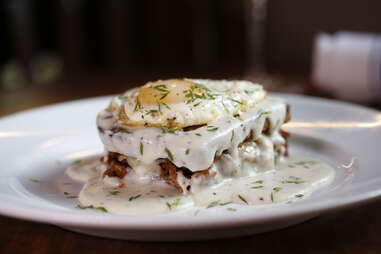 His other pick: Bistro Vendôme (address and info)
LoDo
But if you really just need some peace and quiet, Beckner points to Jennifer Jasinski and Beth Gruitch's ultra-civilized French fixture off Larimer Square, where "the courtyard patio can be a nice break -- and the croque madame hits the spot."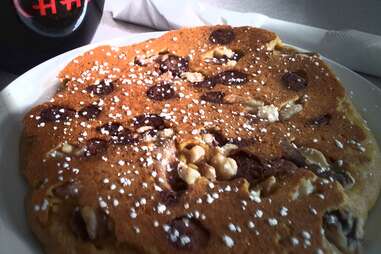 His pick: Hot Cakes (address and info)
Uptown
Meanwhile, Jasinski's longtime pastry chef has his own happy place, and it sure is low-key and down-home for a guy who whips up stuff like edible flowers and toasted-black sesame ice cream for a living. Not only does this neighborhood diner make what he says is his favorite plate of blueberry pancakes in town, but "they also have a killer chicken-fried sirloin. Get it smothered in their awesome green chile -- it will start any weekend off right." (So would the cheesecake he serves with that ice cream, but that's another story)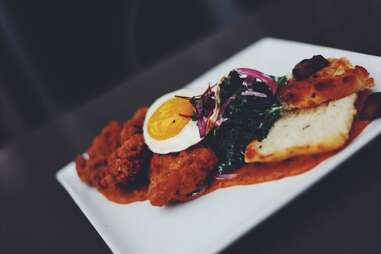 Her pick: Root Down (address and info)
LoHi
While everyone else lines up for their first taste of her funky concoctions at brand new hot-spot Habit, you'll find Desormeaux herself over at Root Down, taking a breather from doughnuts in favor of a pulled-pork omelet and bottomless blood-orange mimosa. Or fried chicken & biscuits alongside a Bloody Mary "with extra pickles." Or basically anything on the menu plus booze, because, as she notes, the whole point of brunch is to "drink and eat dessert for breakfast" without anyone questioning your life choices.
His pick: Brasserie Ten Ten (address and info)
Boulder
If you thought you admired Rosenberg's style as a chef, wait'll you hear how he brunches: first off, he sits at Ten Ten's bar with all the other cool kids because "I know the bartenders, they treat me well, and I always run into a lot of friends there." Then he'll order some biscuits with ham and sausage gravy, and THEN he'll have steak frites. With a side of two eggs over easy. And extra brandied cream sauce. Plus beer. Plus coffee.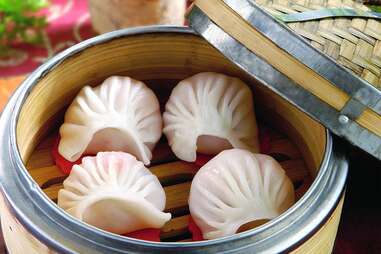 His pick: Star Kitchen (address and info)
Southwest Denver
Biker Jim's duck-cilantro sausage or Star Kitchen's duck-and-sausage-stuffed sticky rice? His smoked-bacon brat in a bun smeared with avocado puree, or their steamed pork buns with chili sauce for dipping? Their Chinese broccoli or his charred tahini cauliflower? As far as Pittenger's concerned, it's not an either/or: you can have dim sum complete with "buckets of good black tea" in the morning, move on to dogs and suds in the afternoon, and call it a two-brunch day when you pass out stuffed to the gills before happy hour.
Her pick: Onefold (address and info)
Uptown
"Every weekend I get a serious craving for the crispy potato tacos with freshly made tortillas," says pastry ace Donovan of this mom-and-pop pit stop for the millennial set, which has also become her "absolute favorite" for its "charming atmosphere and warm hospitality." Although, personally, we wouldn't care if it was run by man-eating trolls under a bridge, so long as they kept making that crazy-good congee.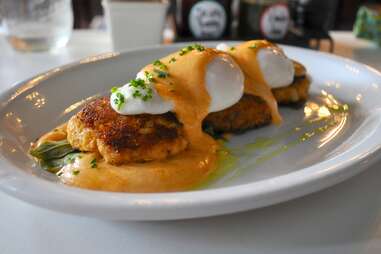 His pick: Sassafras American Eatery (address and info)
Jefferson Park & Capitol Hill
Like Onefold, Sassafras is a must for anyone with the self-respect to get out of bed before 2pm (just saying). But if you won't take our word for it that skipping brunch here is a bad idea, take culinary historian Adrian Miller's. The James Beard Award-winning author of Soul Food: The Surprising Story of an American Cuisine, One Plate at a Time guarantees you can count on "legit Creole cooking and contemporary twists on Southern food" at either location: "I get weak just thinking about the Deep South Benedict with tender pulled pork." Did we mention Miller's also a certified barbecue judge? Yeah. So respect him as well as yourself and get there already.
His pick: Central Bistro & Bar (address and info)
LoHi
"Matt and I go way back," says Savoy of Central chef Matt Selby, "and everything he makes is amazing." It's true: even if soup rules here, you can rest assured that seasonal brunch specialties like chicken-fried Brie over waffles in blackberry syrup or, Savoy's favorite, the steak sandwich with cheddar and mushrooms, aren't going to suck even a tiny bit. No wonder this place has become an industry/neighborhood hangout from late morning to late night. Though we suppose the love it gets might have at least a little something to do with the whiskey-slingers they've got behind the bar too.
His pick: beast + bottle (address and info)
Uptown
Having earned a cult following for his off-kilter brilliance at The Squeaky Bean, MacKissock is now on the verge of opening highly anticipated pizzeria and watering hole Bar Dough, with his cohorts at Highland Tap & Burger. But when he's not in the kitchen, he's become a fan of Paul and Aileen Reilly's farm-to-table staple: "They do a great job, and I've always loved that space," he says, because apparently ambiance matters as much to him as the choice between poutine topped with a fried egg and braised trotters in a blanket with pickled blueberries.
His pick: Fourteen Seventy-Two (address and info)
Platt Park
Two words: alligator-sausage Benedict with johnnycakes and green tomatoes... Oops, sorry, we stopped counting after "alligator sausage," because alligator sausage! But Grimm swears that this Old South Pearl specialist in Lowcountry cooking "appeals to seafood and Creole nuts" like himself with several other dishes as well -- think corn-crab beignets, or crawfish skillets with tasso ham, and red-eye gravy. "It's exactly what Southern cuisine should be," he adds. "Throw in a little sangria and I'm a happy guy." Throw in some basil-infused moonshine and you'll be even happier.
Sign up here for our daily Denver email and be the first to get all the food/drink/fun in town.