Denver's best spots to party AND have dinner
You're going out on the town, and at some point, you'll need to eat dinner, so we've rounded up Denver's best spots for a party-filled meal that won't put a dent in your momentum.
Rebecca Feder
La Loma
Northwest
Fine dining Mexican and giant fishbowl margaritas = lots of tequila and plenty of spicy food to help you handle said tequila. This old school Denver institution is huge: a wraparound patio (when in season), two dining rooms, a bar area, and a pair of private rooms in case you have a big group/dislike dealing with other people in restaurants.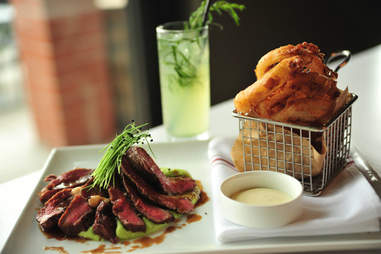 Central Bistro & Bar
Highland
The farm-to-table haven is classy without being fussy, letting you and your crew graze on cheese curds and confit chicken wings before diving in (not literally, hopefully) to some housemade sausage with creamy polenta. Bonus points for a stunning view of the city and the short stumble over the pedestrian bridge that takes you to more Downtown debauchery.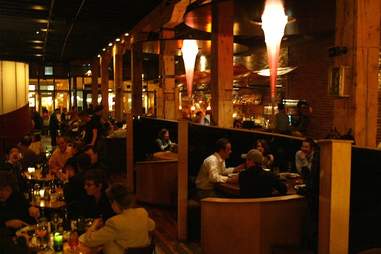 Vesta Dipping Grill
Vesta Dipping Grill
Northwest
The gigantic booths can fit a large party and offer an intimate dining experience... or just enough privacy to allow you to feel comfortable making a fool of yourself. Living up to the name, entrees (braised lamb shank, masala grilled chicken) come with your chosen trio of dipping sauces (they do provide recs) from a dozens-long list ranging from tomatillio chutney to barrel-aged hot sauce to smoked onion craime fraiche.
Linger
Highland
This mortuary-turned-happening-restaurant (oh man, ANOTHER one?!) has two floors and a rooftop patio with a killer view of the Denver skyline. Oversized booths will hold your soon-to-be-oversized crew as you team up on internationally inspired shareables like Mongolian BBQ duck buns, French onion mussels, and kobe short rib tacos.
Rebecca Feder
Patxi's Pizza
Cherry Creek
Nothing says a party like pizza, except MORE pizza, which is why your crew is going to Patxi's to take down some cheese-tastic Chicago style pizza and some cold ones. The refinished wood and dim lighting makes for a comfortable atmosphere in which to ponder that "should I have another piece" decision.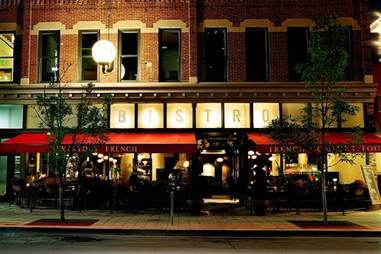 Le Grand Bistro
Le Grand Bistro and Oyster Bar
Northwest
The bustling staple situated on some prime Downtown real estate is the perfect place to trot out those never-tired aphrodisiac jokes as you polish off platters of bivalves before attacking the Francophilic menu stocked with steak tartare, braised short ribs, and crispy duck confit.
Carmine's on Penn
Southwest
Family-style Italian and tables you can draw on? Seriously, don't let kids monopolize all the drawing-on-tables fun! Of course, you'll have an even better time because you know how to appreciate heaping bowls of vodka ravioli. And also vodka martinis.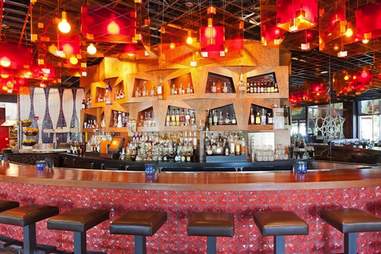 Zengo
Zengo
Northwest
This Latin-Asian influenced restaurant is much larger than it appears from the street, packed with a lounge, three separated dining areas, and a private room depending on your ambiance preferences. Regardless of where you're situated you'll be able down Shiso-jitos as you also down (in between sips, be classy!) ceviches like mahi mahi w/coconut and charred pineapple and inventive "dim sum" like tempura asparagus tacos and hoisin pork arepas.