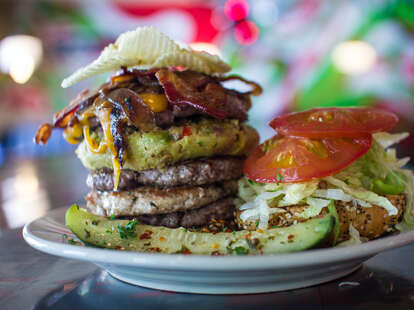 With more animals on top of one another than Noah's Ark, the Cinco Burger combines the best of TAG Burger Bar's already fantastic burgers into one gloriously gluttonous meatwich unrivaled by anything else available in Denver. This is the Cinco Burger.
TAG Burger Bar isn't just any burger place -- they won the People's Choice award at the highly competitive Denver Burger Battle. This is going to be one quality burger.
The bison drew the short straw, so it goes on the bun first. This is what a normal burger looks like at Burger Bar. The Cinco Burger laughs at "normal" burgers. Anthropomorphism!
Here's a turkey patty. Now we're getting somewhere.
Let's get some lamb on there. Yeah, that's nice. Real nice.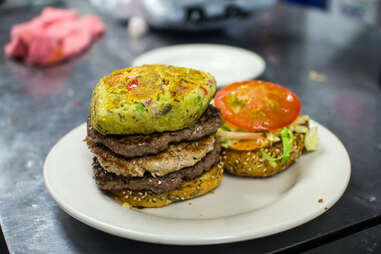 This burger isn't only meat... they threw on a veggie patty just to make things super healthy. See how healthy this burger is now?!
The beef burger gets a place at the top. And since it's a Cinco Burger, it not only has five patties, it features five toppings. On goes sharp cheddar and grilled onions.
The last of the crazy good toppings are the secret TAG sauce, bacon, and...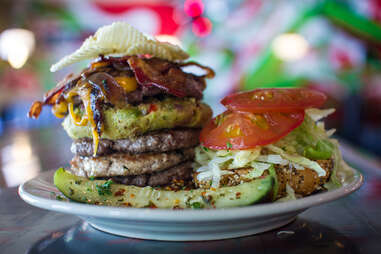 ... Ruffles potato chips. So what's a thing like this cost?
Surprisingly, it's only $32, and it's practically the size of this dude's head. Or you can easily split it between two people. But let's be real, this thing can probably feed a family of four for a week.