When you're talking pizza, it's allll about the toppings, baby (...unless you're talking P'Zones, in which case it's allll about the middlings, baby). And that's where Boulder's Boss Lady Pizza and her crazily inventive 20+ signature pies shine. There is nary a sign labeling the 'za on the counter in their super-minimalist shop next to the Fox Theatre, so just free your mind and order with your eyes, man. Weekly rotating specials include this Grilled Cheese slice with mozz/ cheddar/ Gruyere/ tomato and a "top crust". Unlike CU's football team, this Buff won't disappoint, as it's stacked with creme fraiche, spicy buffalo chicken, and Gorgonzola. Nachos require finger gymnastics in order to get a chip with all the good stuff on it, so Boss Lady conveniently piles everything on The Steak Nacho pie, with carne asada, pico, sour cream, and salsa verde. Bow down to The Smores, with marshmallows, chocolate sauce, and graham crackers, just in case you don't mind have a giant middling of your own.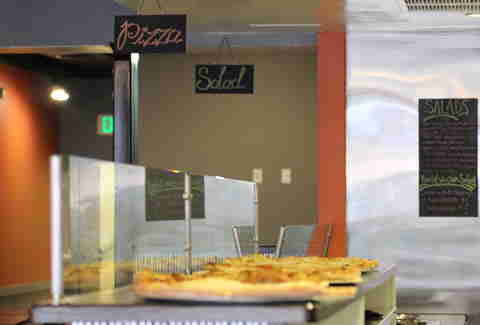 Previous Venue
Next Venue
Venue Description
1. Boss Lady Pizza
1129 13th St, Boulder, CO 80302 (Boulder)
So much more than your average slice. With mind-bending pizza concoctions like the nacho slice (can someone say guac?) and delicious dessert confections, Boss Lady Pizza is, well, pretty boss.