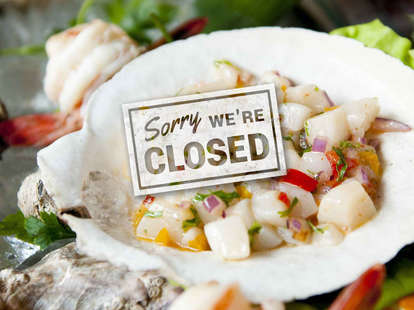 You win some, you lose some — and all in all, Denver diners came out way ahead in 2014, a banner year for restaurant and bar openings. But we can think of a thousand places we'd rather have lost than these 12, so allow us one good fist-shake at the gods of closure: why, oh, why can't they just stick to the 16th Street Mall?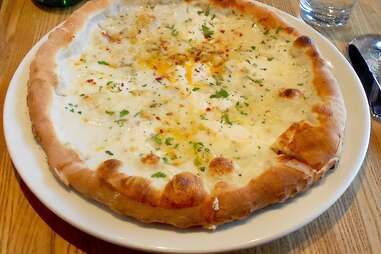 Bonanno Bros. Pizzeria
Lone Tree
OK, we urbanites actually don't miss it that much, because we can still get Frank Bonanno's pies downtown at Osteria Marco. But we sure feel for those wanderers in the culinary desert of the southern suburbs, who must be missing it something fierce.

Catacombs Bar
Boulder
It's not so much the place itself as the idea of the place that we miss: how did a cheapo dive not only survive, but thrive beneath the lobby of a landmark hotel in high-rent Boulder, like some crazy relative locked up in the basement for 40 years? Not to knock its swankier successor, License No. 1, but that karaoke-belting, foosball-playing black sheep was one of a kind.
Corner House Neighborhood Eatery
Jefferson Park
Wrong time, wrong place for this little hideaway, but we'll continue to pine both for opening Chef Matt Selby's crispy sofrito chicken and his replacement Sharif Villa Cruz's short-lived but spot-on seafood-centric repertoire, from the octopus terrine to the hamachi collar.

Chef Liu's Authentic Chinese Cuisine
Aurora
In a city where good Chinese food is the exception rather than the rule, we miss this Szechuan sanctuary so much it hurts — as much as every last bite of Liu's fish stir-fried in numbing chili oil hurt. At least we've got the tongue scars to remember it by.
Le Grand Bistro & Oyster Bar
Downtown
For all the steak tartare and cassoulet and profiteroles this date-nighter doled out, is it weird that we miss the garlic-and-vinegar chicken wings most? C'est la vie.

Ondo's Spanish Tapas Bar
Cherry Creek
Technically, this undersung Cherry Creek charmer closed in 2013 — on New Year's Eve. But we feel the loss of those croquetas and cazuelitas as keenly as we'd have felt it if Ondo's had closed on New Year's Day.

Oshima Ramen
Southeast Denver
How can you not miss this utter mess of a strip-mall soup shop, whose notoriously eccentric owner scrawled cartoons on the walls and ladled out bowl after bowl of killer ramen long before it became the trend to end all trends that would not end?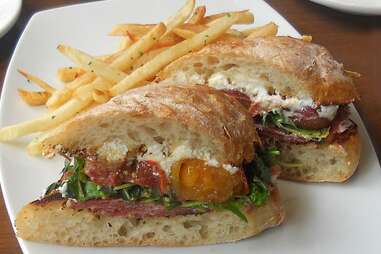 Row 14 Bistro & Wine Bar
Downtown
Well, at least we got a headstart on missing this place. Hell, we were mourning it months after it opened, when inaugural Chef Arik Markus left, and then again when Jensen Cummings jumped ship. But amid all the staff shuffles, the eclectic wine list remained a standout, warranting one final farewell salute.

Restaurant Kevin Taylor
Downtown
We miss the Hotel Teatro's longtime crown jewel the way we'll miss Woody Allen someday: for the brilliant, pioneering early years.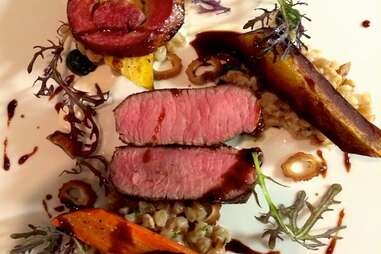 twelve restaurant
Ballpark
We're as pumped as anyone to bathe our faces in the tonkotsu broth at Osaka Ramen. Psyched to gobble down roll after roll from the conveyor belt at Sushi-Rama. Giddy at the prospect of The Market, which will open in RiNo's H.H. Tammen Building next summer to house more than a dozen vendors — including a fishmonger, salumaio, and chocolatier. And beyond thrilled for Jeff Osaka, the visionary behind all these projects. But that doesn't mean we're A-OK with his decision to shutter the contemporary destination that simultaneously made him a star and helped put the Ballpark neighborhood on the map. We'll miss his monthly changing prix fixe menus even as we're hoovering up his noodles and nigiri, because he's spoiled us like that.

TAG | Raw Bar
Downtown
What we miss in a word: "Poppycock!" ("Bubu arare!" just doesn't have the same ring.) Consider copious tears shed for the kangaroo tartare, too.

T-Wa Inn
Southwest Denver
Can you say thit heo xao xa ot? Neither can we, but we miss butchering the pronunciation of "spicy pork with lemongrass" at Denver's very-first Vietnamese restaurant.
Sign up here for our daily Denver email and be the first to get all the food/drink/fun in town.