Summer's in the rearview and the colder months are starting to creep in, so take advantage of your forthcoming need for extra protection against Old Man Winter and fatten up at these 10 new Denver restaurants. They want to feed you coconut milk fried chicken and a new-to-Denver burger that can't wait to make your acquaintance.
Uptown
The old building that formerly housed Serioz Pizza and Pasquini's has received a facelift, now serving as home to a laid-back bar & resto doing the slightly twisted American comfort food thing. This means you now have coconut milk fried chicken in your future. They're also serving up the likes of Salisbury steak and meatloaf Wellington "TV Dinner"-style -- in a compartmentalized tray with two sides (Gouda-sauced cheesy corn, mashed taters, etc.) and butterscotch pudding. For something your parents probably didn't consume in inferior-tasting frozen varieties, try bar snacks like chicken chicharrones and kimchi/Sriracha-kicked meatballs, both of which play nicely with the selection of 30 beers on tap.
Downtown
The last of the restaurants to open in Union Station comes courtesy of Fruition's Alex Seidel. The Euro-inspired menu sports snacks like warm cheese gougeres (think little pastry puffs filled with molten Gruyere) and marrow bone brûlée with bacon shallot jam, along with plus-size shareables like a 32oz bone-in ribeye with roasted garlic gastrique. There's also a gourmet market where you can score breakfast and lunch, with both menus sporting many products from Seidel's own Fruition Farms.
RiNo
The name may conjure up go-kart memories, but it's actually named for the old-school Italians who would travel to various villages with a cart of food and make meals for people. This neighborhood pizza place is a tiny spot made up of shipping containers that aims to do the same: serve a simple, tasty, soul-satisfying, accessibly priced meal. Wood-fired pizzas and oysters make up the uncomplicated menu, along with a small but well-curated beverage list.
South Broadway
A beloved nationwide burger chain has opened its first Colorado location (in Denver, because, obviously), and if you've passed it you may already have noticed a line out the door. They take a modern approach to old classics: good burgers made with natural Angus beef, hot dogs, fresh cut fries with different toppings (salt & vinegar, Parmesan, and herb), and homemade frozen custard. Bonus: unlike your typical fast-food joint, they have beer and wine.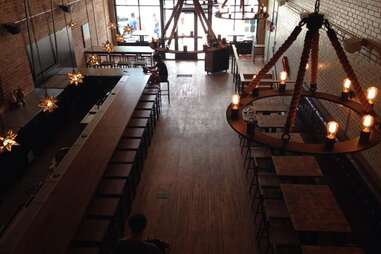 Baker
Latin and South American cuisine is coming hot off the grill from South Broadway's newest addition, which's serving a dizzying array of shareable small plates. Definitely load up on meats (house-made chorizo, morcilla, and bison skirt steak), all of them served with house-made tortillas. Also look for Chilean sea bass tacos, octopus ceviche, and braised chicken chilaquiles.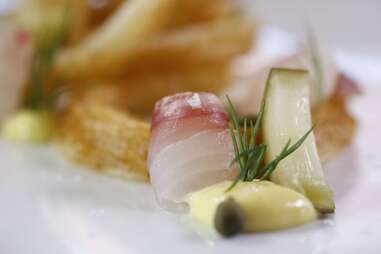 Downtown
If fresh fish is what you're craving, check out Union Station's shiny new seafood restaurant from celeb chef Jennifer Jasinski. The interior is sleek and modern, with subtle nods to beach life (and thereby the seafood that's flown in daily). There's a raw bar with an impressive array of oysters (consider adding granitas like citrus-chile and heirloom tomato-sake), along with plenty more seafood classics like fried surf clams with aioli, Alaskan king crab, and Maine lobster, available by the half or full pound. Finish sweet with a peanut butter Oreo creamsicle. Yep.
Wash Park
This pizza place calls itself an "Italian restaurant with a little Colorado flair", which means the food lives up to the excellent beer selection. That means starters like fried polenta cakes with Fontina fondue, chicken Parm sliders, and sausage-stuffed olives. Also look for classic pasta dishes and wood-fired pizzas like the Croque (white sauce with rosemary ham and an egg). The 20-plus drafts are $2 off at happy hour, from 3-6pm weekdays.
Highlands
This Frisco-born German beer hall has expanded to a second location in Denver, but has no relation to Prost Brewing of Denver. Tucked away in Boa's old location on 32nd, the menu is true to its name with 11 different sausages to choose from and, of course, traditional German beers (draft and bottle) to pair with your food. Lederhosen not required, but if you got 'em, why not?
Downtown
The menu at this Downtown destination consists of a literal worldwide tour, broken down into "Old World" and "New World", with each half divvied further into sub-regions. That means you can have Belgian mussels, a Moorish chicken tagine, fried chicken & waffles, and mojo baby back ribs all at the same table. So yeah, this could be rough on the decision-challenged. Not a hard decision? Taking advantage of the roof deck.
Park Hill
A couple of doctors who double as beer fanatics (not at the same time, of course) have joined forces to create a restaurant/tasting room that focuses on Colorado's craft beers, as well as fine brews from around the world. The simple menu consists of easily shareable beer complements like beer-battered (of course) pickle chips with Aleppo pepper aioli, crispy pork spare ribs with candied ginger & pineapple, and pulled pork sliders with Napa slaw & caramelized onions. Get the brews from their 20-strong (and we mean strong) tap list at 5oz taster price during happy hour (until 7pm).
Sign up here for our daily Denver email and be the first to get all the food/drink/fun in town.