Brad Beal/Highland Tap and Burger
There's nothing better than a great burger… except maybe a great NEW burger, which is why we've thoughtfully rounded up 9 new additions to the Denver dining scene you can't afford to pass up. You're welcome!
LOHI Luau Burger
Highland Tap and Burger (address and info)
LOHI
If you thought the LOHI Luau Burger gracing the menu at Highland Tap and Burger these days would come with a tiki torch toothpick, fire dancers, and a woman a grass skirt, well you're ambitions are a little high, but not by much. It starts as a traditional Hawaiian themed burger, with pineapple and black forest ham, etc., but then the flavor gets cranked up via Korean Kalbi sauce and a house-made sriracha mayo. Which're almost as good as women in grass skirts.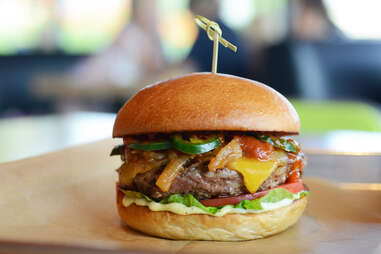 The Goodnight Burger
Hopdoddy (address and info)
Northwest
Until recently, "Goodnight" was just a way of saying goodbye after the sun set. Now it's how you order one of the sweetest burgers to hit the Mile High this summer: in between two brioche buns, the Goodnight Burger comes with Tillamook Cheddar, hickory BBQ sauce, caramelized onions, sliced jalepenos, and Sassy Sauce. And the best thing about this burger (besides Sassy Sauce!) is that $1 of the cost goes to Camp Courage, a free camp for families affected by childhood cancer.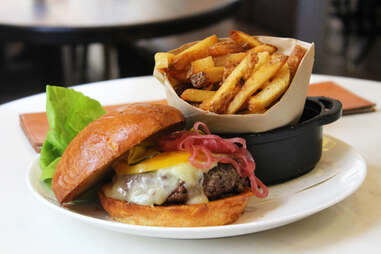 7X Ranch Wagyu Burger
The Nickel (address and info)
Downtown
The good things about The Nickel's 7X Ranch Wagyu Burger: the 100% Japanese beef patty, the aged white cheddar, the traditional fixin's, and the brioche bun. The one bad thing: it doesn't cost a nickel. But the price tag is worth it when only 5 purveyors in the country are using this type of beef! And if you're feeling really 2 Chainz about it, add "Billionaires Bacon," which confusingly enough only costs $2.50 extra.
Breakfast Burger
Old Major (address and info)
Highland
If you really want to show your parents you're taking your life seriously then either move out and get a girlfriend, or get the Breakfast Burger at Old Major. It's a serious burger that, like most things at Old Major, starts with pork, and then gets topped with American cheese, a fried egg, and Denver Bacon Company bacon, with a pickle on top.
NW Pub Burger
Thirsty Lion Pub (address and info)
Downtown
You could get a normal burger that's topped with normal cheese, and everyone would just pass you by like the normal dude you are -- OR, you could start turning heads by ordering the NW Pub Burger at the Thirsty Lion Gastro Pub. Get ready to explain to every passerby that it's a gorgonzola-infused burger stacked with sweet onions, maple pepper bacon, arugula, horseradish cream, and, since there is nothing really wrong with more cheese, some white cheddar on top.
Hail Hail Caesar!
Sunnyside Burger Bar (address and info)
Sunnyside
Should you feel guilty about eating this all beef patty, American cheese, corned beef, fried egg, lettuce, and Caesar-dressing-topped masterpiece? Not when monthly proceeds from this go to Project Pave, a program to empower youth to end relationship violence. 1,500 calories have never felt better.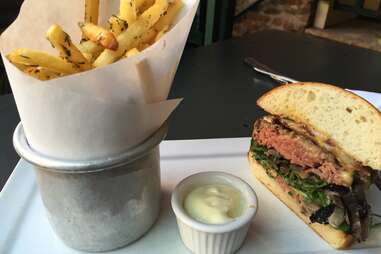 Au Poivre Burger
Bistro Vendome (address and info)
Downtown
The Au Poivre or "Pepper" Burger is called that 'cause in addition to a hearty portion of ground beef -- and gruyere, grilled onion, arugula, tomato, aioli, etc -- this sucker gets loaded with pepper bacon, then served on a potato bun, with a healthy portion of their not-so-healthy pommes frites.
Summer BBQ Burger
BURGERFI (address and info)
South Broadway
The burger focused people of BURGERFI took everything you love about summer and piled it high between two toasted potato buns: coleslaw, white cheddar, American cheese, pickles, and tender BBQ pork. All the stuff you hate, like sunburns, rainy days, or your Aunt Karen's potato salad, was thankfully left out.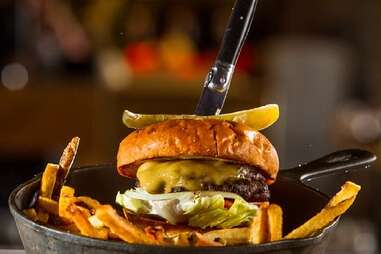 The American Burger
Punch Bowl Social (address and info)
Southwest
Most will think they have the American Burger at Punch Bowl Social figured out at first glance. Sure, it's a fairly unassuming two-patty burger topped with lettuce, cheese, yellow onion, and tomato. Boring, right? Right… until you realize it's also covered in bacon jam. Yes, bacon jam! God bless America.
Sign up here for our daily Denver email and be the first to get all the food/drink/fun in town.
Connor Green is a Thrillist contributor that can believe it's not butter, but is too afraid to tell anyone.