In a city that sees hundreds of restaurant openings a year, all the noise about newcomers can drown out kudos (mmm... Kudos) where they're consistently due -- especially when it comes to places that may be a little older, a little idiosyncratic and off-trend, or simply a little out of the way. Here are 10 examples you need to put -- or put back -- on your Denver-dining short list.
Alamo Placita
It's an old-school red-sauce parlor. With a killer oyster bar (try the char-grilled platters and shooters). And chewy-crusted, lavishly topped pizzas named, for no apparent reason, after old Red Hot Chili Peppers tunes. And a sweet, tree-shaded back patio. Angelo's, in short, is a neighborhood joint par excellence: full of quirks, secrets, and loyal customers wondering when the rest of us will realize what we've been missing.
Berkeley
If all you know about Greek food could fit in a pita, you're in for a sexy, sexy surprise. It's sun-drenched, sea-breezy stuff -- rich with lamb and lemons, olives and almonds, eggplant and yogurt, phyllo and feta. And this grown-ups' go-to not only presents it with gusto, but also pairs it with one of the the city's coolest wine lists, devoted almost entirely to Greece's distinctive native grapes.
Baker
We don't need to tell you beauty can be a curse, right? This walk-in fairy tale, built to evoke a mountain cabin among aspens, has been winning design awards from the get-go; in fact, it's so mesmerizingly atmospheric that the food itself can get overlooked. That's too bad, because at its best, what comes out of the kitchen is highly original, a mix of the heritage and the cutting-edge -- think goat burgers on bourbon-mash buns with pear butter, or yak-mincemeat pie with sweet potato-toffee ice cream. Actually, don't think too much: Beatrice & Woodsley is pretty much a date-night no-brainer, so just experiment and experience.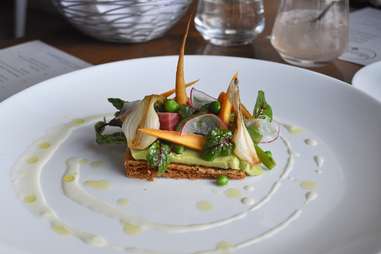 Washington Park West
If you're a fan of Tables, or Fuel, or The Plimoth, or any other of Denver's neighborhood sleeper-hits, then you'd best quit whizzing right past Olav Peterson's garden-bordered sanctuary of seasonal cuisine on, okay, an admittedly ugly stretch of Alameda. The chef-owner's ingredients are pristine, his technique precise, his presentation as suave as the gray-toned dining rooms, where the mood is refined but relaxed. In a setting like that, you'd expect a boutique wine list and clever cocktails -- but wait'll you see the super-cool beer selection, emphasizing uncommon European imports. Name notwithstanding, it's all pretty sweet.
Santa Fe Art District
For all its studios and galleries, Santa Fe's surprisingly sleepy. So Interstate doesn't always get the major traffic it would if it were just a few blocks away. What it does see is a steady stream of regulars who've found a second home in its retro roadside-themed dining room; a bar that was ahead of the bourbon-curve on day one; and a kitchen that puts the "style" in homestyle cooking -- we're talking salmon pot pie, batter-fried chicken livers with hot sauce, and a ridiculous pastrami on rye-and-cornbread stuffing in horseradish cream. So maybe remember to follow their lead the next time you're bitching about the bottleneck Baker has become.
Golden Triangle
In case you didn't get the message when we included Lo Stella in our list of Denver's best fall openings, we're gonna make it forte e chiaro (that's "loud and clear"): this here is the real regional Italian deal. The space it occupies may be cursed, but the cooking is blessed, so cross fingers that it breaks the locational jinx on the sheer strength of its expertly baked breads, perfectly textured pastas, and other effortless classics from the owner's native Liguria and beyond. Then uncross fingers, because it's hard to twirl noodles on your fork that way.
Ballpark
We don't know how else to put it: right here in one room, some of the fiercest talents around are turning out some of the most innovative and memorable small plates -- paired with one of the most thoughtful wine lists and delivered by some of the smoothest, most professional servers -- that this city has ever seen. We're not saying that anyone who disagrees is a meat-and-potatoes oaf whose mother never taught them how to dine instead of eat; we're just saying they're welcome to go get fries with that elsewhere. Sorry not sorry -- more brisket fritters, oxtail crêpes, and deviled-egg tarts for the rest of us.
Multiple locations
Beer-battered shark on hibiscus tortillas. Grilled halibut in pineapple butter on squid-ink tortillas. Huitlacoche (aka "corn smut") on poblano tortillas. Sardine guacamole, shishito queso fundido, and scallop aguachile. These are all real and tremendous things that you can and should wash down with copious amounts of craft tequila at either branch of Machete. And if anyone tries to tell you they aren't "authentic," you tell them that Mexican cuisine is as diverse and progressive as any in the world, and implying otherwise is kinda condescending. Then drop the micrófono.
Ballpark
What the hell is a minimalist-chic, modern Scandinavian restaurant doing on Budweiser-and-bratwurst turf? Being drop-dead awesome, that's what. Drawing on his Finnish heritage and Michigan upbringing alike, chef-owner Ryan Leinonen pickles, preserves, cures, and smokes his way to some of the most exciting menus in town, whether featuring foie gras with rieska, cloudberry jam, and foraged mushrooms or grilled New York strip with lingonberry-mustard demi-glace and walnut-poppy seed butter. If you need some liquid courage before ordering anything that involves gløgg ice or juniper jus, though, a couple shots of house-infused aquavit are guaranteed to do the trick.
Greenwood Village
Looking for something new and edgy in the DTC? Well, stop it. Your time's way better spent soaking up the classy atmosphere of this long-standing link in a small regional chain, which looks like an old Italian villa crashed into a gleaming golf-course clubhouse, right down to the picturesque, pond-facing terrace. It's an impression the skillfully prepared modern Mediterranean cuisine only heightens, enhanced by a business-class wine list and a beloved Sunday brunch buffet. So if you come to find yourself craving Yaya's brand of polished warmth and ease over the chaos erupting at the latest hot spot, congratulations -- you're officially your own man.
Sign up here for our daily Denver email and be the first to get all the food/drink/fun in town.