Ranking Denver's 7 old-school steakhouses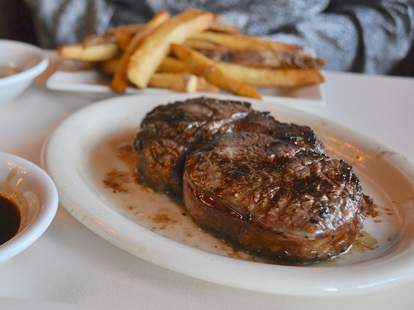 Back when Denver earned its unimpeachable reputation as a top cowtown, it was lousy with old-school steak joints. You know the ones — the sepia-toned supper clubs, the neon-trimmed bar-and-grills where the regulars perched their Stetsons high and slung their belt buckles low. The ones where the waitresses' name tags all read either "Darlene" or "Shirley". Where the chops were grill-marked, the parsley curly, the rolls soft, and the booze as hard as the rocks it came on.
 
But one by one, they're biting the dust—from Emil-Lene's Sirloin House, which officially closed last spring, to Westerkamps, whose owner appears to have just ridden off into the sunset (the door's been locked and the phone disconnected for weeks). They're beginning to feel like a dying breed — so you'd better belly-up to these beef barns, all at least 30 years old, while the bellying's good.
Ruth Tobias
Downtown
At its best, this subterranean oldie is basically a dive bar in luxury destination's clothing. Built around a century-old bank vault, the dining rooms hearken back to the heyday of railroad barons and shipping tycoons, from the gleaming woods to the beef Wellington and chocolate mousse. But the cooking's so sloppy — if you judged Rockefeller by the oysters made in his name, you'd wager he was a boxcar hobo — that you're better off sticking to the cheapo happy hour in the lounge, where the chatty bartenders are as sweet as the pre-craft movement Appletinis and White Russians.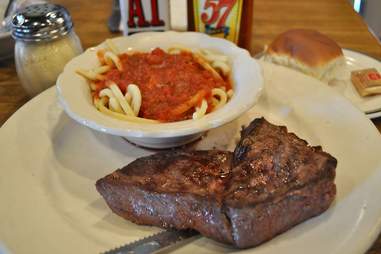 Ruth Tobias
North Denver
A little bit Cattlemen's club, a little bit honky tonk, a little bit red-sauce parlor complete with bocce-ball court: this stock-show HQ has been honing its downhome schtick for more than 50 years. Here, good old boys and great-grandmas gather 'round the fake ferns, beer signs, and framed paintings of cowhands, chiefs, and cattle to chow down on gnarly 24oz porterhouses, weekend prime rib, or the namesake cut -- plus all the fixings you'd expect at a place where everything's under 20 bucks: we're talking store-bought dinner rolls with foil-wrapped butter pats, plain green salads accompanied by packaged saltines, and gummy spaghetti in watery marinara. You don't have to like it, but you kinda have to love it.
Ruth Tobias
Lincoln Park
It goes without saying that there's nothing quite like feasting on bull's balls, rattlesnake, yak, ostrich and 4lb strip steaks to the tunes of a cowboy autoharpist in a 121-year-old restaurant lined with the mounted, stuffed, and staring heads of so many wildlife specimens they outnumber even the tourists gawking back. Because if there were something else like it, that would be weird. 
Ruth Tobias
Aurora
Dark woods, twinkling lights, white linens: this longtimer's awfully fancy by Aurorans' standards. Mauve-patterned booths, half-priced Cognac at happy hour, the inevitable mispronunciation of "bruschetta" -- The Summit's also a little 1983-ish by this century's standards. But hey, that broo-SKETT-ah is pretty darn good topped with shaved prime rib, and the rare tenderloin is pretty darn rare, and the steak fries are hand-cut — and all in all, you could do worse kicking back against airline-grade upholstery amid the cornball strains of the lounge piano and having the kind of night on the town your mom and pop did back in the day.   
RUTH TOBIAS
Southwest Denver
We guess "Columbine Greasy Spoon & All-Day Drinkers' Saloon" wouldn't fit on the sign, though it's a more fitting description for this Federal fixture, which, at 53-years-old, doesn't look a day over 75. Ditto most of the regulars talking Broncos-themed smack along the bar — no doubt, it takes a steady diet of honking 15oz T-bones to achieve that complexion (well-seasoned and probably tenderized with a mallet, just like the meat!). Every platter comes with a green salad, Texas toast, and choice of potato; go for the fries, which only get better as they soak up all the juices (again, ditto most of the regulars!). And not a one will run you more than $20 — in cash, of course.
Ruth Tobias
Fort Collins
With a name like Charco Broiler, this place just has to be a Western art-filled roadside landmark serving breakfast, lunch and dinner since 1957. It has to top iceberg lettuce with Corn Chex instead of croutons, and squirt tons of Reddi-Wip on top of the peanut butter cream pie (which naturally has to be "famous"). And in between the salad and dessert, it has to serve up club steaks, sirloin tips, and a killer "char-ka-bob" coated in enough pepper to induce sneezing attacks... along with enough velvety mushroom gravy to relieve them as soon as they start. With a name like that, it can be no other way.
Ruth Tobias
City Park
This isn't just a slice of the jazzy, snazzy mid-century lush life — it's the whole pie, from the snug mirrored bar to the split-level dining room lined with the black-and-white mugs of (who else?) Marilyn and Frank. You've got your goofy martinis, wine glasses filled to the brim, and soft, warm breadsticks. Your throwback snacks — jumbo shrimp cocktail, warm Brie with raspberry coulis, and veal-stuffed mushrooms swimming in butter & cheese. Your myriad chops — be it blue cheese-topped filet mignon or sour cream-smothered tenderloin Stroganoff, broiled New York strip on toast, or the miraculous signature sugar-seasoned steak. And finally, speaking of pie — could be banana cream or skillet-baked apple à la mode, depending on the evening. In other words, it's a boss scene, daddy-o, dig?
Sign up here for our daily Denver email and be the first to get all the food/drink/fun in town.