Denver, the Best Day of Your Life is almost here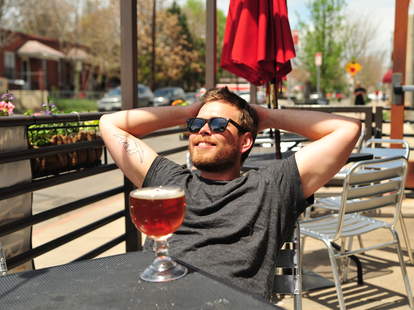 Some people say the best day of their life is when they get married, or have a kid. Turns out they're wrong. The Best Day of Your Life will be on Friday, June 21st, and Thrillist is making it happen
Do the following: confuse your boss by saying Copper just got 10" of fresh pow and you're taking the day off, download a fancy PDF map/ itinerary of the day's activities, check the #BDOYL social action here, and do kick-ass stuff with us like get free beers at Cherry Cricket at 1p, or snag a free donut with any purchase at Jelly.

5:32 am: This is the one day a year hitting the snooze button is not the best decision you'll make all day. Get outta bed with the sunrise
Asscrack Of Dawn: Fire up DenverPost.com to read headlines about countries you've never heard of (Crete? Is that a place?), take the dog for a walk, breathe that fresh mountain air, and then slap on your finest jorts because this day's about to get real.
Early Morning: Hit up Happy Coffee on S Broadway for a shot of espresso -- that rocket fuel is gonna help you power through the day. If Happy is swarming with coffee addicts, the Humble Pie Store over a few blocks on Elati has plenty of java and some of the best damn chocolate chess pie in town. Or, if you're by the Golden Triangle, a can't miss is Readers' Choice fave Rooster and Moon.
Breakfast: 10mins North in Cap Hill are Jelly's sadly-not-smokable hashes, including the unimpeachable Red Flannel, a brightly colored plate packed with beets, bacon, and onions, then all topped with two eggs. For another option, just a few blocks North on Colfax is Tom's Diner, ready to serve their crunchy French toast this morning and every morning, noon, and night hereafter. Or eat a benny at the Five Points Snooze, the Readers' Choice breakfast spot.
11:00 am Beer: Head Northward 10mins and begin drinking before noon at Falling Rock Taphouse because beer is an essential part of the Best Day of Your Life, after all. 75 beers on tap should give you plenty to choose from. Blocks away on Market, ViewHouse has ridiculous views, beer cocktails, and refreshing spiked teas and lemonade to enjoy as well
Noonish: Feelin' Fat Tired out, refresh with a quick walk to Larimer Sq, and people watch the lunch crowds from a bench-side seat.
Lunchtime Spectacular: Enjoy cruising down Speer with the windows down, and then treat yo'self to lunch at The Cherry Cricket. Topping their legendary Cricket burger with green chili, an egg, and bacon is always a good choice. Get there early enough, and we'll buy you one of 23 beers on tap. If the Cricket gets too noisy, sun yourself on Machete's nearby deck and enjoy street-style tacos and tequila
Post-Lunch:Wash Park always has volleyball going on, so quickly watch YouTube clips of Top Gun's volleyball scene to get psyched, and then slam the ball in people's grills. Or don't, and sit there creepily watching other people get a workout
It's 4 O'clock Somewhere: Make your way Northward on Broadway to encounter the metal-inspired brews at TRVE Brewing. Gloomily quaff one of their tasty brews. The Hornet is also a beer-friendly bar on Broadway, and they've got plenty of apps to pair it with, including chicken nachos
Bowl As Much As You Can In An Hour:Punch Bowl gets absolutely mobbed at night, but this early on a Friday, you'll be able to snag one of eight bowling lanes. If bowling's all filled up, set up shop at a pinball machine, pool table, or ping pong. Party with a $50 Pimm's Cup Punch Bowl that serves eight. For a good time also on S Broadway that's not a scene, 3 Kings Tavern has pinball, tabletop video games, and a jukebox
Landlocked Seafood Special: Mosey back to LoDo and enjoy our Readers' Choice legendary happy hour at Jax with $3 oyster shooters (East Coast oyster, vodka, bloody Mary mix) and $5 chorizo gravy fries with cheddar cheese curds. Like poutine via Mexico. O, Canada! A few doors down on 17th St lies Southern Hospitality and, in their chilled out basement, they pour some rare-ass whiskies from their massive list of 100+.
Here Piggy, Piggy, Piggy, Piggy: Walk across the bridges into Highland and order Old Major's Nose to Tail plate, which has most of a hog on a single plate: confit rib, pork chop, crispy belly, city ham, and crispy ear, topped by guanciale vinaigrette and rhubarb jus. Old Major's sister resto Masterpiece Deli has plenty of meat to offer as well, and they're open 'til 8, so snag a mind-melting roast beef sammie with piquillo peppers and house-made horseradish sauce
8:31 pm: Walk a few blocks down Tejon and watch the sun go down high above Highland, and order up 'tails or one of 10 beers on tap at Linger's rooftop-based '75 GMC RV, a critical part of one of the city's top outdoor bars, and our Readers' Choice pick. Enjoy the booze and soak it all in: you just had the Best Day of Your Life.