8 Women-Owned Restaurants to Support in Denver
Celebrate Women's History Month, deliciously.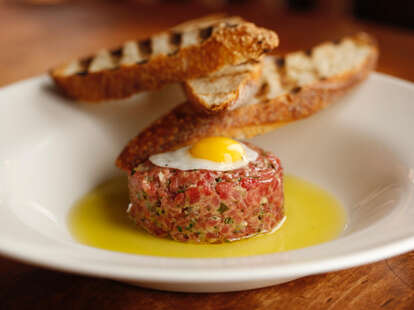 Photo courtesy of Crafted Concepts
Photo courtesy of Crafted Concepts
One of Denver's more unfortunate nicknames is "Menver," supposedly tied to the fact that The Mile High has a surplus of single males and a reputation as a dude-friendly city… yeah. But let's be real, this is a town filled with badass ladies. And with International Women's Day on March 8, this is the perfect time to recognize a few of the women making Denver better, one bite at a time. These culinary powerhouses include women who've helped shape the Mile High dining scene for decades along with some who've more recently jumped into restaurant ownership. But while each of their stories is unique, they've got one thing in common: They've each created places that make us feel lucky to live in Denver.
After 12 years as executive chef at Panzano, Elise Wiggins embarked on a journey to open a restaurant all her own. And that's exactly what she did, funding the project completely on her own, investor-free. Cattivella, which translates to "naughty girl," opened in 2017 and features a menu packed with dishes inspired by Wiggins' years of travel in Italy. Along with wood-fired pizzas, charbroiled oysters, and fresh pasta, be sure to try some of Cattivella's more unique offerings like the pasticcio, a layered dish filled with baked meatballs, tortellini, bolognese, bechamel, and caramelized parmigiano.
How to order: Book a reservation for dine-in service on OpenTable, order delivery via GrubHub, or call 303-645-3779 to order from the carryout menu
Chef and owner Linda Hampsten Fox has cooked around the world and spent time preparing food for celebrities like Dr. Jane Goodall, Dave Matthews, and Nancy Pelosi (not to mention raising her daughter as a single mom). With experience like that, it's no surprise that she was able to bring her vision of an elegant, European-inspired eatery to fruition when she opened The Bindery in late 2017. Whether you stop by for Greek yogurt with mango, ginger jam, cashew-pepita, and coconut crunch and a pastry to-go from the market on a weekday morning or settle in for sophisticated dishes with a playful edge like the butternut squash and rapini risotto in the evening, The Bindery is a place that adds a dash of approachable elegance to the Mile High City.
How to Order: Make a reservation for dine-in or order take and bake items and other to-go offerings for pickup and delivery on Tock
Christine Parisi moved to Denver from Florence, Italy in 1997 and a year later, opened a small market selling speciality Italian foods along with a small selection of prepared items. And Denverites loved eating her creations. Eventually, Parisi moved, installed a wood-fired oven, added pizzas to the lineup, and became a neighborhood favorite for fast casual Italian cuisine. While it's fine dining counterpart Firenze a Tavola is temporarily closed, Parisi remains a go-to for pizza, pasta, salads, sandwiches, and delectable entrees like porchetta and Tuscan ribs, all available with a side of no-fuss service for a quick trip it Italy anytime the craving hits.
How to Order: Open for dine in or order online for pickup
A first generation Cuban-American born in Miami, Kristy Soccarás Bigelow came to Denver in the 90s and found a city lacking the food she grew up with and craved. Though she'd come to The Mile High to pursue a degree in social work, she eventually made the jump to restaurant ownership with the support of her husband, Brian, opening Cuba Cuba in two aqua-colored historic homes in 2001. Now, the cafe is a longstanding Denver classic, and the brand has evolved to also include the fast-casual Cuba Cuba Sandwicheria with four locations in the Denver metro area. If you're looking for mojitos, Cuban sandwiches, picadillo, and more traditional Cuban fare, look no further.
How to order: Open for dine-in, call 303-605-2822 to order pickup, or get delivery via UberEats and DoorDash
Since opening in late 2016, the Stanley Marketplace has become a bustling community centerpiece filled with dining, shopping, services, and events. But even with so many businesses calling the development home, Caroline Glover's first solo restaurant Annette is a major standout and one of Denver's top dining destinations. Not only has Glover developed an eatery that manages to serve fine dining level food with an atmosphere that feels as comfortable as a close friend's house, she's also become a voice for the challenges COVID brought to Denver restaurants. On social media, she's provided an honest look at the journey she and her team have taken, though closures, menu changes, the addition of outdoor dining (built with the help of community members), and the long hours and emotional toll of a year of nonstop change. But one thing remains steady: Annette is a culinary gem and we're lucky to have it.
How to order: Book a reservation via Resy or order curbside pickup via Toast
In November 2004, chef Jennifer Jasinski and proprietor Beth Gruitch opened Rioja, a Mediterranean restaurant that was one of the spots that helped bring Denver's dining scene a renewed energy and national attention when Jasinski won the James Beard Award for Best Chef Southwest in 2013. With the acquisition of Bistro Vendome and the opening of Euclid Hall (which recently closed), Stoic & Genuine and most recently, Ultreia in the revamped Union Station, Crafted Concepts restaurant management and consulting group was formed and remains one of Denver's culinary powerhouses, with Jasinski, Gruitch, and their team continuing to push the Mile High food scene to loftier (and tastier) heights.
How to order: All four Crafted Concepts restaurants are open for dine-in with reservations available via OpenTable as well as pickup & delivery via Tock; see each restaurants websites for links to book a table or place an order
From hockey player to attorney, owner Natascha Hess took a winding path to the food scene, but it was her time living in China during college that inspired her to eventually start a food truck in 2016 serving the food she's spent years learning to cook with love like her Chinese "mom" Nalu. With the support of friend turned business partner, Top Chef alum Carrie Baird, Hess opened her first brick and mortar location October 2020. The menu features many favorites from her food truck days including the arancini-like Bangkok Balls, crispy Thai red curry rice balls with lime leaf aioli, along with some fun new additions like the cheeseburger (for real!) fried rice inspired by the burger at Baird's eatery Rose's Classic Americana in Boulder's Rosetta Hall.
How to order: Stop by to dine-in or order for pickup via Toast
Three hundred dollars, a backpack, and big dreams. That's what Lorena Cantarovici had when she came to America from Argentina, and now she's an award winning business owner and the force behind Dnever's favorite Empanada brand. Her journey to empanada infamy began when she started making the savory pastries for friends and family out of her garage. She officially opened Maria Empanada in 2013 and eventually grew to five locations (three are currently temporarily closed due to COVID). Along with fifteen varieties of empanadas available daily (including breakfast and vegetarian options), the thick, filling slices of Spanish tortilla are also a must try.
How to order: Visit in person, order online for pickup, or get delivery via DoorDash
Molly Martin
is a Denver-based freelance writer who really, really loves the pork hash at Annette. Follow her @mollydbu on Instagram and Twitter for more updates on food, fun, and life in the Mile High.