Downtown
From the retro lighting to the antique tiles, this place still looks like the brasserie that preceded it, but now it's more of a boîte. That's fancy French for "nightclub" -- and though Baur's is open by day, it flowers fully in the evening, when the cocktails flow, the kitchen turns out chic eats like pan-fried abalone with black garlic and grilled rabbit with barigoule, and jazz musicians take the stage. If you squint, you can almost picture the Gauloises smoke filling the room. But in a good way.
Sunnyside
Like a newborn calf standing up for the first time, the brick-and-mortar offshoot of this mobile smokehouse is just starting to get up on its feet; in both cases, that means killer brisket lies ahead. For now, chef-owner Darren Byrd's menu is short and sweet, presenting the fundamentals (pulled pork, ribs, burnt ends, and so on) on platters or in sandwiches alongside your choice of a few classic sides -- don't say no to the spicy, bacon-enriched baked beans -- as well as lemonade, sweet tea, and local bottled sodas. But a number of other goodies, including beer, should pop up soon.
Highlands Square
If you've been thinking how one Detroit-style pizzeria in Denver isn't enough, you're not only not alone, you're also in luck. In fact, you're about to find yourself in heaven on Earth, because the chef-partner of this shoebox-sized (okay, takeout pizza box-sized) parlor is a master of the Motor City pie -- baked in a square pan to hold the cheese that laces its crust -- and he's got the awards from competitions worldwide to prove it. Not to mention the Colorado microbrews you'd expect in, you know, heaven.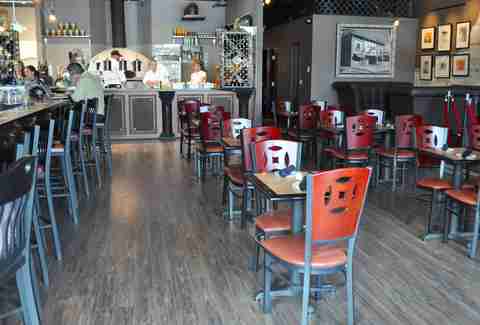 City Park West
Aw, look, Denverites, our little 'Fax is growing up! Where once it could stomach only diners and dives, these days it can handle craft breweries and gourmet taquerias and, now, even a wine bar, where you can pair about 40 pours with elegantly topped, bubble-crusted pizzas from the pecan wood-fired beehive oven. Or sip smart cocktails like the J. Californica (rye, peach liqueur, and walnut bitters) while snacking on ample portions of charcuterie and cheese, served on slate boards with dishes of house-made jam and olive oil. You can even get a "passport" to tasting classes or catch a local musician's acoustic set. And then you can sit back and wonder what's next for Colfax.
Littleton
High-ceilinged and sunny, with an island bar, a fireplace, and a bocce court, this restaurant on the Breck group's sprawling new suburban campus has traded the he-man food at the previous location for a gentler, more wholesome selection of snacks and squares. Standouts include the smoky-sweet barbecued carrots as well as the unusually delicate lamb pastrami with Swiss, slaw, and pickled tomato mayo on rye, which comes with balsamic-dill potato chips so good you'll want to order a second sandwich just for them (in which case get the pan-fried striped bass on a roll).
Golden Triangle
The ultra-mod, color-splashed, glassed-in dining room of the ART -- a new hotel in the Museum District -- is pretty much a work of art in itself, complete with a fire pit-graced terrace. But it's not just pretty: it also boasts a big-name chef, Chris Jakubiec. Though fresh from Washington DC's Plume, he's already showing a flair for the Southwestern, incorporating green chile into tuna tartare, stuffing ravioli with lamb, and garnishing salmon crudo with Rocky Ford cantaloupe.
Boulder
Occupying a space as narrow as an airplane cabin with 15 seats on a good day, this homestyle Chinese counter joint may be bare in bones, but it's opulent in spirit. Short as it is, the menu spans the provinces from Dongbei to Yunnan, each dish juicier and more vibrant than the next: we'd call the hand-formed leek-and-egg dumplings unforgettable, except that the sweet potato noodles topped with ground pork, peanuts, and gingko nuts in a sour-spicy broth are so intoxicating, you'll probably black out with the first bite. Maybe bring smelling salts.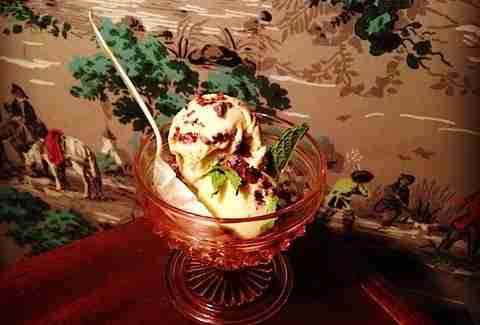 Globeville
You gotta love a bar that serves Schlitz-battered and pickled onion rings. You gotta love a bar with walls and vintage sofas that are the color of old pennies. You gotta love a bar that screens John Waters flicks on the patio. And since you gotta love all that, you gotta love this place in particular. Why not start tonight?
Downtown
Run by a couple with a passion for the sidewalk cafes of Europe, this little hideaway is all about the simple pleasures: a glass of rosé and some prosciutto-wrapped figs, a gin and house-made tonic with Parmesan crisps, or a pint of Declaration Wildberry saison alongside a croque monsieur on challah. (Okay, that last combo's not so simple, but it sounds totally awesome right about now.)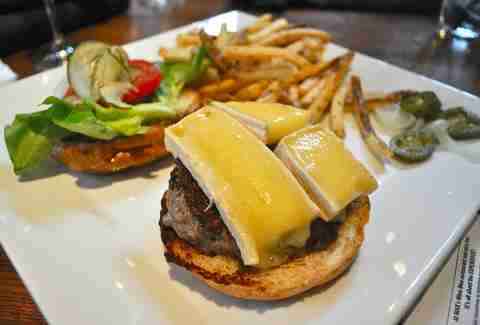 Capitol Hill
Forget that old joke about only two things coming from Texas. Especially when this boozer's come all the way from Houston to Denver, where it plans on "Turning up the volume on background music and serving fried chicken with Champagne." That's Max's jam, and it makes for a fine time -- although it's just as much fun to pair the brilliant Brie burger with Lambrusco, or the baked oysters with some vino. Oh, and speaking of vino, they've got a deal that puts most other wine promotions to shame: They'll open any bottle on their list as long as you promise to buy at least two glasses.
Larimer Square
Local fine-dining pioneer Michael Shiell marks his return to Denver with a sleek, subterranean social club for the LoDo set. That means the menu's basically a checklist of aphrodisiacs, from raw oysters and cashew-crusted foie gras bonbons, to scallops with asparagus in caviar beurre blanc. And the drink list is even sexier, thanks to the bar's use of supposed, uh, mood boosters like yohimbe, burdock root, and goji berries. Plus you've got creamy banquettes and a courtyard patio to lounge around on while the food/drinks take effect.
RiNo
You know how your favorite character in The Big Lebowski is really Walter Sobchak and not The Dude? Well, while Jeff Osaka's noodle soup abides, and it's the rest of the menu you'll go home quoting. From the ume-filled onigiri, to the instant smash-hit karaage (that's Japanese fried chicken, kids), to the kinako-fried mochi donuts, it's all stuff you'll want to shove in your face as often as possible. Even if it means you have to roll on Shabbos.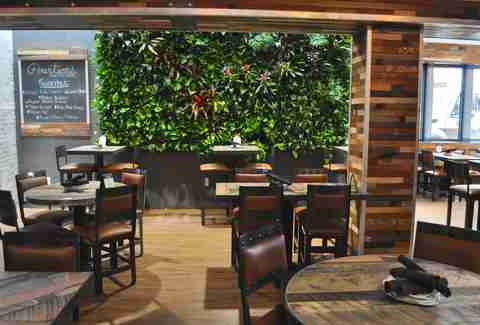 LoDo
Given its friendliness to weed smokers, new boutique hotel NATIV would be missing one hell of a lucrative opportunity if it didn't offer 24/7 room service. But on-site lounge Pourtions doesn't cure the munchies only of its overnight guests... you're invited too. Resembling a sort of 21st-century fern bar built with wood reclaimed from high school gyms, it gets its name from its self-serve system of 20 taps filled with local beers, and the menu is equally easygoing: think bánh mì and chicken Parm sliders or fish & chips with vanilla ketchup.
Downtown
We included it among our picks for great first-date bars not merely because it's got such an intimate vibe -- though it does -- or because the drinks go down so smoothly (though they do, especially the Sherry Cobbler and the Ramos Gin Fizz served with a silver straw). It's also because the staff displays the kind of grace and tact that could soften even the most awkward evening. Which means you'll just have to come back with your next first date.
Sign up here for our daily Denver email and be the first to get all the food/drink/fun in town.