For homegrown emerald-colored substances, there's none more famous or well-liked in Mile High than those plants you're legally growing in your closet green chile. In fact, it's SO well liked (by us), we put together the tastiest green chile crawl ever created, highlighting both institutions like Jack-n-Grill and newcomers like Corner House. Stop #1: Los Farolitos1593 Peoria St; Aurora; 303.367.2739 Your journey begins in the heart of Aurora at long-time green chile staple Los Farolitos, a spot famed for their green chile barbacoa burrito. It's packed with lamb that's been stewed low-and-slow with fresh tomatillos and a ton of heat. They open at 9a on weekdays, so start your day right. Stop #2: Pete's Kitchen1962 E Colfax Ave; Northeast; 303.321.3139 Cruise down Colfax on a cruiser bike (you'll need the exercise), duck into 24hr joint Pete's Kitchen, and grab their green chile smothered Breakfast Burrito Supreme. It's complete with ham, bacon, sausage, AND gyro meat all smothered in green goodness.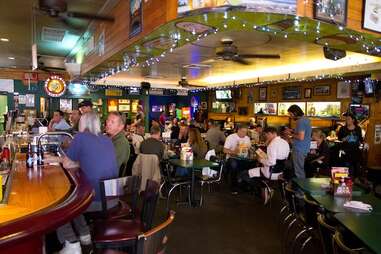 Stop #3: The Cherry Cricket
2641 E 2nd Ave; Cherry Creek; 303.322.7666
If your bike is still there, ride down Williams St to The Cherry Cricket for their Green Chile Cheeseburger. Enjoy a top Denver burger with fresh Hatch green chiles and a countless number of topping combos.
Stop #4: El Taco De Mexico
714 Santa Fe Dr; Southwest; 303.623.3926
Call that friend you did that one thing for, and hitch a quick ride on Speer to get burrito-fied again at El Taco De Mexico, as it's bound to impress with their multitude of Mexican dishes to slather green chile on. Grab the Cheeksmeat Burrito if you're feeling saucy.
Stop #5: Corner House
2240 Clay St; Northwest; 720.287.1895
Punch Jefferson Park into the Tom-Tom and set course to JP newcomer Corner House, as they're serving a custom burrito with house-made green, Polidori chorizo, red potatoes, lime creme, and a Fresno chile pico de gallo.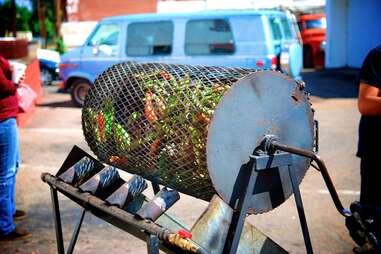 Stop #6: Jack-n-Grill
2524 Federal Blvd; Northwest; 303.964.9544
Around the corner on Federal is Jack-n-Grill, offering up a New Mexico-style green chile (aka no tomatoes) that is bound to delight. Order it stuffed inside their chicken quesadilla for some variation from the norm.
Stop #7: Park Burger
2643 W 32nd Ave; Highland; 303.862.8461
Just a little further up Federal in Highland (so hot right now) are the burger masterminds at Park Burger. The Mariachi burger features roasted greens, pepper jack cheese, and a chile lime sour cream that will make you want to strum a guitar really fast.
Stop #8: The Original Chubby's
1231 W 38th Ave; Northwest; 303.455.9311
Follow Speer downtown and journey to the amigos at The Original Chubby's. Green chile is not only deliciously paired with burritos and hamburgers, they also never fail to impress atop their totally-not-paleo-at-all smothered cheese fries. If you haven't already, say adios to your washboard.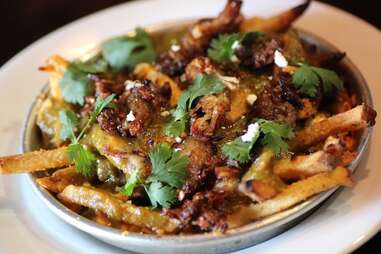 Stop #9: Euclid Hall
1317 14th St; LoDo; 303.595.4255
Another quick jaunt on Speer takes you to the LoDo home of a James Beard winning chef. Euclid Hall now offers Carnitas Papas Fritas, a Canadian staple that's been given a Mexican facelift with tomatillo green chile, cheddar curds (WHAT!?), goat cheese, and chile lime fries. Make sure you pair it with one of their stellar beers.
Stop #10: Tom's Urban 24
1460 Larimer St; LoDo; 720.214.0516
Right around the corner is a place for one last tasty green treat. Good thing that no matter what time it is, Tom's Urban 24 is open and pumping out delicious eats like their Green Chile Carnitas Mac 'n Cheese. This comfort food has a South of the border twist, and is a great way to end the crawl, so you can finally claim the title of "El caballero verde". Edible perfection.