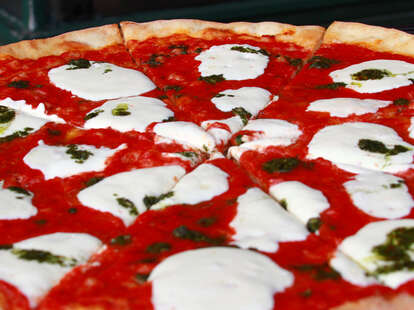 It's been said that pizza is like sex: even when it's bad, it's good. While there may be some truth to this, certain pie interpretations (and romps in the sack) invariably trump others, and in the ever-evolving pizza-sphere, the classic New York-style still reigns supreme. Though not quite the same as a slice snagged in the Big Apple (whether it truly is due to the water or not), there are a number of Denver spots doing a damn fine job slinging slices of thin, crisp-yet-foldable tastiness. Here they are:
3 Guys Pies (info and address)
Colfax
Operating within Colfax's Streets of London Pub, 3 Guys Pies takes a no-frills attitude in their pie creation. Under the new ownership of a few New Jersey lads (ah ha!), the staff at 3 Guys would rather build you a simple pizza with perfected basics and top-quality cheese than an over-topped mess (though if you want to load up toppings, they still bring it), and the proof is in their phenomenally balanced Margherita offering. Plus, the first topping on any 14-inch or larger pie at 3 Guys is always free, keeping the cost low in true NY pizza fashion.
Two-fisted Mario's(info and address)
LoDo
A longtime local favorite, this LoDo shop has a Pacman arcade machine (pizza > food pellets) and some of the best crust you'll find. There're no attitudes, no pretentiousness, just quality pizza in a rock 'n' roll bar. While you're over there, take a minute to check out Mario's Double Daughter's, their affiliated bar.
Pizza Alley (info and address)
Highlands
LoHi might be grabbing the lion's share of the headlines in the Highlands these days, but just a bit to the West, in Highlands Square, rests a staple that's well worth your attention: Pizza Alley. Appropriately salty, well-cheesed (if at times a bit heavy, but so are you, so don't judge) slices and $1 PBR on Tuesdays grant you a welcome respite from the fancy loft-and-designer-dog explosion happening to the East.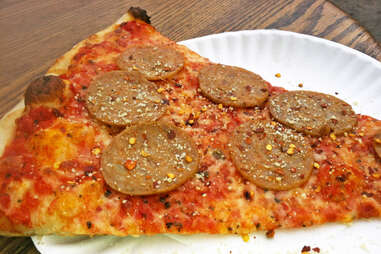 Marquis Pizza (info and address)
LoDo
Live music. Beer. Pizza. Do you really need another reason? Connected with the theatre of the same name, Marquis Pizza sits in the heart of Downtown Denver, making it a magnet for people in need of a well-executed slice in the wake of a few bad decisions.

Benny Blanco's (info and address)
Capitol Hill
Should you find yourself in need of sustenance on Capitol Hill (especially if it's late), it'd be wise to take a swing by Benny Blanco's, if only for a second. Open until 3am Tuesday through Saturday, this snug hallway of a joint next to Beauty Bar has little in the way of eating or standing space, hustling you in and out with a slice of solace to drown out your rejection-filled night.
Anthony's Pizza and Pasta (info and address)
Multiple Locations
What Anthony's may lack in mom-and-pop charm, they make up for with consistency -- and convenience -- with a bunch of locations spread across the Denver metro area. An especially smothered pepperoni slice at the California Street or DU location has proven to be a solid bet.
Fat Sully's (info and address)
South Broadway
There are a number of shops claiming NY pizza on South Broadway, but the recently opened Fat Sully's will get you closest to the taste of The City. Like its sister location on Colfax, Fat Sully's operates inside the Atomic Cowboy, which features a rotating slew of Colorado craft beers on tap like Ska Brewing's Pinstripe Red Ale and Lefthand's Nitro Sawtooth Ale, making this shop a fine spot to start, or cap off, an evening.
Slice Works (info and address)
Multiple Locations
If you make it past the window full of hippy pizza upon entering Slice Works, there actually is a superbly greasy, simple NY-style slice to be found at this popular joint. One of the quieter -- and roomier -- places on our list, Slice Works makes a good locale should your family come to town, and the upstairs bar offers a sweeping view on a colorful cast of Colfax characters. Though you'll most likely just be staring at your pizza.