Fresh Thymes Eatery
Fresh Thymes Eatery
Hey, you look great. Really. Wouldn't change a thing. But if you're planning to get even more good-looking than you already are before summer rolls around, check out these eight health-conscious kitchens that actually manage to deliver the deliciousness as well. As a bonus -- with one notable exception -- they're all local, independent businesses, making your decision to drop coin here an even better one. Never mind the fact that people as good-looking as yourself tend to frequent them, too. Just saying.
Multiple locations
Troy Guard's the guy who makes kangaroo tartare and nachos with pigs' ears: you know he's not gonna leave you to build your own protein bowl from garden-variety ingredients. At the quick-serve Larimer location, you can top, say, grilled steak on salad greens or raw tuna on brown rice with anything from kimchi and pickled fennel to black barley and the namesake puffed-rice crackers, then drizzle it all with chia seed-lime or carrot-mustard dressing. At the new, full-service Lowry branch, meanwhile, the Asian-tinged menu extends beyond custom bowls to sushi, ramen, and bomb small plates like corned-beef baozi and chicken-fried duck tongues. (Okay, those aren't 100% lean, but a little goes a long way.)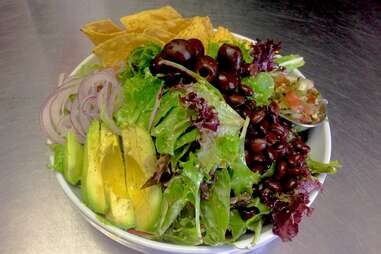 Capitol Hill
We swear you'll feel your eyes brighten and your skin soften* the second you step foot in this sunny, homey vegetarian outlet owned by the duo behind Gypsy Juice Raw. Then you'll down a shot of Galbi -- a blend of carrot, apple, turmeric, and ginger -- and feel your mind instantly sharpen.* Then you'll taste the balsamic-glazed avocado toast, or the potato-leek soup, or the tangy slaw that comes with the sandwiches, and feel your muscles just toning themselves.* It's amazing!
*These claims are not approved by the FDA.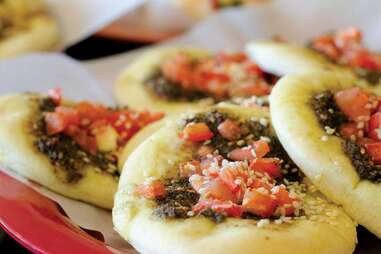 DTC
So long as the charming owners aren't making the rounds of the thronged dining room with platters of complimentary baklava (although they probably will be -- stay strong), you really can't go wrong at this feel-good counter joint. The menu basically mirrors the food pyramid of what is, after all, one of the world's healthiest regions, with meats supplementing rather than dominating the vegetables, legumes, and grains on any given plate. More important, it reflects the TLC these guys put into their cooking. The pita's fresh-baked onsite, the rice-stuffed grape leaves are homemade -- and everything from the hummus to the lentil soup to the roast chicken exudes wholesome soul.
Boulder
Local, organic, and/or sustainably sourced ingredients for gluten-free, Paleo, and/or vegan diets from a cafe built on a co-op–inspired business model. On paper, it's all so virtuous you could puke (not, by the way, a viable weight-loss method). But in practice, Fresh Thymes is a refreshingly good... time. Think of it as an old-fashioned farm stand crossed with a sleek modern deli, where you can do the grab-and-go thing or dine in with a beer or glass of wine. You can customize a plate from an ever-changing selection of proteins and sides at the counter or opt for surprisingly hearty à la carte fare, like the creamed kale-mushroom dip with flatbread, mac & cashew "cheese," or pot pie on Tuesdays. And you can appreciate the fact that, lifestyle politics aside, this place is all about comfort food, plain and simple.
Golden Triangle
In a quaint row house painted bright green, this little hideaway cheerfully serves up equally green lunchtime grub with a side of old-school antiestablishment rhetoric. Apparently, fighting the power doesn't interfere with making mighty fine soups, salads, sandwiches, and smoothies. Try the peppery, sesame-seeded "texture tuna" on excellent City Bakery ciabatta or over a bed of spinach, paired with a made-to-order, all-organic juice blend like the carrot-lemon, and you'll burst with enough energy to fuel a protest movement yourself. Or at least, like, a workout.
LoHi
With the brilliant Daniel Asher as his culinary director, Justin Cucci has kept his finger on the pulse of this city more firmly than just about anyone since 2008, when his flagship opened to set trends that can't stop won't stop -- from the super-funky, kitsch-touched design to the ethicurean kitchen. Built to accommodate vegan and gluten-free diets, the inventive seasonal menu gets its mojo far less from meat, butter, salt, and sugar than from nuts, seeds, spices, infused oils, and punch-packing techniques like pickling and smoking; monthly raw-food dinners take that approach to the max. And now, Root Down has a DIA outpost to conquer every last pre-flight fast-food craving you could ever have, one bánh mì turkey burger at a time.
Cherry Creek
Say what you will about Dr. Andrew Weil (including "who's Dr. Andrew Weil?"), the holistic-medicine maven has definitely devised a winning formula for an upscale-casual restaurant that the yoga-toned ladies who lunch love. Which means the men who love the yoga-toned ladies who lunch love it, too. The franchise recently hired as its executive brand chef the way-talented (and formerly Colorado-based) Arik Markus, who's on a mission to make the already appealing menu even more eclectic and earth-friendly. In the meantime, grab a seat, knock back an invigorating shot of sea-buckthorn puree, and dig into some edamame dumplings and Moroccan chicken.
Boulder
Coincidentally, Markus was the inaugural chef of this colorful all-day hangout, founded by a triathlete whose taste for clean, lean, mean cuisine drives a kitchen that also derives inspiration from global traditions. Standouts include the breakfast fried rice with eggs, the carrot-falafel burger, and the miso bowl with eggplant and wild mushrooms; wash 'em all down with the unusually savory cold-pressed "green juice" or a cocktail that, supposedly, helps you detox even as you retox.
Sign up here for our daily Denver email and be the first to get all the food/drink/fun in town.