Naming your Highland resto after a character from a classic Orwell novel is risky, because how many people really read books written by old popcorn fetishists anyways? Luckily, "farmhouse cuisine" and "killer 'tails" are phrases everyone is familiar with. Original hardwood floors stand out among other remnants of the space's former life as a rollerskating rink. The host stand features a pork grinder once owned by the grandpa of the chef (Masterpiece Deli's Justin Brunson). Apparently he also used to grind his coffee through it, as the best part of waking up is huge chunks of meat in your cup. Do not bring Barbra Streisand to this restaurant. Removed from the main dining area, this cozy bar provides a look at a serious booze selection. A fleet of iPads is available to browse the 'tail list, including "The Fair Deal" with Pig's Nose Scotch/ Americano/ Drambuie/ pear liqueur, and the summery rum/ Curacao/ allspice/ lime "Voice of Reason", which should be just about muted by the time you finish this drink. This pork belly's just a sliver of the meat pulled fresh from CO farms like Brush Ranch and butchered in-house. Eyes will tear up and arteries will give up after encountering the duck fat french fries with garlic aioli. This Cippoino fronts the seafood-focused "Monger" section of the menu. And on the "Butcher" menu, the Cassoulet rains down foie gras atop duck leg confit, housemade pork sausage, and pork belly, meaning you can stomach one of Orwell's characters, even if you could never stomach his books.
Recommended Video
Garlic Bread Meatball Bombs Are a Bite-Sized Italian Meal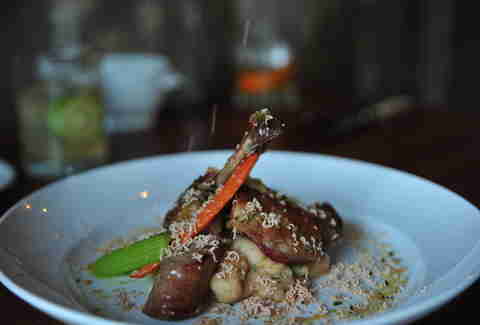 Previous Venue
Next Venue
Venue Description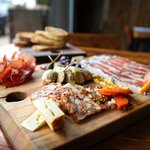 1. Old Major
3316 Tejon St, Denver, CO 80211
Located in a rustic, farmhouse-style space, Old Major -- named after the advising pig in George Orwell's Animal Farm -- is "dedicated to seafood, swine, and wine." Restaurateur Justin Brunson's Highland Park eatery sources sustainable seafood (read: not the farmed stuff from China), has in-house butchery and charcuterie programs, and an extensive wine list (note: every bottle is half-off on Sundays). The menu often changes, but one dish reigns throughout: the Nose to Tail. Let's just say it's a heaping pile of pork (of varying cuts, cures, and preparations) on a plate, and it's not to be missed.