Comfort yourself with Denver's best mac 'n cheese
With the wounds from the Broncos (well, you know what happened) still fresh, it's time for healing. Sure, everything heals in time, but nothing helps the healing process along like heavy, nap-inducing comfort food, the undisputed king of which is mac 'n cheese. Here are Denver's best renditions to help heal your broken heart, then clog it.
Jonesy's EatBar
Uptown
Come for the fries and stay for the mac. Jonesy's Eat Bar doesn't get too fancy with their rendition, which has only three core ingredients -- cheddar, cream, and love. Well, actually you probably have to consider macaroni a core ingredient, as it's in the name. Add bacon for even MORE love.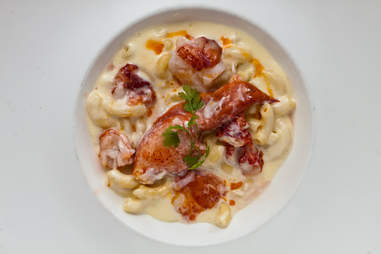 Scottie Davison
Mizuna
Southwest
This Southwest Denver restaurant has a habit of taking things up a level, so it's no surprise that lobster accompanies their mac 'n cheese dish. And by "accompanies" we mean "LOOK AT THE SIZE OF THOSE LOBSTER HUNKS IN THAT MAC 'N CHEESE!". Throw in some mascarpone and heavy cream and you have yourself a classy, calorie-filled party.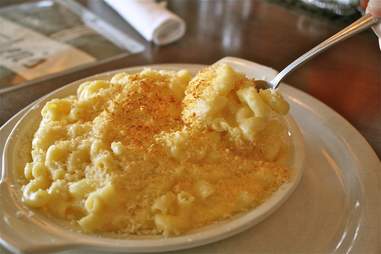 Connor Green
Steuben's Food Service
Uptown
The comfort food prodigies leave no cheese unturned when assembling their mac, bringing together yellow and white American cheese, Fontina, Camembert, and Swiss to form a delectable cheese symphony. Or maybe a cheese orgy? You sound like you're moaning but there is also beautiful string music playing in your head as you eat it. Let's call it a cheese symphonorgy.
Connor Green
The Hornet
South Broadway
The Hornet goes all Xzibit on their version, pimping out their mac with bacon AND lobster... along with like three or four flat-screen TVs. It's called the Cadi-mac and Cheese. Okay fine, it isn't called that at all, but it's delicious and it SHOULD be.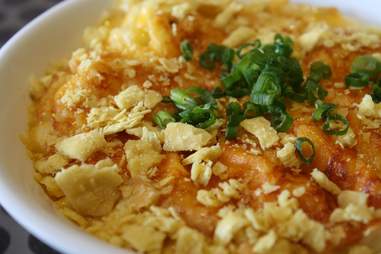 Connor Green
Sputnik
South Broadway
Cheez-It sales have gotten pretty "high" since the passing of certain laws in Colorado, so it makes perfect sense that the eminently snackable cracker would find itself atop of Sputnik's cheddar, Asiago, and monterey jack sportin' mac. The Cheez-Its provide a textural element that you don't even need any herbal enhancement to appreciate.
Colin Mallet
Sassafrass 
Jefferson Park
The folks at Sassafrass don't think that 300 days of sunshine are enough, so along with their made-to-order Grana Padano mac 'n cheese, they insist on a topping of one sunny-side-up egg. Also, bacon. Also, pulled pork. The last two have nothing to do with sunshine really, but when they're commingling happily with runny egg yolk and creamy mac, you won't really care.
Josh Mishell
Rackhouse Pub
South Denver
Not one, but four specialty mac dishes grace the menu of this South Denver eatery. Their Sea Mac is studded with lobster and shrimp (and bacon, 'cause why not), and equipped with a Ritz crust. Of course, you also wouldn't be in bad shape with the chicken/ pesto/ roasted tomato Amita, or the Chili Mac, which you can top with any of their trio of house-made chilis. Should have named it the Mac-house Pub, amirite?!