Support These Black-Owned Restaurants in Denver
Do your part.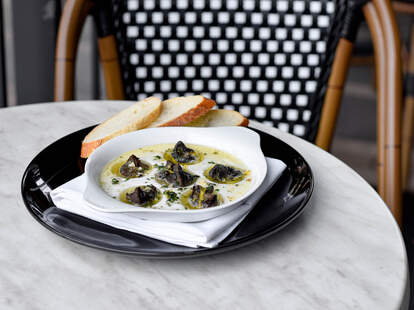 Photo courtesy of Le French
Denver is home to a long list of talented and creative Black business owners in all kinds of industries. But with COVID-19 hitting our locally owned restaurants hard, there is no better time than now to support Black restaurant owners in the Mile High. February also marks Black History Month, a time to listen, learn, and honor the contributions of Black Americans. From ice cream and coffee to Southern soul food, Creole cuisines, and French fine dining, these are some of the black-owned restaurants that are making Denver dining better and better, one bite at a time.
This spot from owner Curt Peterson combines two of life's greatest pleasures: ice cream and coffee. Why not pick up a pint next time you need a latte fix? Or get a bag of whole beans next time you're craving a scoop? Or better yet, get the ultimate caffeinated sweet treat, an affogato, aka espresso amped up with a scoop of your choice of ice cream flavor. But whether you want that coffee-enhanced kick or not, flavors like strawbeñero and their signature Foxy Brown (think cinnamon rolls and cheesecake) will keep you coming back.
How to order: Open daily for in person treats, or you can order online for pickup and delivery
Denver's only African espresso bar from owner Millete Birhanemaskel is a true neighborhood gathering space. Their mission goes beyond coffee (all of which comes from African nations) and pastries, though they've got that down too. Filled with local art and a diverse crowd, Whittier Cafe bills itself as "the activist's coffee shop" and supports a variety of community causes and has a Social Justice Fund which all are encouraged to contribute to. They also host a traditional Ethiopian coffee ceremony every Sunday at 2 pm.
How to order: Open daily for walk-in orders, or you can pre-order online for pickup
With their former location in Green Valley Ranch closed, you'll have to head to Lakewood now for the traditional African fare served at this spot from owners and Ghana natives Sylvester and Theodora Osei-Fordwuo. Though Denver has a healthy number of options for Ethiopian and Moroccan cuisine, African Grill & Bar has a menu loaded with dishes you can't find anywhere else in the Denver metro area. Not sure where to start? They've got you covered with the akwaaba plate, aka the "welcome plate" which is a sampler platter-style introduction to the deep, earthy flavors and spices that you'll find throughout the offerings on the full menu.
How to order: Open for dine-in; you can also order pickup from their website or delivery via GrubHub and DoorDash
Carrying on a tradition started at the original Jabo's Bar-Be-Q by his father in Oklahoma in 1950, Dwight "Jabo" Lawson popped up with his smoker all around the Denver area in the 1990's and became so popular, with lines forming in fields and parking lots, that in 2002 he finally moved his operation into a permanent location in a strip mall in DTC. It may be easy to miss, but those who know… know. The meat is pit smoked using family recipes from Louisiana and his 20+ sauce varieties run the gamut, from smoky mango and pecan to mustard-based, all of which can be mixed if you're feeling adventurous and come in mild, medium, and hot varieties. And don't miss out on the magic that is Jabo's Utah Sconut, a donut-like treat smothered in honey butter added to the offerings courtesy of Jabo's wife Susan.
How to order: Open for dine in and carryout or call 303-799-4432 to place an order for pickup
After moving to Denver from the Virgin Islands in the 1970s, Flynn & Mona Dickerson began sharing their island-inspired Southern dishes to the community. Their eatery has been a staple in Denver's historic Five Points neighborhood in its current location since 1999, and remains a family business now run by three of their nine children, Fathima, Fathim, and Cenya. A community centerpiece, the cafe's menu includes staples like wings, pates (island-style stuffed pastries), burgers, and plates loaded with favorites like fried catfish and smothered pork chops, and more.
How to order: Open for takeout only, stop by or call 303-296-6602 to order
Genn Dickerson (yup, of the Welton Street Cafe Dickersons), opened this take-out only spot in 2016 bringing even more soul food with a Caribbean flair to town. Along with island-inspired eats like jerk chicken sandwiches and plantains, the big draw here is, of course, the crispy wings with sauce choices like pineapple mango habanero and island zing. Also under that "& more" portion of the menu, don't skip the Big Poppa Burger, lowkey one of the best you can find in town.
How to order: Stop by for carryout, order online for pickup, or get delivery via GrubHub, UberEats, and Postmates
Belleview Station got a big culinary upgrade when Senegalese French sisters Aminata and Rougui Dia opened this spot specializing in gourmet pastries and globally influenced Parisian cuisine. As the first black female executive chef of a Michelin star restaurant (at Paris restaurant Petrossian), Rougui has a whole lot of culinary clout and with her sister, also an accomplished chef, opened Le French together in 2019. From chocolate croissants and croque madames for breakfast to elegant dinner dishes like boeuf bourguignon, moules frites, and escargot, these sisters have brought a piece of Paris to the Mile High.
How to order: Open for dine in, and you can also order pickup via Toast
What began as a big purple food truck now has a permanent home where chef and owner Jessie Rayford serves up New Orleans favorites. We may have to miss Mardi Gras (again) this year, but that doesn't mean you have to miss out on Bourbon Street classics like gumbo, boudin, crawfish etouffee, poboys, muffalettas, and plenty more. Whatever you do, though, definitely save room for some of their bourbon pecan pie.
How to order: Open for dine in and takeout; you can also order online for pickup
Since opening in 2015, owners Tammy Braziel and Randal Whyte have been bringing Denver the kind of authentic island eats that are rarely found elsewhere in the Mile High. Craving jerk chicken? This should be your first stop. But the menu goes beyond perfectly spiced grilled chicken. Expand your Caribbean palate with specialities like oxtail stew, curry goat, and whole fried snapper. In 2020, they also opened Jamaican Mini Grille and International Jerk Market in Lakewood where you can shop for commonly used and hard to find ingredients for Jamaican recipes and pick up prepared favorites like patties (stuffed pastries) from the takeout window.
How to order: Stop by for takeout or order delivery via GrubHub, DoorDash, and Postmates