Where to Eat Late Night in Denver
Food never tastes better.
When the crowds of bar-goers spill out into the streets and the standard options have long since closed their doors for the night, it's hard to ignore the hunger pit in your stomach—the need for something savory and filling and not from a drive-through seems hard to satisfy. But through bleary eyes, the following list of late-night options appears, and suddenly you're on your way to a pizza slice the size of your head, a decadent French dip sandwich, or authentic Middle Eastern fare in the wee hours of the night (or morning).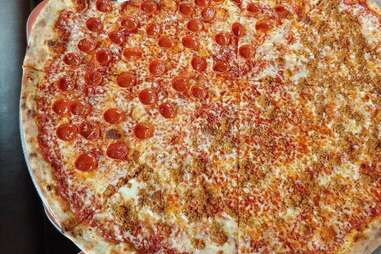 Multiple locations
The three-in-one destination of the bar, Atomic Cowboy, Fat Sully's New York-style pizza, and the Denver Biscuit Company, is a huge hit at all of its locations across Denver and Colorado Springs. But no matter which bar you're exiting at midnight on a Friday, there's a pretty solid chance you can grab an enormous slice of pizza for the ride home. Stop by the pickup window to order by the slice or get a whole 20" pizza for takeout or delivery. Fat Sully's is open late for dine-in too, with more pizza options, burgers (like its signature "Lights Out" burger), and a thirst-quenching drink list.
Multiple locations
Illegal Pete's is a favorite no matter the time of day. Its luscious, build-your-own-style burritos (or quesadillas, or bowls, or nachos) are lightyears ahead of the major chains in quality alone. But being able to order a fresh burrito smothered in pork or green chile with all the fixin's and sauces after the dinner bell makes this place that much better. If a mouthwatering and filling dinner is what you're after but you don't have a reservation somewhere and it's already 9 pm, Illegal Pete's is the kind of supportive, late night dining energy you need in your life.
Baker
There is no pain quite like that of an unsatisfied, late-night sweet-tooth craving. Luckily, Voodoo Doughnut slings fluffy, over-the-top-sweet donuts until 3 am. With a location on Broadway and Colfax, too, grabbing a classic glazed or an Old Dirty Bastard (chocolate frosting, Oreo cookies, peanut butter drizzle) is easy, convenient, and perfect for a midnight snack. The shop offers over 50 flavors of donuts, with customized creations available upon request as well. Oh, and a fair amount of the wide variety of donut flavors are vegan, if you've got special dietary restrictions.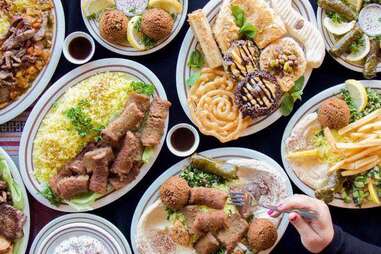 University, Southeast
Adding to the list of places to get tasty and unique food after-hours is Jerusalem Restaurant, which showcases authentic Middle Eastern cuisine. The best part? You can enjoy everything Jerusalem has to offer at any time of day—the savory spice of falafel, baba ghanouj, beef shawarma, and gyros—since the restaurant is cooking for customers 24/7.
Downtown
Sometimes, standard pub fare or fast food don't quite hit the spot after a Saturday night of rabble-rousing. Sometimes, you need some downright delicious Southern food—Nola Jane heard our call and answered. The popular LoDo spot is open every day until 2 am, serving up the likes of po' boys, hot chicken sandwiches, gumbo, and etouffee, along with an array of appetizers, sides, and sweet Southern desserts (hello, bananas Foster bread pudding). As long as you cozy up to the bar before last call, you're guaranteed tasty, belly-filling goodness.
Lodo
Another downtown hotspot for good food and drink in the wee hours of the night/morning is Pony Up. The bar, which serves craft cocktails—or beer and wine if that's more your speed—is known primarily for its menu of savory French dip sandwiches (with au jus on the side, of course). But other, lighter snacks include Kara age, shishito peppers, and French onion soup, all available daily until 1 am, and 2 am on Fridays and Saturdays.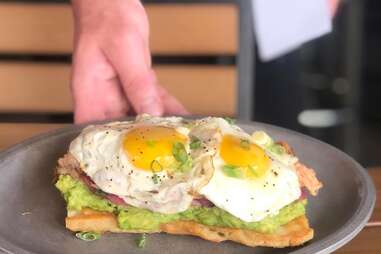 Five Points
An unsurprising addition to the late-night dining list is the popular whiskey bar and restaurant north of Coors Field that is Whiskey Tango Foxtrot. Aside from the impressive whiskey list (with a wide selection of beer, wine, and other spirits), WTF's menu boasts shareables, salads, sandwiches, and mains for however hungry you're feeling. Explore pork wings, seared tuna tacos, the Foxtrot Philly, or go big with the beef bourguignon. Open until midnight, with the exception of Thursday - Saturday, where its doors are open until 2 am.
Northwest
If a quiet speakeasy is more your style, look no further than Williams & Graham, the once-bookstore-turned-bar is a cozy getaway from the nightlife bustle of LoHi. The bar serves serious craft cocktails alongside a menu of unique fare, from shareable deviled eggs to watermelon elote to roasted bone marrow. There are some larger menu items, too, and the mac 'n cheese is a definite must-try while you're there.
Speer
What if there were a bar that was all the glory and none of the glum of a dive bar, open late, AND had a vegan- and vegetarian-friendly menu? Presenting: Sputnik, the bar open until 2 am daily with a menu that caters both to indulgent, late-night cravings and also the health-conscious mind. Mac 'n cheese, cauliflower wings, and hand-dipped corn dogs are some of the smaller bites, with a variety of sandwiches and bowls following up in the more-filling category. Enjoy a loaded Cubano sandwich or a falafel bowl and feel just as satisfied with either choice.
Erica Buehler is a Thrillist contributor.