Colorado routinely ranks among America's healthiest states, but it's not like we aren't TRYING to do something about it. Seriously Mississippi, how DO you do it?! Anyway, we made great strides in 2013, as you can see from this compilation of our favorite moments in Denver fatness from the past year. Check them out and we'll all accomplish some big (literally) things in 2014.
Recommended Video
This Stretchy Ice Cream Is Made With Wine & Cheese
Irish Car Bomb Puffynutz
Glazed and Confused, (Sold at various locations)
Approximate Calorie Count: 510
Remember Cronuts? Those happened. But everyone scrambling to whip up their own version had to think of their own clever, non-trademark-infringing name, hence Puffynutz (incidentally, if Puffynutz last more than a couple of days, call a doctor). This Guinness-glazed, Baileys pastry-creamed version represented one of the high points of the form.

Cheesesteak Spring Rolls
Bocadillo, Sunnyside
Approximate Calorie Count: 570 (fries included)
Instead of throwing batteries at Santa Claus, Bocadillo's chef pays homage to his Philly roots by serving cheesesteak spring rolls. They may look dainty, but they pack a big, meaty punch. They're served aside thick-cut fries and a jalapeño ketchup.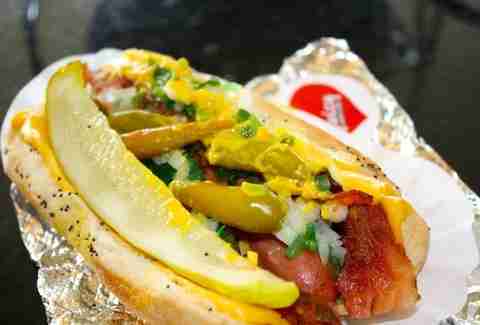 Frankcheesy Dog
Juicy Burgers & Dogs, Centennial
Approximate Calorie Count: 685
The new kids on the burger block are making lots of noise with their daily specials of chargrilled deliciousness. However, many do not know about their "Secret Insider Menu" that contains hidden gems such as the Frankcheesy Dog. This Vienna dog breaks all kosher laws by teaming up with two strips of bacon and melty American cheese. Sound like you belong there by asking for it with "the works", which include mustard, relish, chopped onions, tomatoes, sport peppers, and a pickle.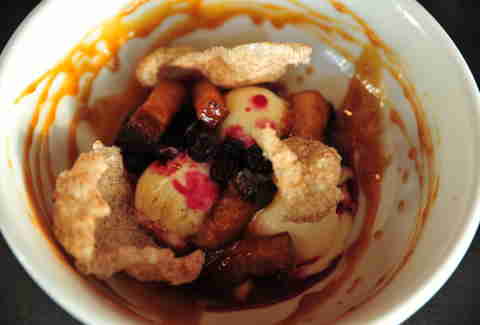 Porky Cake Batter Ice Cream Sundae
Harman's Eat + Drink, Cherry Creek
Approximate Calorie Count: 922
Oh, this? Just a bowl of cake batter ice cream topped with caramelized pork belly bites (look at the size of those things!) and chicharrones (what, you only like ONE kind of pork in your dessert?) tossed in cinnamon and sugar. Oh, and the whole thing is doused in bacon caramel sauce, because otherwise it'd practically be a salad.

Green Chili Frito Pie
Session Kitchen, Southwest
Approximate Calorie Count: 1092
If you haven't heard of, or tried, the wonder that is Frito pie, you'd best get out there and educate yourself with some hands-on learning. For the already initiated, here's a redux: this green chili version is served in a cast iron skillet (eschewing the traditional Frito bag) and features gorgeous pulled pork and tangy green chili, as well as cheese. Oh, and Fritos. Obviously.

Pizza/Calzone Hybrid
Pizza Republica, CBD
Approximate Calorie Count: 1590
Ever find yourself agonizing over choosing between the "Pizza" and "Calzone" sections of the menu? Never. Again. This ain't your grandmother's chubby, sweaty uncle's P'Zone. Half of this thing is covered in spicy capicola and pepperoni, and the other half is bursting with spinach, artichoke, and ricotta.

The Thrilled Cheese
Burger Radio, Varying Locations
Approximate Calorie Count: 1853
The Thrilled Cheese is the secret burger that this meat-slinging food truck made just for Thrillist readers, and it packs two signature patties, two slices of American cheese, three bacon strips, and a slab of homemade mac and cheese, all between two grilled cheese sammies subbing in for a bun. Consuming it will not necessarily result in a feeling of thrilled-ness.

The Cinco Burger
TAG Burger Bar, Cherry Creek
Approximate Calorie Count: 2001
Hopefully you've brushed up on your Spanish, because if you did, you'll be able to figure out how many patties are on this gargantuan burger... Spoiler Alert: It's FIVE. In order of assembly, they are: bison, turkey, lamb, veggie, and beef. But that's not all it has to offer! This towering monument to the American appetite is topped off with cheddar cheese, grilled onions, bacon, secret sauce, and Ruffles potato chips. Muy, muy guapo.