Ever notice how the places that advertise "something for everyone" usually can't get a single thing right for anyone? Yeah, well, these aren't those places. From an eye-popping "gastro-brothel" and a Jazz Age supper club to specialists in Detroit-style pizza and Colorado-style barbecue, the class of 2015 is so far proving to be anything but generic, and your tastebuds are reaping the benefits. Get yourself to these 14 new eateries and drinkeries in and around Denver: 
Boulder
No one goes to a brewery for the ambiance -- but Avery's gleaming new mega-facility in Gunbarrel offers some anyway, thanks to a full-service restaurant that actually looks like a restaurant, with decor and napkins and stuff. Granted, no one goes to a brewery for the food either -- but that doesn't stop the kitchen from putting some forethought into pub standards like quadrupel-braised onion soup, brisket-topped nachos, and smoked prime rib. Still, it's the beer you come for, and it's beer you shall have from 30 taps, many of them devoted to one-offs and experimental releases that you can only get right here. (By the way, there are 30 more in the taproom downstairs, which means the math is in any avid Avery fan's favor.)   
Lowry
We highlighted the healthful side of the menu at the newest stronghold in Troy Guard's empire here -- but we ain't gonna lie: good intentions don't stand a chance against guilty pleasures like buttermilk-fried duck tongues, corned-beef buns, popcorn shrimp, and spicy tuna on crispy rice cakes, all washed down with cinnamon-laced tequila cocktails.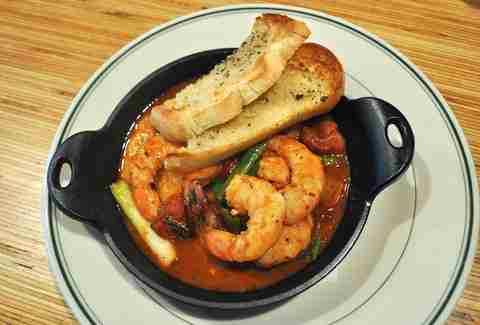 Baker
Sure, chowder is Chef-Owner Matt Stein's specialty, and it is, uh, served in a room -- but the matter-of-fact name of this little seafood spot doesn't begin to capture its charms. First of all, it looks like it belongs on a boardwalk rather than a sketchy stretch of South Broadway. Second, everything from raw oysters to fried shrimp to the daily catch benefits from the kitchen's simple, sparkling-clean style. And third, given the menu's brevity, the drink list is surprisingly extensive, with an ample selection of craft beers and cocktails as well as a smart, fish-friendly wine list. Talk about under-promising and over-delivering.
Baker
Hey, it's ChoLon for the cool kids. Lon Symensma has always sprinkled the menu at his swank modern Asian flagship with sly references to street food, but this insta-hangout is all about the funky stuff of hawker stalls, snack carts, and beer shacks from Hanoi to Chiang Mai. We probably don't have to tell you twice to get the fusion-inspired buffalo-chicken bao or the mashup of ramen and pasta carbonara, but we wouldn't be doing our job if we didn't insist on the only fruit plate you'll ever love, tricked out with mint syrup and chili salt.
 
City Park
Who hasn't, at one time or another, thought to himself, "Hmm, I sure would like to visit the circus, but I also want some thick-crust pizza?" Well, you're in luck. Paying homage to the theater that once stood here, the Bar-on family has filled the former Silvi's Kitchen with fanciful depictions of zebras and harlequins and carnival masks -- but they've stopped short of serving up corn dogs and cotton candy, for which anyone who ever threw up on a carousel will be thankful. Instead, the menu centers on Detroit-style pizza, noted for its rectangular shape, crisp bottom crust, and wall-to-wall carpet of cheese. It's as well-constructed as you'd expect any dough-based dish from the folks who launched the Udi's empire to be, especially paired with loads of craft beer. But don't overlook daily specials like the commendable chicken & waffles, either.   
Littleton
Supposedly, there are people who won't put anything on a hot dog but mustard. They consider themselves purists. We consider them idiots. If an Italian sausage is good, an Italian sausage in a garlic bun topped with spaghetti and cheese-sprinkled marinara sauce is better; if an all-beef wiener is right, covering it in roast beef, pastrami, or brisket can't be wrong. After paying his dues at a mall food court, Harley's owner, Ed Ginsburg, is serving up these and other beasts in a brand-new, patio-flanked space of his own. Consider this the only scenario in which you'd ever utter the phrase, "You Littletonians sure are lucky to live here!"
Five Points
It made our list of 25 Great Date Ideas: that's the level of suave-itude this supper club achieves with its sleek, silvery Art Deco looks and its live-jazz lineup, its fancy cocktails and chic nibbles like raw oysters with rose foam. Actual supper could have been an afterthought; instead the super-talented chef, Dustin Beckner, channels the improvisational spirit of jazz greats to create effortlessly elegant tasting menus that also happen to be a crazy good deal. It's all pretty snazzy -- which is another way of saying it wouldn't kill you to comb your hair and tuck in your shirt before you go.
Uptown
With all of 35 seats and no more than seven or eight items on the all-organic menu at any given time -- including free-range bone broth and a $9 breakfast burrito -- this here is one boutique coffee shop. That might sound like a bad thing. Oh, but it really, really isn't. Take said burrito, which is wrapped in a handmade tortilla and contains potatoes fried in duck fat. Also cooked in duck fat: the eggs topping a giant pile of bacon-fried rice. Also topped with an egg: the luscious comfort that is congee with smoked ham, drizzled in chili oil. Also drizzled in chili oil -- you, when you try to stick your whole head in the bowl. It's called getting what you pay for, and Onefold delivers. Now if only they offered a bespoke McMuffin for 10 totally reasonable bucks.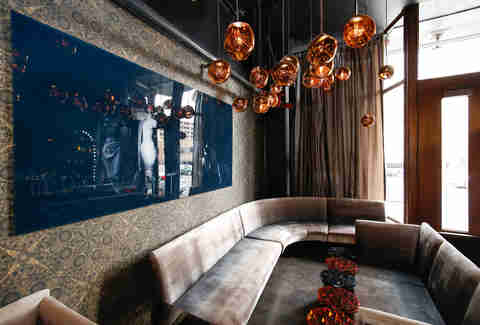 Downtown
Given a midcentury gas station, Justin Cucci built the retro, subtly roadside-themed Root Down; given an old mortuary, he designed Linger to put the "fun" in "funerary." Then he got hold of a former-bordello-turned-porn-shop. So yeah, you bet this sprawling two-story restaurant, lounge, and music venue revels in every louche touch, from nudie posters to black-velvet curtains to bars constructed from pinball panels and Jäger bottles. (As for the "dildos in the window" Cucci's still considering -- fingers crossed.) There'll be funk, country, and hip-hop acts to catch on the downstairs stage. Kung fu flicks to watch on the giant movie screen. Lip-synch battles to wage. But here's the funniest part: amid all the shenanigans, the kitchen's keeping it classy, what with delicately smoked bay scallops and miso-bacon ostrich burgers and porter-teriyaki duck wings to soak up your Sex Machines. (That's the name of a cocktail. Or is it?)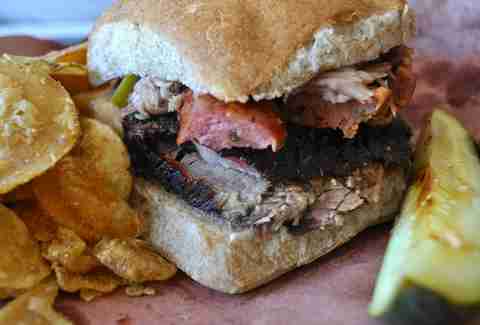 University
Don't just come here hungry -- come here after getting stranded in the mountains and living on bark and snowmelt for a week. And bring the rescue team with you. Together, you all might manage to polish off the insane heaps of meat the good ol' Texan boy tending the smoker will toss your way. But even if you can't, you're gonna be so glad you tried. Considering Coy Webb's roots, you'd expect glorious brisket; what you might not expect, however, is to get that brisket sliced and layered with tender chopped pork, spears of zesty jalapeño-cheddar sausage, smoked Gouda, and pickled peppers, all on a soft honey-wheat bun. You might also be surprised by Webb's Colorado pride, but pulled lamb shoulder, bison short ribs, and thick-cut house potato chips flavored with green chile might finally help put Denver on the national barbecue map. Come to think of it, maybe you should come here before your next off-road adventure -- if anything happens, at least you'll have had a hell of a last meal.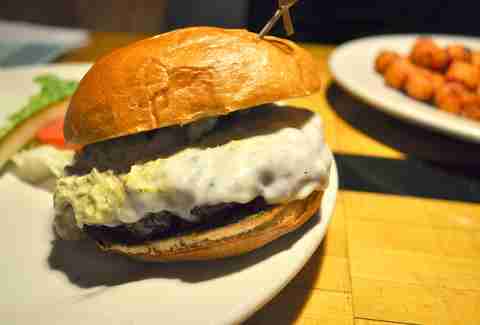 Arvada
Old desks hang from the ceiling beams in the bookshelf-lined "library bar" downstairs, while the upstairs bar is designated the "teacher's lounge." The dining room's illuminated by lamps made from globes, the bathroom walls resemble chalkboards, the menus look like classwork -- and all in all, this Olde Town Arvada arrival is one big, hilarious flashback to first grade. Except that your elementary-school cafeteria probably didn't carry some 700 different whiskeys from all over the world, along with more than 50 craft beers, and your lunch lady probably didn't offer burgers and flatbreads with dozens upon dozens of toppings including shishito aioli, dried apricots, and pork jerky. And if they did, why in the hell did you ever bother to grow up?
Highlands Square
In a nutshell, Solitaire is a fine-dining destination in a renovated Victorian. Out of a nutshell, it's not nearly so stuffy. In fact, it's damn cool. Mark and Andrea Ferguson have erased every last trace of quaintness from the property, stripping down the interior to give it a modern texture while adding a full bar and patios on all sides. The cocktail program has a freewheeling feel: think mezcal-sherry spritzers, jalapeño Hemingways, and a mix-and-match selection of gins and tonics. And constantly changing small plates like uni-quail yolk shooters or charred octopus in saffron zabaglione with black garlic and roasted grapes combine luxury with novelty. Sure, you'll still be paying traditional fine-dining prices here -- but you'll have an untraditionally fine time doing it.
Five Points
If you don't know about this sausage-slinging bierhaus, then you do not get the Most Loyal Thrillist Reader Award, because we covered it in detail here. Too bad for you, because the cash prizes we give are amazing. Maybe next time?
LoDo
Bet you didn't know you had a Taiwanese mom (unless you're Taiwanese, in which case, bet's off). But it's true, because Edwin Zoe's mother became everybody's mother when she started cooking at his tiny homestyle-Chinese counter joint in Boulder. Now there's a Union Station outpost -- bigger and shinier than the beloved original, with a built-in coffee bar called the Orient Espresso, but otherwise much the same. So get ready to devour plump and juicy potstickers, suck down duck soup or egg noodles in pork gravy, demolish deeply savory lion's head meatballs while knocking back a Tsing Tao, and finally grapple with the guilt as you think about your real mom asking why you never come home for supper anymore. 
Sign up here for our daily Denver email and be the first to get all the food/drink/fun in town.