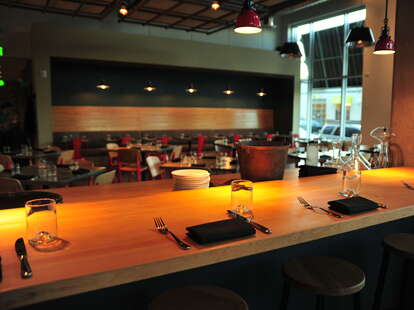 So the bad news is, it's going to be cold for the next few months. But the good news is that means you'll have extra layers of clothing under which to hide your expanding midsection, courtesy of these eight restaurants, from newly opened deliciousness (donuts!!!) to yet-to-arrive goodness that'll get said midsection grumbling in anticipation.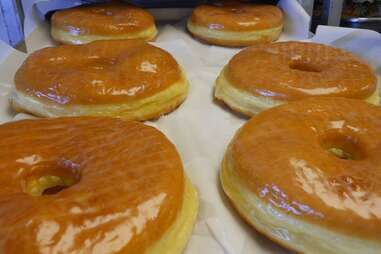 Name: VooDoo Doughnuts
Open Now
Why You Should Care: This magical, nationally renowned donut shop has made its way East from Portland, OR and carries with it a cult-like following for good reason. Their next-level 'nuts include crazy concoctions like the Triple Chocolate Penetration (covered in Cocoa Puffs), and a Maple Blazer Blunt Doughnut, which should feel right at home in Colorado.
Name: Lower48 Kitchen
Open Now
Why You Should Care: Ballpark's newest addition comes from two of Frasca's alums, which draws inspiration from all over America, hence the name (sorry Alaska and Hawaii?). The menu will change daily, with small bites ranging from $3 to large/shared plates for $55 -- all served in a spanking new, contemporarily appointed space.
Name: Olive & Finch
Open Now
Why You Should Care: Mary Nguyen, Chef/Owner of P17 and Street Kitchen, has opened a casual eatery geared towards people on the run. She's doing things like house-cured pastrami, breakfast scrambles with pulled pork and chimichurri, and beef tongue sandwiches that are all available for curbside pick-up, so you don't have to deal with annoying stuff like changing out of your sweatpants.

Name: Los Chingones
Open Now
Why You Should Care: Chef Troy Guard mixes it up with his version of Mexican munchies with a modern twist, which means pig ear nachos, homemade salsa flights, and octopus tacos. Obviously, you'll need to grab a marg to wash everything down, but get there pronto, because this small space will fill up fast. Of note: Chingon translates roughly to badass, a theme carried through both the cuisine and the lively space.
Name: Steve's Snappin' Dogs DIA
Opening: January
Why You Should Care: This local hot dog joint on Colfax has been serving crazy delicious dogs since 2006, and has been voted "Best Hot Dogs in Denver" six years in a row. There's a dog for everyone to try, including a Denver Dog, which comes wrapped in a tortilla, and the Rippin' Rockies Dog, deep-fried with green chili. Soon you'll be able to get a taste of Denver, Steve-style, before you fly out.
Name: Bad Daddy's Burger Bar
Opening: Early 2014
Why You Should Care: Fast-food giant Good Times is behind Bad Daddy's Burgers, and the first spot opening in Colorado will debut in Cherry Creek. This franchise is known for their aptly named, future-predicting Big Ass Burger, which has buttermilk-fried-bacon, horseradish mayo, and handmade American cheese. Along with ridiculously loaded burgers, there's also the option to build-your-own with unique topping options like jalapeño bacon, shrimp patties, and pineapple slices.
Name: Solitaire
Opening: March
Why You Should Care: Chef Mark Ferguson of Spago in Vail and Las Vegas is taking over the former Highlands Garden Cafe. A brand new bar is being built inside the Victorian house and the diverse menu will have flavors from all over the world, but no Grandmothers playing Free Cell on old Dell desktops.
Name:Sarto's
Opening: March
Why You Should Care: The forthcoming Italian eatery in Jefferson Park will be turning out house-made pastas, sauces, and pizzas, with the option to grab a bite and go. Chef Brian Lard, formerly of Barolo Grill, will also be preparing various game birds, depending on whatever is freshest that season. So tread lightly, Fresh Pheasant Prince of Bel Air.