Every day, Grog come home from work at rock pile and eat pizza or stuff roommate throw out. Grog hear about Caveman Cafeteria, a new food company that deliver pre-made, organic Paleo food for lunch and dinner to CrossFit location all in Denver. Luckily Caveman food not just for strong CrossFit people. Grog have beer gut and no idea what "WOD" mean. Grog just like good meat. And the wheel. Wheel pretty cool too.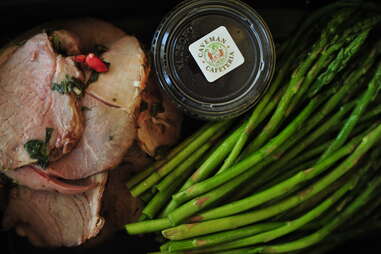 Grog try week-long meal plan with 10 lunch and dinner of Paleo food for reasonable $149. With inflation from when Grog was born, that like 3 trillion dollar, but whatever. This dish of roasted leg of lamb come with spinach, golden beets, and asparagus. GROG LIKE!
Another meal this week have five-star duck breast with bell pepper and Japanese eggplant. GROG ENJOY!
Grog also approve of Airline Chicken Breast (what airline? like wind?) served with Paleo succotash of sweet potato, zucchini, bacon. GROG THUMB UP TO AIR!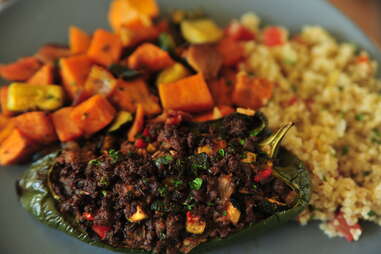 Grog learn Wagyu beef in stuffed poblano pepper is grass-fed and come from New Zealand. Grog think country should be renamed Very Old Zealand at this point, because Grog so old, get it joke? Ha ha ha. Humor important where Grog come from because death swift and sudden sometime. But eat Caveman food and live long! GROG YES!