We're dead Sirius about this: the best secret menu in Mile High is overflowing with mac and cheese-ified burgers, and said menu is at a food truck called Burger Radio. Get ready to feast your eyes on the most eye-poppingly creative burgers you'll see driving around Colorado.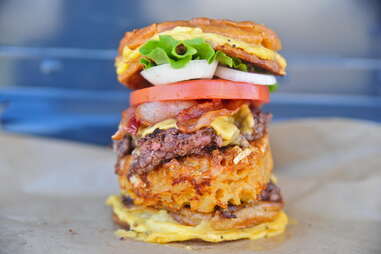 Exhibit A: The Thrilled Cheese is the secret burger they made just for Thrillist readers, and it packs two signature patties, two slices of American cheese, three bacon strips, and a slab of homemade mac and cheese, all between two grilled cheese sammies subbing in for a bun.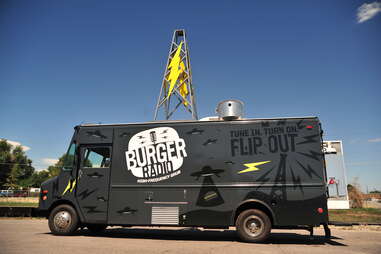 Their food truck is hard to miss, as it's the one with a huge radio tower up top. Is it street legal? Stop asking questions and look at more photos of burgers!
Their standard burger is the Double Cheeseburger. Two juicy, fresh ground beef patties topped with American cheese, and a thick slice of onion and tomato. It's clear they can make a solid, normal burger. But they excel at the crazy stuff...
BEEEEEEEEEEP, THIS IS AN EMERGENCY. The EBS (Emergency Bacon System) is a balanced blend of ground beef and ground bacon molded into a heart-stopping patty. It's then topped with aged white cheddar, American cheese, and green chilies.
The Kid Radio is a bacon cheeseburger topped with giant thick cut potato chips, saving you the extra difficult hand motion of putting a chip in your mouth after biting into a burger. USA! USA! USA!