Despite our abnormally fit populace, Denver likes to eat... quite a bit, actually, even dating back to the days before certain forms of appetite enhancement became legal. With that in mind, we've assembled (well, assembled paragraphs about, we didn't actually help cook them) 10 iconic dishes that've helped make eating in Denver what it is today.
Smothered Mexican Hamburger
The Original Chubby's on 38th (address and info)
Northwest
Denver's famous for its green chile, and even more famous for smothering things with it. Although the smothered fries here have a loyal fan base, the Mexican hamburger cannot be beat. A hamburger patty with beans and melted cheese is wrapped up in a flour tortilla and smothered with their spicy green chile and more cheese, making it a glorious, gooey mess. As far as true Denver flavor goes, it doesn't get much better than this, especially at 2am.
Chicken and Waffles
Second Home Kitchen + Bar (address and info)
Cherry Creek
This Southern-inspired dish has become quite popular in the last few years and can be found around town at various places. That being said, it's worth your time to check out the version being dished out during Sunday brunches at Second Home Kitchen. It's made with a cornbread waffle, house-made sausage gravy, and Colorado's own Stranahan's whiskey syrup. AND you can wear your PJs to breakfast.
Elk Jalapeño Cheddar Dog
Biker Jim's (address and info)
LoDo
Any Colorado native can tell you that Biker Jim has been slingin' dogs at his cart on 16th and Arapahoe for as long as they can remember. His creative selection of brats has long been a staple of Denver's street food scene, and blew up in popularity so much that he now has two brick-and-mortar locations. The menu consists of things like Alaskan reindeer, pheasant, and wild boar, but perhaps the best thing on the menu is the elk jalapeño cheddar dog, which can be topped with anything from cream cheese and roasted cactus to tomatillo green salsa.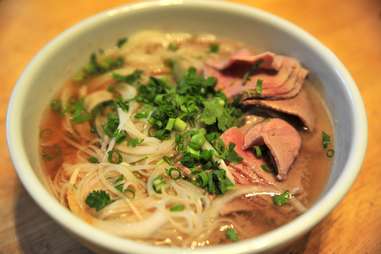 Pho
Pho 555 (address and info)
Southwest
Just like breakfast burrito joints, pho places are everywhere, but every spot has its own recipe and flavor. Something about the rendition at Pho 555 just makes it extra addictive. Whether it's for cheap lunch or your go-to hangover cure, a huge bowl of rare steak and rice noodles simmering in hot beef broth always tastes good.
Smothered Breakfast Burrito
Sam's No. 3 (address and info)
Multiple Locations
This is perhaps the most iconic food item of Denver, the one that visitors and residents alike love and seek out on a regular basis. With 25 different breakfast burritos to choose from, Sam's No. 3 has options for everyone. What's not to love about a tortilla bursting with potatoes, eggs, and other goodies that is smothered with a delicious house-made green chile? Breakfast burritos can be found on almost any corner in Denver, but Sam's No. 3 burritos deploy a truly special combination of flavor and gut-bustingness.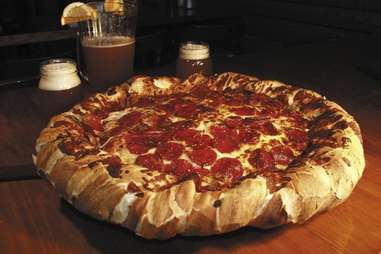 Pizza
Beau Jo's (address and info)
Multiple Locations
This mountain-style pizza is not greasy, paper-thin pie like New Yorkers enjoy... nor is it a deep-dish with layers of sausage like Chicago-style pizza. Instead, it has a thick, hand-rolled crust and a denseness that gives you a hearty mouthful of pizza in every bite. There are wheat crusts and "Prairie" pies for those who want a lighter option without sacrificing flavor. This Colorado-style pizza was born in 1973 in Idaho Springs and can be found at eight different locations around Colorado (and one in South Dakota), so if you haven't tried it, you need to remedy that.
Fry Bread Taco
Tocabe (address and info)
Northwest
Native American food isn't an easy cuisine to come by in Denver, but those who love it know that this is the right place to satisfy your cravings. Freshly made fry bread is the base for whatever fillings you choose. The set-up is similar to a Chipotle, where you pick your own meat (chicken, bison, beef), veggies, and salsas.
Rocky Mountain Oysters
The Buckhorn Exchange (address and info)
Baker
Although people in Colorado don't normally eat these famous "oysters", these Western delicacies are definitely a tourist attraction. The deep-fried baby bull testicles can only be found at a handful of restaurants, including the concession stands at Coors Field during baseball season. The Buckhorn Exchange has been around since 1893 and holds Colorado's very first liquor license. Their menu is very game-heavy, consisting of items like cornish game hen, quail, and elk. But if you have any balls, you'll go for the, well, you know.
Torta
Las Tortugas (address and info)
Southwest
Not all tortas are created equal, but Las Tortugas makes every single sandwich with love -- and lots of butter, which is basically a synonym for love. This little shop can be hard to find, but it's worth the journey. Hot dogs, smoked pork chops, and breaded skirt steak are just a few options, or you can have them all on one torta (which is likely what you'll do). Make sure there is nap time built into the rest of your day.
Sopapillas
Casa Bonita (address and info)
Lakewood
Okay, we've said some harsh things about Casa Bonita in the past. But let's be honest, morbid curiosity is probably going to drive you to check it out at least once. And while any Colorado native will tell you that the food is not the reason to go there (see: cliff divers, mariachi, and said morbid curiosity), the sopapillas are actually executed pretty damn well: fluffy pillows of fried dough served in a basket and eaten with honey. Cartman knows what's up when it comes to fat kid food.
Sign up here for our daily Denver email and be the first to get all the food/drink/fun in town.