Adam Larkey
Adam Larkey
The award-winning Mile High institution Izakaya Den packed its things up in (bento) boxes and moved into a space next to its sibling resto Sushi Den across the street, keeping the same wood-filled Japanese decor, and introducing a menu packed with pork belly marinated for 8hrs and bizarre Japanese bar snacks.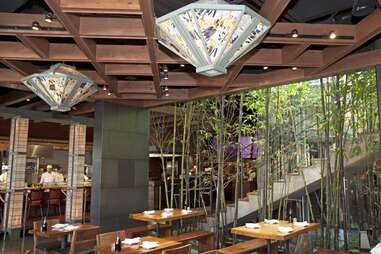 Izakaya decorates their massive 250-seat resto with East and West design elements like grand staircases, glass elevators, and a "lush bamboo garden".
Where's the beef? Not sure if it was ever at Wendy's, but it's definitely at Izakaya Den in the form of the Wagyu beef carpaccio, consisting of thinly sliced strip steak, maitake mushrooms, truffled soy, and blue cheese.
Belly up to the sushi bar and drool as your Hamachi (yellowtail) and Hadoken (Street Fighter) Hirame (halibut) rolls are made.
They don't serve bar nuts, but there is a Japanese bar snack in the form of crispy ikanago & burdock. Fun fact: ikanago translates to "stinky little fish", but is not called that on the menu because that would be stupid.
If you want to exemplify "shibui" (aka Japanese simplicity -- hey, you learned a new word!), order the Japanese-style braised pork belly with egg.
The menu blends "Japanese traditions with contemporary flavors", like the cod stew in a hot pot with vermicelli noodles and Chinese cabbage.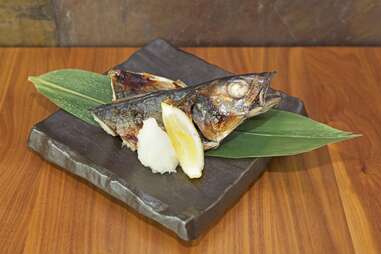 Some say there is no fresher fish available in the state than at Izakaya Den, so confidently order the whole grilled Spanish mackerel (the Saba Ichiya Boshi), and ignore that it's giving you the side eye.