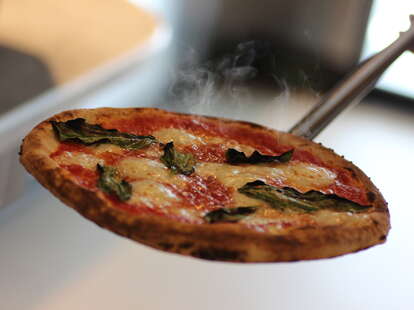 It may take Jared Leto only 30secs to get to Mars, but it's way more impressive that Pizzeria Locale's Denver location (a fast-casual offspring of its successful Boulder spot) only needs 120secs to bake their Neapolitan pizza using a customized gas oven heated to a balmy 1000 degrees.
The modern simplistic feel is made complete with Boos cutting boards repurposed as table tops.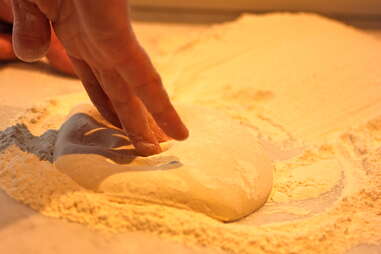 Ingredients for the dough are stored in a proofing room that keeps it 70F and 70% humidity all the time in order to replicate "a perfect Spring day in Naples" -- weirdly, no pizza in Naples actually gets made then, as the pizzaiolos are likely out enjoying their 40 vacation days per year.
Build your own pizza, or select from their new line of American Classics. The 10" pies use the same ingredients as the Boulder spot, but at a lower price point, though not having to hear insufferable Boulderites talk about themselves is a priceless experience in and of itself.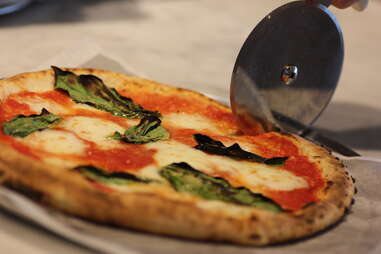 The classic Margherita gets sliced, something you'll never see done to the pies at Locale Boulder.
Another classic exported from Boulder is the mozz, crème fraîche, and ham Mais. Pair it with one of two imported Italian wines on tap.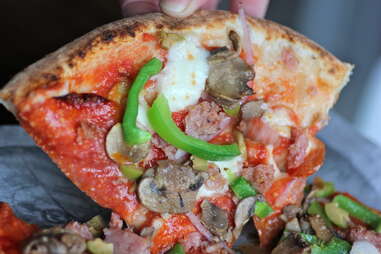 Carnivores may enjoy the pepperoni, sausage, mushroom pie called Supreme, so expect cool skater kids from coast to coast to wear this pizza as a hat.
Seek out the homemade chili oil by the soda fountain and drizzle it on their pies.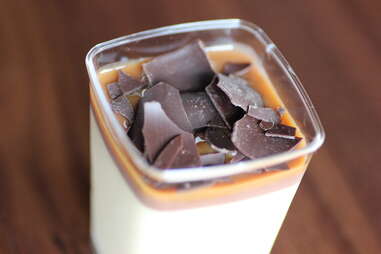 Finish off the meal with a chocolate topped butterscotch budino -- it's only a few spoonfuls, giving you something you can finish in under 120secs.