Did you know there are restaurants that specialize in foods other than burgers, pizza, tacos, and hot dogs? It's true! These seven Denver-area restaurants devote themselves to dishes that don't usually receive such singular focus, with delicious results. You probably didn't even know you needed a chowder-centric restaurant in your life, but you do! Oh, you do...
Baker
This dead-ringer for a Cape Cod clam shack serves up all sorts of seafood, from crab cakes to barbecued shrimp -- but its forte is its namesake (because if it weren't, that would be confusing). Both New England-style clam stew and red chowder with salmon, tuna, and halibut are always available, while the bowl du jour changes constantly; think mussels with pesto come spring, or Maryland-style crab and corn in summer. Meanwhile, no lie: the rich, coconut-curried vegan chowder -- updated seasonally with eggplant, kabocha squash, cauliflower, spinach, and other veggies -- will make you forget about meat for all 60 seconds it takes you to slurp it down.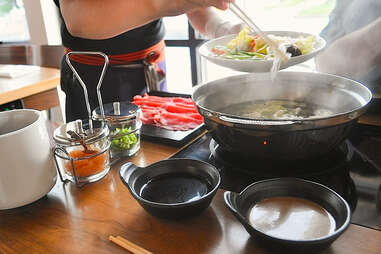 LoHi
The Japanese hot pot with a name that translates to "swish swish" isn't just a dish, it's a multisensory, DIY, capital-e Experience. Drink it in at this sleek retreat, where pots set on tabletop burners bubble with dashi broth, surrounded by platters of sliced ribeye, noodles, and vegetables; bowls of rice and dipping sauce; and jars of slivered scallions and radish for garnish. With chopsticks, you can dunk and cook all the raw ingredients yourself, taking a little of this and a little of that in between sips of sake or Japanese single malt. Then you can sit back and soak up the praise for coming up with yet another great idea for date night all by yourself (yeah, you're welcome).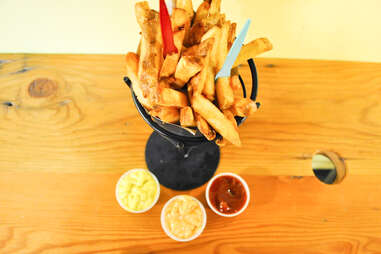 Arvada
Hot, hand-cut, salt-dusted fries in a cone with any of a jillion (we counted) dipping sauces, including curry ketchup, ghost-chile ranch and Parmesan-pesto mayo. What more could you ask for? Oh, right, Belgian beer: this quaint little Old World-themed shop has got plenty of that, too.
Platt Park
In Lorena Cantarovici's hands, Argentina's famous stuffed pies are genuine works of art, and this South Broadway cafe is her gallery -- a sunny showcase for intricately crafted empanadas of all kinds. That makes you a serious collector, snapping up masterpieces like the classic steak with eggs, olives, and peppers; the intense three cheese-mushroom blend with onions and garlic; and the Marsala-poached pear-walnut for dessert. See, we always knew you had exquisite taste.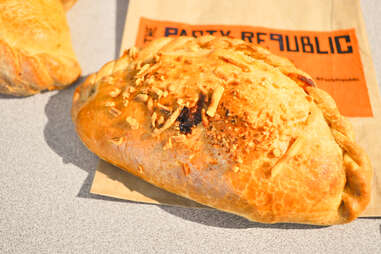 Berkeley
No, it's not a socialist tanning salon. Pasties are basically English empanadas, and this little counter joint (and its brand-new food truck) aces them. Here, too, the fillings range from traditional (beef, potatoes, and rutabaga) to modern (spinach, feta, almonds, and herbs) to sweet (spiced pumpkin and cream cheese). They're then encased in crunchy-tender shells so golden-brown, it's as if this were a tanning salon after all, only for plump, glistening pastries just waiting for you to bathe them in luscious gravy... not that you're fantasizing or anything.
University Hills
Fads fade, but tasty balls just keep rolling on. Opening at the height of the meatball craze a few years ago, this quick-casual cafe has outlasted the hype by putting a premium on variety. Beef, chicken, salmon, pork, and veggie balls star in dozens of smart signature sandwiches, pastas, and salads; you can also build your own, thanks to a huge list of ingredients ranging from caramelized onions and banana peppers to chile queso and Alfredo sauce. And you get your choice of eight sides, too. Basically, you could come here every day for months without ever eating the same thing twice, all while having the perfect excuse to keep the ball jokes going long after the air's gone out of Deflategate.
Baker
You don't have to harbor a throbbing sweet tooth to appreciate the crusty, yeasty, chewy wonders that are Liège-style waffles. This new brick-and-mortar sibling of a popular food truck offers as many savory topping combos as it does sweet, like the crispy-gooey, basil-laced bacon & Brie -- though, even most of the sweet versions aren't cloying: dig the zing of lemon mascarpone with gingersnaps. You can get one waffle for an entrée, another for dessert... and if you need a third, order it plain and call it a palate cleanser. No judgment.
Sign up here for our daily Denver email and be the first to get all the food/drink/fun in town.