Normally, when I sit down to write for Thrillist, my focus is on finding things that you'll love to do in Denver and that will get you out exploring the city. But right now is not normal. These are unprecedented times, and we've all got an unprecedented opportunity to support the places we want to still have around when the literal and figurative viral dust settles.
Community leaders are essential now, and leadership in a time of uncertainty doesn't just mean being right; it's about being communicative and transparent and empathetic. There are a lot of leaders stepping up in Denver as this plays out, and many of them are our small business owners. Let's raise them up.
If you're financially able to, the most important thing you can do to support a small business is continue to use their services and buy their products. Social media feeds and inboxes are inundated even more than normal right now with messages from small businesses. The idea of supporting each and every one of them can feel overwhelming. So here's how you can start.
Use social media wisely
Make it a priority to keep supporting the places you normally do. Make a list of your personal favorites and ensure you're following them on social media; if they have an email list, sign up for it. Make it easier for them to communicate with you. Small business owners are working hard right now to pivot quickly so they can keep supporting you and their staff, safely. They are the best ones to tell you how to support them. They, like you, are figuring this out hour by hour, and they're trying to get creative. If you're spending money on anything right now, spend it locally.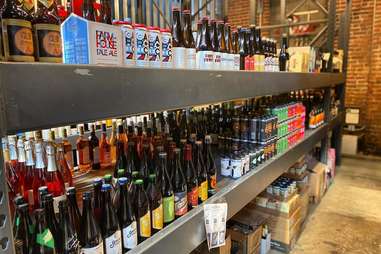 Shop local with new curbside and delivery options
If you're not sure where to start, here are some examples of local small businesses and what they're doing to make it easier for you to support them.
Eat local, via new curbside and delivery options
And then there are Denver's bars and restaurants. As a local food writer and marketing director for a local restaurant group with two locations (Bacon Social House), these hubs for community and hospitality are top of mind for me right now. If your go-to neighborhood spot is offering takeout or delivery, order from them. Buy a gift card. Shop their online merch stores.
If you're not typically someone that dines at small, locally owned places, here are some restaurants I encourage you to check out right now if you need a break from cooking:
Show some love for free on social media
Consider writing some five star reviews for your favorite places and posting them on Yelp, Trip Advisor, Google listings, and anywhere people look to for guidance on where to go locally. Engage with businesses you love on social media -- that means commenting, liking posts, and sharing them. Engagement is what helps businesses reach more people when they post on social media.
As a society, we're never going to be able to use the word "viral" in quite the same way again. But the concept behind using technology to collectively bring awareness to something is still a powerful tool. We all manage to take the same Buzzfeed quizzes, share the same memes, and watch the same cat videos. Let's do what we can to make supporting local small businesses go "viral" right now.
Sign up here for our daily Denver email and be the first to get all the food/drink/fun in town.
Molly Martin is a Denver-based freelance writer who will definitely be ordering take out from her favorite local spots and leaving big tips as often as possible. Follow her @mollydbu on Instagram and Twitter for more updates on how Denver's hospitality community is responding to COVID-19.