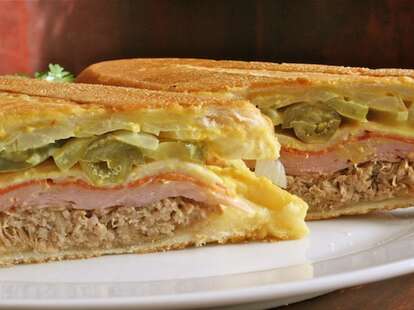 Culinary geniuses have produced some amazing dishes (Dominique Ansel with cronuts, the guy who realized hot dogs could be put on sticks, and the 50 people behind these), but when it comes down to it, placing some meat between bread is all you need, and Mile High throws some serious sandwich art in your face. Here're the five tastiest sandwiches from restos not necessarily known for their sammies.
L'entrecôte, Vert Kitchen
Wash Park West
Meaning "the steak" in French (thanks, Google!), Vert Kitchen's ode to beef is a masterpiece. Tender skirt steak is topped with roasted tomato, arugula tossed in house-made vinaigrette, and walnut mustard, all between a French baguette. Oh là là! We're too lazy to Google what that means, but it sounds positive.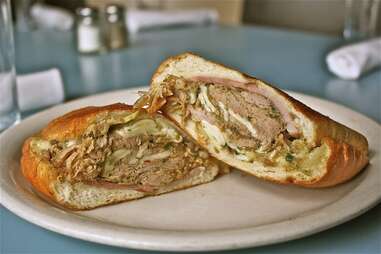 Cubano, Steuben's Food Service
Uptown
The Uptown diner powerhouse has proven itself with the Green Chili Cheeseburger, but their sandwich making is an underrated gem, as the Cubano drips with perfection. Housed in a bolillo roll are pork shoulder, black forest ham, Swiss, Dijon, pickles, and an addictive chimichurri sauce that couples so well together, you may never need another sandwich again.

(Editor's note: The author of this piece is currently employed by Steuben's, but this would've made the list, regardless. It's that damn good.)
BBQ Pork Belly, New Saigon
Southwest
Tender pork belly is a thing of beauty, and when paired with BBQ, cucumber, cilantro, carrot, fresh jalepeno, and a $4 price tag, it's darn near irresistible. Oh là là?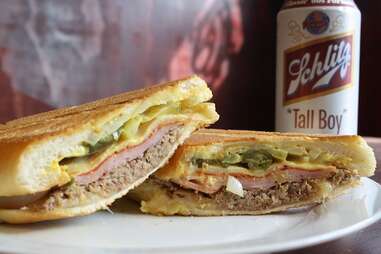 Aye Conyo, Buchi Café Cubano
Northwest
This little Cuban café gets all three amigos on you by tripling up on the meat with the Aye Conyo. Turkey, pork, and pepperoni share space with key lime mayo and hot peppers on Cuban bread. Don't be afraid to wash it all down with Milwaukee's finest liquid, Schlitz. Belly up, gringo.
English Channel Sandwich, Churchill's Public House
Highland
Fried tilapia (sans crude oil), house-made caper aioli, and slaw taste mighty fine between two pieces of toasted sourdough bread. Pair it with one of their fantastically British beers for a bloody good time at the pub.