The Best Fried Chicken in Denver: 13 Must-Have Birds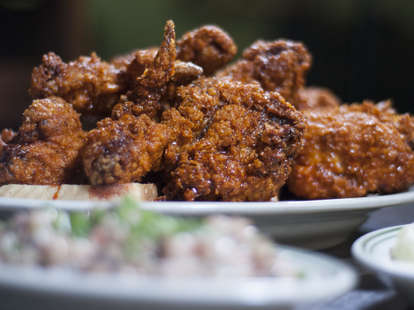 If good fried chicken were as easy to come by as it is to describe, there'd be a lot fewer vegetarians in the world. When it's crunchy and well-seasoned on the outside yet tender and juicy on the inside, resistance is futile. But far too often, the skin is doughy or dripping grease or peeling off like a nasty scab while the meat is half-raw or dry and stringy. Then no one eats it, and everyone's depressed that a bird had to die for nothing, and the herbivores win.
Fortunately, 13 places help preserve the integrity of the food chain by serving the best damn fried chicken in and around Denver.
Sunnyside
According to legend, Nashville's now-iconic hot chicken was invented as a means of punishment for a cheating boyfriend -- who was lucky the cayenne pepper covering his dinner wasn't mixed with poison, because instead of spitting it all out he scarfed it all down, and a tradition was born. Frank Bonanno does that tradition justice, which means your own dinner will probably get mixed with perspiration as you sweat all over the plate. Still, you won't be able to stop eating, so come with a clean forehead as well as an empty gut.
Five Points
It's like the chicken was born this way. So natural is Welton Street's frying technique that the expertly seasoned crust becomes a second skin, clinging fast to meat that's juicy through and through, the breast no less than the leg. It's all greaseless, too -- but just in case, the kitchen sets the pieces atop slices of white bread to act as paper towels, which is funny because it's true. Of course the platter also comes with actual, edible bread (as well as two sides): the dense, almost-sweet sticks of fried dough they sensibly call frybread will make you swoon like a church lady in a heat wave.
Park Hill
Of course, sometimes you want a little grease -- just enough for optimum finger-licking -- and that's where this soul-food fixture comes in. You'd think once Guy Fieri darkened its doorstep back in 2013 there'd be no soul left, but even the DDDDevil couldn't suck the life out of a crackerjack like Chef-owner Priscilla Smith, who can somehow fry even a breast that's half the size of a human's head without drying out the meat or overdoing the skin, which is perfect: light gold and glistening yet still crisp, with a zesty dusting of pepper and salt. And the price of perfection? Ten bucks tops, including your choice of bread and two sides. That, as a certain frosted-tipped TV host would say, really is money.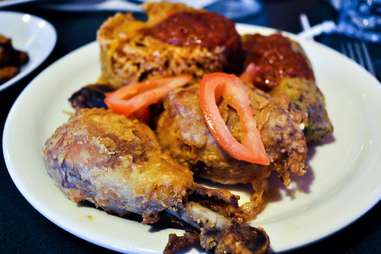 Green Valley Ranch
If it weren't for a tiny photo next to the menu description, you'd never know that the chicken accompanying the moimoi and jollof rice at this secret treasure out by the airport is fried. But it is, and Adwoa and Sylvester Osei-Fordwuo make it shine as brightly as everything else they serve from their native Ghana. Cooked in soybean oil, it boasts a light, almost flaky exterior to contrast the luscious dark meat within; the fact that it comes on the same plate with such fantastic stuff as black-eyed pea loaf and vegetable-fried rice makes you look good just for being smart enough to order it. Especially if you ask for a side of the smoky, cough-inducingly spicy condiment called shito, too.
Southwest Denver
Yes, Asian-Cajun cuisine is a thing, thanks to the postwar influx of Vietnamese fishermen along the Gulf Coast. Naturally it revolves around seafood, but damned if this bustling little hangout doesn't do wings every bit as well as crawdads and catfish. You'll have your pick of three regular flavors as well as occasional specials, from the rich and tangy Asian style (pictured) to a bourbon-glazed variety. The winners, though, are the succulent Cajun wings -- their buttery, salty, red-peppery coating so smooth and fine it seems painted on. Which brings us to their Korean counterpart...
Aurora
This actually isn't textbook Korean twice-fried chicken: the copper-colored breading's just a little too thick to achieve the glassy sheen the dish is lauded for. But even so, it crunches like ice between your teeth while the dark meat beneath exudes that oily richness you crave from wings and drumsticks and thighs, which arrive heaped on a platter alongside the traditional cubes of pickled radish, and all in all Funny Plus means serious business poultry-wise. Stick with the plain version, though, so you can add chili sauce as you go; the pre-sauced pieces get soggy quick. (Oh, and order the "rice cake simmered in chili sauce," too. You know we wouldn't give off-topic advice if we didn't mean it.)
Santa Fe Art District
Meanwhile, if sauce is your jam, check out this colorful little cafe-slash-Bob Marley shrine. The friendly owners call their concoction "Jamaican barbie fried chicken," presumably alluding to the island's style of barbecue rather than the Urban Dictionary definition of "Jamaican barbie," and certainly the copious topping will remind you of barbecue sauce: sweetish and slightly spicy. As for the breading beneath, it doesn't get soggy because it's thin as lacquer, glossy and crackling over tender meat that slips off the bone with satisfying ease.
Aurora
That said, this bona fide Southern-fried counter joint lays its batter on pretty thick. So how the hot wings retain their snap, pop, and sizzle even under a lava flow of fierce, vinegary pepper sauce is a mystery. A mystery you should probably get to the bottom of, no matter if you have to order them every single day for weeks. Maybe alongside the regular fried chicken for comparison's sake, with extra-creamy, gravy-daubed mashed potatoes and meaty collard greens as palate-cleansers -- you know, to keep your tastebuds sharp. (Or you could just ask the staff to explain how they do it. But way to miss the point.)
Lakewood
Old-timey bric-a-brac here; meringue pies on display there; seniors, seniors, everywhere: Jus Cookin's is as full of heartland clichés as its godawful name suggests. So how has it managed to earn national acclaim for its fried chicken over the years? Because instead of the insipid lumps of hospice fodder you'd expect, it presents such a lovingly prepared, borderline-delicate take on the classic, velvety gravy and all, that you can almost picture the recipe handwritten in faded ink by someone's great-great grandma from Iowa.
LoHi
This low-key anomaly in a high-profile dining district doesn't get half the love it deserves for its brilliant buttermilk-brined bird. The coating doesn't so much crunch as shatter like a shell -- a delicious shell designed to seal the meat juices in so tightly they practically squirt out once it breaks. It's like biting into a Cadbury Creme Egg, only better, because, well, it's fried chicken.
Uptown
By contrast, the hype surrounding this Star Bar sibling's coconut milk-marinated, pressure-fried signature dish has been just exhausting -- but it's warranted. The crust is so glittery-gold and crunchy-fresh it's practically still bubbling from the oil, and the pieces pop up in all kinds of cool places. You can get an entrée served in a TV-dinner tray with all the fixings, you can get a toasty mayo-smeared sandwich, you can get a bucket of leftover-style "icebox chicken" at happy hour, you can get a basket of plump wings accompanied by ace house hot sauce. You can get all four simultaneously with white gravy, ranch dressing, and a cherry on top if you want, because this is America.
Berkeley
We counted this Freshcraft sibling among the best of last fall's openings largely on the strength of the stellar pressure-fried chicken, and the verdict stands. At dinnertime, it comes bathed in a buttery honey sauce; for brunch, it's served with Cajun-spiced maple syrup and French toast to give those poor tired waffles a rest.
Lafayette
From brunch at Lola to happy hour at Jax Fish House & Oyster Bar, Big Red F gets a big fat A from us time and again, so it's no surprise the restaurant group's take on a roadside chicken shack also cuts the mustard -- or the sausage gravy, as the case may be. Gaining inspiration from a cross-country research tour, the chefs here took pride in developing a painstaking fried-chicken recipe built on brine, buttermilk, and good old-fashioned elbow grease, and you can taste it in every bite. Uh, pride, that is, not elbow grease. Of course, beer pairings courtesy of brewmaster Bryan Selders -- who came to The Post from Dogfish Head -- are just more gravy.
Special mentions
But wait, there's more! Here's our take on a few sentimental favorites and promising upstarts:
Tom's Home Cookin' (address and info)
Five Points
We'd no more leave Tom's off this list than we'd leave our mom off a list of our favorite moms. (Although the chicken and dumplings are just as good as, if not better than, the fried chicken.)
MAX's Wine Dive (address and info)
Capitol Hill
This Texas transplant opened all of two weeks ago, so it's a little early to declare poultry victory. But its signature dish, marinated in jalapeño-infused buttermilk, definitely has blue-ribbon potential.
Osaka Ramen (address and info)
RiNo
It's even more premature to put Jeff Osaka's kara-age on a best-of list, since, at the time of this writing, his long-anticipated ramen joint hasn't even opened yet. But at a preview, the tempura-like, soy-ginger-marinated nuggets of dark meat nearly stole the show from his noodle soup.
The Squeaky Bean (address and info)
LoDo
Chef Theo Adley's masterfully fried chicken serves above all as a springboard for his creativity, becoming just one fine ingredient in an ever-changing composition that could involve anything from blackberries to peanuts to kimchi.
White Fence Farm (address and info)
Lakewood
It's on our recent Denver Bucket List for a reason -- but be warned that you've got to have a stomach for its relentlessly hokey schtick as well as its famous chicken.
Sign up here for our daily Denver email and be the first to get all the food/drink/fun in town.