The best frozen treats in Denver, from boozy milkshakes to Key lime ice cream sammies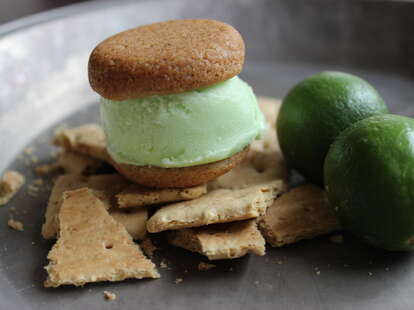 Cool down by spending cold hard cash on these frozen treats instead of hoping that the manager of King Soopers doesn't notice you've been standing in the freezer aisle for hours without buying anything.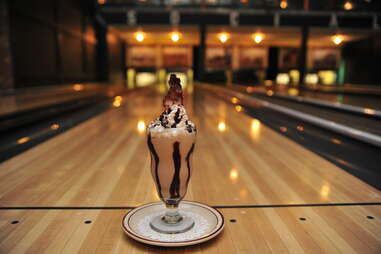 Maker's Squeal
Punch Bowl Social
65 Broadway; Baker; 303.765.2695
The always poppin' S Broadway bar/ resto/ bowling palace has a frozen drink worth braving the crowds for: vanilla ice cream with bacon-infused Maker's Mark, chocolate syrup, and a hunk of candied bacon.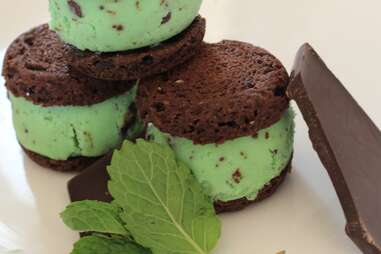 Any Ice Cream Sandwich From Peteybird
Peteybird
Check where the bikes are at today; 720.432.2430
Peteybird is often parked outside of Mile High breweries, peddling homemade ice cream sammies like the chocolate & mint chocolate chip cookie or Key lime ice cream & graham crackers to hungry crowds. And they deliver!
Frozen Bananas On A Stick
Steve's Snappin' Dogs
3525 E Colfax Ave; City Park; 303.333.7627
The Colfax hot dog shack that's been voted Best Tubed Meat for 5+ years also has tasty, uber-cheap frozen goodness from a tree that can be customized by being dipped in chocolate, rolled in salty peanuts, or covered in sprinkles. Maeby you'll like it with sprinkles, Maeby you won't.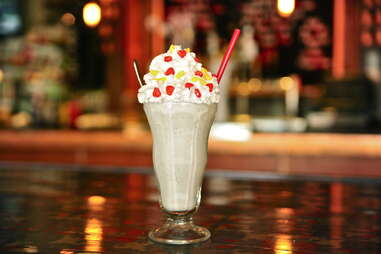 Rock-N-Roll All Night
TAG Burger Bar
1222 Madison St; Congress Park; 303.736.2260
Troy Guard's beer and burger joint also knows its way around a boozy milkshake, including one that'll have you rocking and rolling all night, partying every day, and KISSing whoever's left in the bar at closing time, as it's filled with Jager, Red Bull, milk, and vanilla ice cream.
Frozen Coconut Daiquiri
Linger
2030 W 30th Ave; Highland; 303.993.3120
The LoHi bar/ resto in a former mortuary pours a teeth-chattering tropical treat that packs in two different rums, coconut milk, lime juice, and a squeeze of simple syrup.