Out of sheer survival, we're all guilty of making the occasional late-night call to the closest pizza place that delivers. And we understand that sometimes you simply need an immediate fix of melty cheese and sauce on top of any crust-like substance available. But just because mediocre pizza is still good doesn't mean you should settle. You deserve the best. And the best is what you'll get when you hit up these Mile High spots to satiate your cravings.
Baker
A black sheep amid the hipster show-ponies of South Broadway, this place is the rec room you dreamed about as a wee lad: foosball and pinball, freaky murals and graffiti, late-night hours, and plenty of beer. Also, thin-crust pizza by the slice or the 19-inch monster, ranging from classics, to daily specials with fanboy names (Vader, Army of Darkness), to flashes of stupid genius like the Munchy Mango. The standard is vegan, but you can (and should) get it with cheese, which mingles with peanut sauce, chopped mango, sugar-roasted jalapeños, and green onions for a creamy, sweet-savory, weirdly meaty, instant addiction.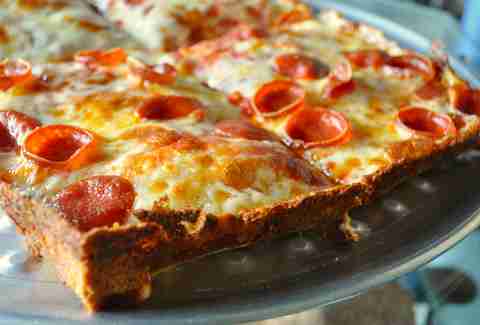 Highlands Square
Yes, this place serves other kinds of pizza (you'll find New York, Italian, and Chicago-style pies on the menu), but that's not what you're here for. The specialty from award-winning pizzaiolo Jeff "Smoke" Smokevitch is the addictive Detroit-style pies which transform often-trashed crust into the cheesy, caramelized highlight of your pizza-eating experience. Pair it with a Colorado craft beer and give yourself a pat on the back for being so damn smart with your life decisions.
Downtown/LoHi
With nothing but a wood-fired mobile oven and a couple feet of workspace in the shadow of the 16th Street clock tower, David Bravdica built a Downtown dining destination on the strength of a proper, almost flaky crust topped with quality ingredients. So you can just imagine what he and his crew are doing now that they have a second location, with walls and everything, in the sensational food hall Avanti. Actually, you don't have to imagine since you can go down there (right now!) and get some pizza. Try The Fun Guy.
South Broadway (& other locations)
You could basically spend an entire day at the Atomic Cowboy, aka the bar that also acts as Sully's home base. In the mornings, Denver Biscuit Company's mile-high biscuit sandwiches are the star at this triple-threat stop. Later, though, and well into the night, it's the massive, foldable Sully's slices that bring the crowds to this cowboys-and-aliens-themed watering hole. Whether you're ordering to-go from the window at one of its three locations (South Broadway, East Colfax, and Berkeley), eating in and enjoying the local brews on tap, or catching its food truck out and about, you're guaranteed to find the same delicious sense of regret for the food coma that will take control afterward.
City Park
Is the world full of sleek, celebrity-run pizza parlors with money-burning ovens and runway-ready staff? The kind with a Bob's Big Boy statue on the roof, a legendary dive bar that doubles as a spare dining room next door, and the nicest, most on-the-ball employees ever to give slackers a good name? Not so much. In fact, this is the only one we know of. Pro tip: order your thin, crispy pie at the adjacent PS Lounge, where your first drink always comes with a shot on the house. And ask for the Spinaci with red sauce, which adds light, bright tang to the mix of spinach, Kalamata olives, mozzarella, and Romano.
Alamo Placita
You're not just getting pizza. You're getting super-cozy, red bricked and stained glass ambiance. And raw oysters. And broiled oysters. And oyster shooters. And then some booze after that. While the pie with shaved ribeye, peppers, and onions is decadent, it's just part of a complete package. The same way your leftover slices will soon be part of a complete breakfast.